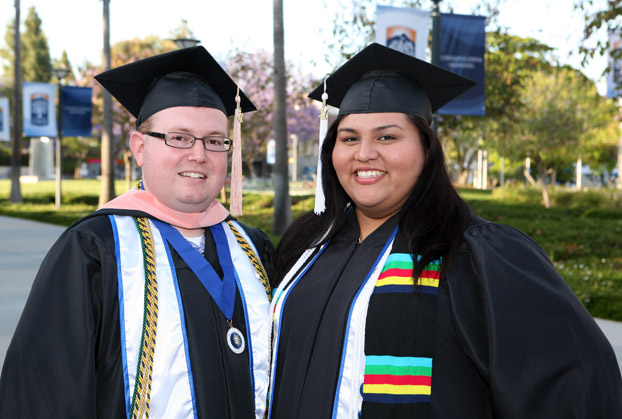 Caption: Randolph Hubach, left, and Juliana Hernandez. Photo By Edward Salas
Striving to Help Others
Alumni Award Winners Honored for Service Efforts, Achievements
TWO SCHOLARS on different career paths share the same passion to help others.
Julianna Hernandez of Garden Grove is focused on a career helping people get into college and succeed. "My goal is to work in student affairs, guiding other students by sharing my own experience, being supportive and showing them that they are on the right path to their future."
Randolph Hubach of Norco was helping people with AIDS and HIV when he decided that more education would help him effect change. "I knew I needed to advance my education to make changes in the research and options to make these individuals live better, longer lives."
Both were recognized by Cal State Fullerton as this year's recipients of the Alumni Association Outstanding Student Awards, presented to an outstanding senior and graduate student for exceptional academics; extracurricular, academic or professional activities; and service to department, university and/or community.
Randolph Hubach
Following graduation from Southern Methodist University in Texas, Hubach joined the AIDS Services Foundation — Orange County as a project supervisor working on a Centers for Disease Control-funded HIV prevention program. He later became a communicable disease investigator with the County of Orange's Health Care Agency, working in the region's correctional facilities.
"Our goal was to help suppress the symptoms of HIV/HCV with constant care and links to community organizations, and provide patients opportunities to talk about their concerns and to feel like partners in their treatment."
The program included psychosocial assessments and mental-health crisis intervention, and it was this area that he decided to focus on when he returned to college. Familiar with Cal State Fullerton's holistic approach, small-cohort setting and research opportunities with faculty, he enrolled in the master of public health program in 2009.
He decided to focus his research on the influence of loneliness on HIV risk behaviors.
"In their situation," Hubach asked himself, "does loneliness, trump knowledge? Do young men decide to have unsafe sex to resolve an overriding issues like loneliness, social stigmatism? Does it bring temporary relief, thereby influencing decisions that have ramifications throughout their lives?"
Hubach himself was diagnosed with HIV as a 20-year-old student. Learning to live with and accept the diagnosis "really colored my entire undergraduate education," he said. "I felt I had to prove myself and knew that what I wanted was to effect change for others with this condition."
His master's thesis is titled "The Influence of Loneliness on HIV Risk Behaviors": A Grounded Theory Approach."
"By choosing to explore loneliness specifically, Randy has addressed an understudied topic which has the potential to fill significant gaps in our knowledge of the connection between mental health and behaviors in a critically at-risk population," said Anthony DiStefano, assistant professor of health science, who nominated Hubach for the Alumni Association Award. "Randy brings to his thesis a genuine enthusiasm for research methods," DiStefano said. "His thesis is excellent work."
In addition to the Alumni Association Award, Hubach has been honored with the 2010 Kathryn T. McCarty Research Award and is a member of the Phi Kappa Phi and Eta Sigma Gamma honor societies. He is a grant reviewer for the Health Resources and Services Administration and a reviewer for the California Journal of Health Promotion. He has guest lectured on HIV/AIDS in minority communities and before adolescents on campus and at other higher-education institutions.
This fall, he enrolls in Indiana University's Ph.D. program in health behavior. "I hope to return to Southern California to a learning institution, where I can give back to students. I want to nurture every student, help them reach their best potential."
Julianna Hernandez
It was her high school chemistry teacher who steered Julianna Hernandez toward Cal State Fullerton. An alumnus of the institution, he encouraged her to go forward and do the best that she could do. A scholarship from the Future Scholars Program also helped.
But, it was her own spirit and drive that moved her to get involved in campus clubs and programs and led the human services major toward her career goal.
"I worked in New Student Orientation for three years and was a student coordinator in my last year with the program," she remembers, noting that she helped facilitate more than 25 orientation sessions for first-time freshmen, transfer students and their family members. As a coordinator, she was involved in the recruitment, selection and training of orientation leaders and assisted with the planning, marketing and implementation of various programs during the summer.
She also served as a peer mentor with Freshman Programs, counseling students with transition-related experiences and challenges and served as a role model and mentor to those new to the campus. In September 2009, Hernandez became a founding member of the Student Alumni Ambassador program, where she worked to connect students to the Alumni Association before graduation and served as liaison between the student body and the association's board of directors.
"Julie's choice to participate in Freshman Programs as a first-year student and then to return as a peer mentor and intern say much about her as a student and a a person," noted Nancy Page Fernandez, director of the program. "Many students attend college to get a better job; Julie came to Cal State Fullerton to become the best person and best professional that she can be."
Last fall, she expanded her student affairs experiences further by becoming an intern in Housing and Residence Life. Serving in all the various campus experiences, she said, "was the best experience — a lot of my time was involved in interactions with students from all areas and departments on campus. The experience resonated with my career choice."
Hernandez will be attending MIchigan State in the fall to study student affairs administration.
"I have worked with countless students over the past 18 years in higher education, and Julie stands out among this group as the most talented, promising and humble young leader I have had the honor of working with," said Lea M. Jarnagin, dean of students, who met Hernandez when she was a freshmen. "An exceptional young woman with a strong sense of purpose, Julie has contributed unparalleled service to her fellow students and the Cal State Fullerton community at large."
Hernandez worked closely with Jarnagin and successfully applied to become a National Association of Student Personnel Administrators Undergraduate Fellow, a two-year mentoring program designed to encourage underrepresented students to consider careers in student affairs and/or higher education.
The NASPA program "was an excellent experience and opportunity to learn more about the experience I plan to follow. Lea served as my mentor and encouraged me right through the process to the master's program," said Hernandez. "I enjoy working with students and want to share with others the opportunities that college presents."
June 6, 2011