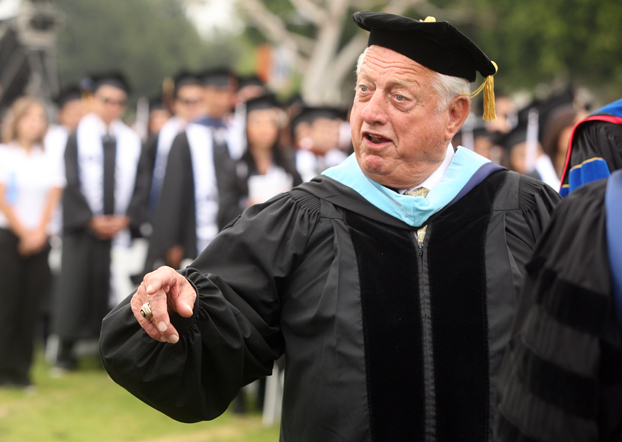 Caption: Tommy Lasorda delivered one of Cal State Fullerton's 2011 commencement speeches. Photo by Greg Andersen
Celebrating Success
Nearly 10,000 Students Participate in Graduation Ceremonies
SELF CONFIDENCE is the main ingredient needed to turn dreams into reality, Tommy Lasorda told thousands of graduating students during Cal State Fullerton's commencement ceremony May 21.
"I used to actually dream I was pitching for the Yankees," he said, talking about his goal when he was 16.
Ten years later, he was pitching a Yankee game, and in 1963, he was a scout for the the Dodgers, earning $8,000 a year.
"I was sitting behind home plate, way up at the top and I said to my wife, 'one day, I will be managing the Dodgers in the World Series. Fourteen years later, I was managing the Dodgers in the World Series against the Yankees," Lasorda said. "You can be anything you want to be in this country… You have to earn it. The only way you can earn it is through self confidence, pride, dignity and character."
For his accomplishments and in his honor, Cal State Fullerton President Milton A. Gordon announced the establishment of a $25,000 endowed scholarship for a Titan baseball player in the name of Tommy Lasorda.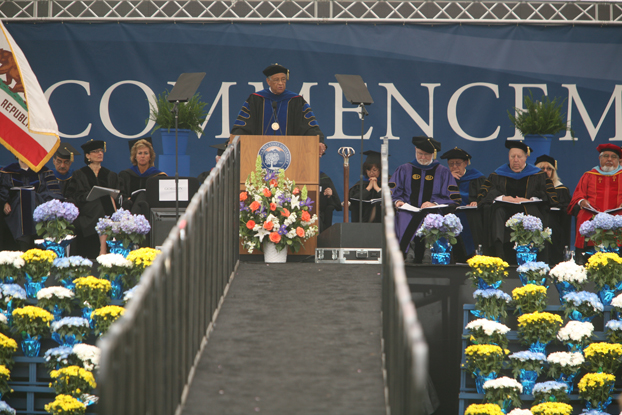 Caption: President Milton A. Gordon told graduates: "Follow your dream and make it a reality!" Photo by Greg Andersen
Gordon echoed Lasorda's message, telling the capped and gowned students: "In the future, your work and career are going to fill a large part of your life, and the only way to be truly satisfied is to do what you believe is great work. And, the only way to do great work is to love what you do. If you haven't found it yet, keep looking. Don't settle.... Follow your dream and make it a reality!"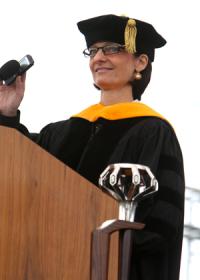 Caption: Ragina E. Dugan. Photo by Karen Tapia
Regina E. Dugan, director of the Defense Advanced Research Project Agency, delivered the commencement address during the May 22 ceremony. She advised students to conquer their fear of failure because "nothing big happens without failure along the way."
"You cannot be afraid of failing if you want to succeed," she said. "You cannot lose your nerve for the big failure because the nerve you need for the big failure is exactly the same nerve you need for the big success. It's the exact same nerve."
Speaking of success, Gordon pointed to a number of outstanding graduates whose accomplishments are praiseworthy. They include:
"At Cal State Fullerton, we are proud that we build bright futures for our students by providing them with high quality programs that combine the very best qualities of teaching and research," Gordon said. "Our academic and student support programs are linked to integrate knowledge with the development of values, professional ethics and the teamwork, leadership and citizenship skills necessary for students to make meaningful contributions to society."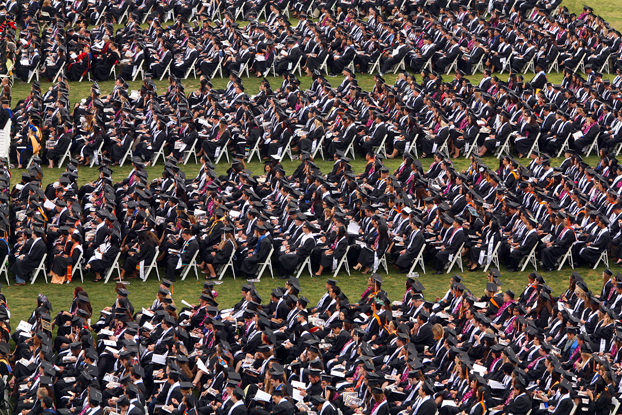 Caption: Thousands of students graduated from Cal State Fullerton May 21 and 22. Photo by Greg Andersen
Graduation Statistics
The following are statistics about the Class of 2011:
10,753 are eligible graduates. They include the January and May 2011 graduates, and the August candidates for graduation.
Of those eligible: 6,419 are females, 4,334 are males, 10,595 are from California, 257 are out-of-state and international individuals, 8,834 are undergraduates — B.A. and B.S. degrees — and 1,919 graduate students — M.A., M.S. and Ed.D. degrees
Class of 2010: 7,850 graduates
Class of 2009: 7,825 graduates
June 6, 2011