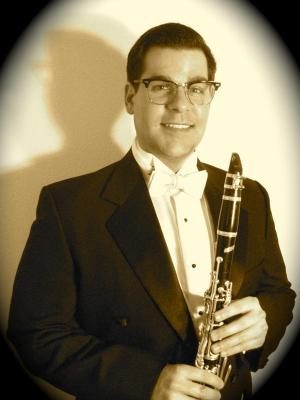 Caption: Drew Sullivan. Photo by Jessica Cheng
Making Music
For Clarinet Player Drew Sullivan, Cleveland Rocks
WHEN DREW SULLIVAN was summoned to the stage to perform during the Music Associates annual "Music & Magic" scholarship luncheon program this spring, Music Department Chair Marc Dickey asked if he had made up his mind about whether to accept Julliard's offer of admission, or would he be heading elsewhere in the fall.
Sullivan's excited reply as he bounded toward the stage: "I'm going to Cleveland!"
Cue the "Cleveland Rocks" intro video from "The Drew Carey Show."
For this Class of 2011 bachelor of music graduate, the Cleveland Institute of Music, a top-tier conservatory that boasts a world-class faculty and facilities, has it all ­— it's "the perfect place for me. I'm terribly excited to go there."
Several years ago, a clarinet teacher told Sullivan about the Cleveland Orchestra. That led to his "fascination" with one of the nation's "Big Five" orchestras, which has drawn more than a third of its musicians from the Cleveland Institute of Music, where some of the faculty members are also members of the orchestra.
Sullivan is this year's Grand Prize winner of the Music Associates Concerto-Aria competition. He also was named the top performer in the competition's Wind/Percussion Division. His selection was the result of a two-tiered adjudication process that involves Music Department faculty members, as well as musicians from the Pacific Symphony.
"The real treat was getting to play with the orchestra," Sullivan recalled. "I would have paid to play with the orchestra."
His well-received performance of Mozart's "Concerto for Clarinet and Orchestra in A Major" during the Music & Magic program was an encore of his March 6 performance as a soloist with the University Symphony Orchestra. Along with a cash award, the opportunity to perform as a soloist was his reward for winning the Music Associates competition.
Sullivan earned the Grand Prize through rigorous practice, Dickey explained. His efforts picked up seriously in the summer of 2009 when he set a goal for himself of completing 500 hours of practice. One of the young musician's motivational tactics that summer was to create a blog.
"I was really interested in ... what people did to get where they are," Sullivan recalled. "I really wanted to log the hours in so that it could actually be proved that this is what it takes to be able to do this." The blog, he said "ended up just being for me ... and every once in a while I still revisit it just to see what I was thinking."
The blog also logged his disappointment at practicing just 6½ hours on some days. Last summer, he exceeded the previous summer's goal. Today, he's practicing "a fair amount" — just five to six hours daily.
That level of commitment is one of the reasons Sullivan became a "true role model" for other students in the department, said Dickey.
Last summer's efforts, Sullivan noted, were marked by "experiential learning that was exceedingly valuable." He participated in two music programs; the first was Burton Kaplan's Magic Mountain Music Farm, a secluded learning facility in upstate New York that is "devoted to privacy, practice and learning," said Sillivan. "There, we had two masterclasses a day, lessons every other day and a tremendous amount of time for practice."
Later that summer, he was at the Buffet Crampon Summer Academy in Florida, where as a student, he received a lesson and a masterclass every day.
"In addition, I met with and played for four professors of leading schools/conservatories in Santa Barbara, San Diego, New York City and Aspen. In total, I had over 20 lessons, met and played for 12 professionals and performed at each opportunity. It was very exciting."
This summer, he is among four clarinetists accepted to the six-week Round Top Festival Institute, which offers intensive training for talented young musicians transitioning from conservatories and universities to professional careers. Those accepted are chosen by audition and receive a full scholarship to attend. Participants also are enrolled in the Texas Festival Orchestra to perform Saturday evenings, following daily rehearsals. He's there through July 17.
June 6, 2011