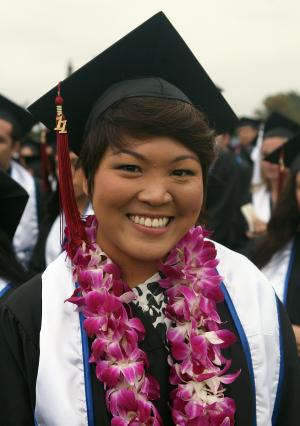 Caption: Pam Korsuwandee worked with her mother operating a Thai restaurant while attending CSUF. Photo by Greg Andersen
Cooking A Plan For Her Future
Communications Graduate Worked With Mother, Earns Bachelor's Degree
WHEN SHE recently completed her bachelor's degree in communications, Pam Korsuwandee also gave her mother a reason to consider retiring.
Her mother, Aree Shepard, had to drop out of school when she was 8 to help her mother earn enough money to put her younger siblings though school, Korsuwandee said. "She's been working so hard to see me succeed, so now it's time for her to take a break."
Growing up in Thailand, Korsuwandee said she hardly saw her mother because she was always away, "working hard for me."
Shepard became a chef and restaurateur with a lifelong dream to move to America, where her only child would have more opportunities to prosper.
"She spent all the money she made on me, paying for me to go to a Catholic school where the teachers taught English so I would be ready to live in America," Korsuwandee recalled. "She just knew one day we would live here."
Ten years ago, Shepard's dream was realized. Her daughter was 15 then and a student at Estancia High School in Costa Mesa. That year, the mother-daughter duo opened Thai Swan, a restaurant in Orange that the OC Weekly raved about in 2008.
During the first few years, they did everything — cooking, serving and cleaning, 11 hours a day, six days a week.
"That's why it took me a long time to complete my college degree," said Korsuwandee, now 25. "I would study between the busy lunch and dinner rush."
Though there are six employees now, and she has landed a job working at the Thai Airways counter at LAX, she still helps her mom when she can.
"My mom has always worked hard, but she always smiles because she is so happy," Korsuwandee said. "I love my mom. I really respect her for everything she's done for me and for her whole family back in Thailand. She's really a strong woman. But, I know she's tired and now that I've finished my college education, I'm encouraging her to retire so she can finally relax and we can travel together."
The biggest lesson the new CSUF alumna has learned from her mother's work ethic, her own work and her time as a student is that hard work pays off, Korsuwandee said. "I learned to be independent and to think for myself, make good decisions."
CSUF experts who study immigrant student populations say Korsuwandee's story is one like many immigrant students who struggle, overcome hardship and succeed because higher education as a means to a bright future is so important to them.
"I had the privilege of conducting a federally-funded study several years ago regarding cancer education for Thai women," said Gail D. Love, associate professor of communications, one of Korsuwandee's favorite professors. "I gained a great deal of insight and admiration for Thai women through this work, and Pam and her mother exhibit the commitment to education and hard work I saw in all the Thai women I met and worked with. She represents her heritage and tradition so well. I know her community is proud of her."
Love added that, over the years, she has taught many immigrant students, who, like Korsuwandee, are the first in their families to attend college. "These students bring such a special commitment to their work and I know they will succeed in whatever they choose to do in the future," she said.
June 6, 2011