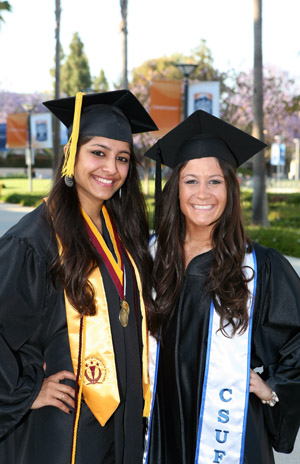 Caption: Sonia Kuma, left, and Jacqulyne Sylvia are this year's Goodhue-McWilliams Award winners. Photo by Edward Salas
Future Doctors Honored
Duo Recognized for Service in Health Professions with Goodhue-McWilliams Award
BIOLOGICAL SCIENCE MAJORS Sonia Kumar and Jacqulyne Sylvia spent countless hours volunteering in clinical settings to gain invaluable experiences that will help them in medical school — and as future practicing physicians.
Kumar has worked at Cedars-Sinai Medical Center, Queen of the Valley Hospital in West Covina and at a downtown Los Angeles medical clinic for drug addicts and the homeless.
Sylvia also has volunteered at several hospitals and clinics, including Hoag Memorial Hospital Presbyterian in Newport Beach, Children's Hospital Los 
Angeles and the Lestonnac Free Clinic in Orange County.
In recognition of their volunteer work, the Cal State Fullerton students are co-recipients of the university's 2011 Kenneth L. Goodhue-McWilliams Award for outstanding community service in the health professions. The award, named for the emeritus professor of biological science who sponsors it, is among top student honors presented each May during commencement season.
Kumar, of Walnut, graduated with a bachelor of science degree in biological science with a concentration in cell and development biology and a minor in chemistry.
"I am truly humbled. I can't believe I'm getting an award for doing the things I love!" Kumar said. "I give all the credit to the patients I've come into contact with, my mentors at the university, in the clinic and in the hospitals — they've all taught me invaluable lessons and helped me grow as a person and as a future medical professional."
Sylvia, a resident of Fullerton, majored in biological science with a concentration in cell and development biology and a minor in chemistry. She plans to complete her studies in December and earn her bachelor's degree in 2012.
"To receive this award is an exceptional honor," Sylvia said. "I cannot believe that I actually get an award for my work in the community when it is the people that I meet in these communities who are actually doing an 'outstanding service' for me."
Sonia Kumar
Kumar aspires to be a cardiac and trauma surgeon one day.
"Medicine is a challenging, yet extremely satisfying career," she said. "Medicine is rewarding because you never stop learning. It's the perfect fit for me: the right amount of adrenaline, compassion and science."
To prepare for a career in medicine, during the last two years of her undergraduate education, she has had the opportunity to conduct research in the neurobiology laboratory of Math Cuajungco, assistant professor of biological science. She also received a $500 Assisted Students Inc. Research Grant for her work.
Her most recent research focuses on a neurological disease, Frontotemporal Lobar Degeneration (FTLD), which results in the degeneration of the frontal and temporal lobes of the brain, causing a severe form of dementia in affected patients. She is currently conducting research on proteins that have been implicated to increase the genetic risk of FTLD.
"Dr. Cuajungco has inspired the scientist in me, teaching me that today's biomedical research is tomorrow's cure. He has been an invaluable resource and has instilled in me a great passion and appreciation for science."
Her laboratory experience, she added, has literally given her "hands-on science," broadening her skills as a researcher.
"With the knowledge I've learned from working in the lab, it will help me in medical school and when I become a doctor and work with patients," Kumar said.
Kumar is the recipient of numerous awards for her research and campus leadership roles. Accolades include the 2008 Excellence in Student Leadership University Award, and most recently, the 2011 Young Scientist Award from the Alzheimer's Association, Orange County chapter, for her contributions to neurobiology research and medicine.
Jacqulyne Sylvia
During her undergraduate studies, Sylvia has conducted research in tumor immunology — determining if particular cells help tumor cells metastasize to the lung — under the guidance of David B. Drath, professor of biological science.
To continue her research efforts, she was selected as a 2010-11 Louis Stokes Alliance for Minority Participation Scholar, which encourages underrepresented minorities to pursue a career in a STEM (science, technology, engineering and mathematics) field. Sylvia also has received several research awards, including a $500 Assisted Students Inc. Research Grant.
Last fall, she received a $5,000 Pepsi Refresh Grant — a top-voted community idea for her personal project to purchase hair bows, headscarves and wigs for young cancer patients. (http://www.refresheverything.com/hotpinkbows). Through Sylvia's "Hot Pink Bow" project, infants to teenage girls with cancer at local hospitals receive handmade headwear to help lift their spirits and give them hope, she said.
The inspiration for her project is a 15-year-old patient she met while interning at Hoag Memorial Hospital Presbyterian. The sick teen, who had lost most of her hair due to cancer treatment, admired Sylvia's hair bow and cried while telling her she'd never "be able to wear a bow or feel beautiful again."
"I hope that this project inspires these amazing young girls to feel more confident and to remember that they are beautiful from the inside out," said Sylvia, who is the medical chairperson for the university's Student Health Professions Association.
Once Sylvia completes her undergraduate studies, she plans to attend medical school and become a family practitioner.
"I want to become a physician so that I can represent the underrepresented population in this country. I want to advocate for all of those who do not have a voice in our society and use my education and knowledge to restore hope in people who may not otherwise believe in the power of medicine," said Sylvia, whose hometown is Granite Bay, near Sacramento.
June 6, 2011