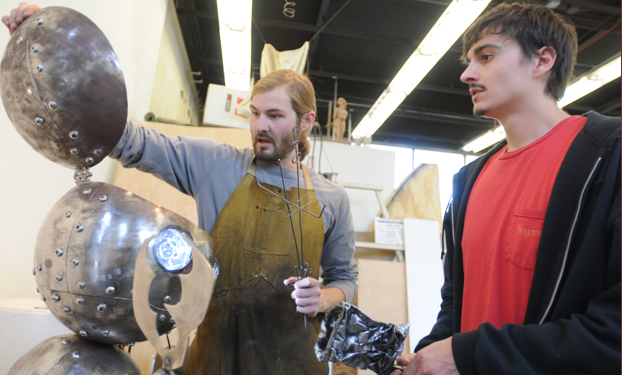 Caption: Preston Daniels holds open the head of the Robot Boy sculpture he and fellow M.F.A. grad David Brokaw, right, fashioned in the on-campus sculpture lab during their grad student days for the "Tim Burton" retrospective on exhibit May 29-Oct. 31 at the Los Angeles County Museum of Art. Photo by Kelly LacefieldDownload Photo
LACMA Opening
Sculpture Grads Plugged Into "Tim Burton" Retrospective
Class of 2011 master of fine arts-sculpture grads David Brokaw and Preston Daniels will be among those attending Saturday's preview party for the new Los Angeles County Museum of Art (LACMA) exhibit of "Tim Burton," a retrospective that continues through Oct. 31.
Brokaw and Daniels have a special stake in the famed illustrator-turned-filmmaker's exhibition, which debuted in the fall of 2009 at the New York Museum of Modern Art. It was there that the pair's animatronic sculpture of Burton's "Robot Boy" was unveiled.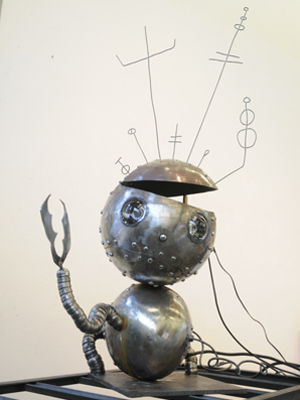 Caption: Robot Boy. Photo by Kelly Lacefield
Fans will recognize the character that previously lived only in the pages of Burton's 1997 book, "The Melancholy Death of Oyster Boy and Other Stories." His more well-known characters, like Edward Scissorhands and Betelgeuse of "Beetlejuice," were popularized in films Burton directed.
After first flickering to life in the university's sculpture lab and later on display at MoMA, Robot Boy also starred in a promo for the popular MoMA exhibition.
If attendance for Burton's LACMA exhibit is anything like that seen in New York, the exhibit here "will be mobbed," Brokaw predicted.
"I'm excited," said Daniels. "It's great that it's in LA; it deserves to be in LA, in Tim Burton's hometown."
Both he and Brokaw think the larger space set aside for the exhibit at LACMA is a plus.
"Burton's show combined with the new Resnick Pavilion should make for a very dynamic show," Brokaw said.
Robot Boy's placement in the exhibit space is also more favorable. "You enter through the creature's mouth, and Robot Boy instantly greets you as you walk in," said Daniels. "He's in the first group of works you come to."
A few weeks ago, the pair went to the LACMA to uncrate and collect Robot Boy for a tuneup before the LA opening. The sculpture also had traveled to Australia and Canada for exhibitions there and "like anything with moving parts," said Brokaw, was due for maintenance.
As it turned out, "all he needed was work on his eyes," Brokaw said, "so we went ahead and replaced the whole lighting system."
The random opening and closing of the robot's head "takes a toll" over time, loosening his antennas and giving the circuits a workout, Brokaw explained. Still, "basically, he's done really well." Daniels added: "I think he's in better working condition than he's ever been."
Opening up Robot Boy, he said, "was a reminder of how much is inside of his little head and how difficult it is to work on him."
For the tuneup, Brokaw credited fellow CSUF grad Ryan Ross (M.A. art-sculpture '06) with doing "most of the work, changing out the circuits and redoing the electronic eyes." Ross, who has his own studio in downtown LA, will be joining Brokaw and Daniels at Saturday's preview party.
Since they finished their graduate degrees, both Brokaw and Daniels have been teaching classes this spring on campus in three-dimensional design and living at the Grand Central Art Center, having moved in as grad students — a live-work experience Daniels described as "definitely cool."
They'll be moving out this summer, and both are gearing for careers in their field. Daniels has resumes out and hopes to land a teaching position, while Brokaw wants to establish a studio in Southern California. Works by both artists can be seen on their websites: davidbrokawstudio com and prestondanielsstudio.com.
Meantime, they're looking forward to mingling with other exhibit-goers at the preview party and seeing the band Jane's Addiction perform there.
Tickets for the LACMA exhibit, which continues through Halloween, are available online.
May 26, 2011