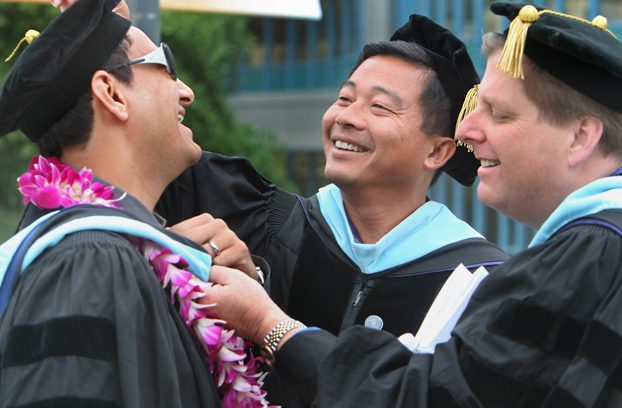 Caption: Doctoral graduates Sharig Ahmed, left, Tran Hong, center, and David Poole during Cal State Fullerton's Commencement May 22, 2011. Photo by Karen Tapia
First Graduates
Community College Educators Earn Doctorates
KETMANI KOUANCHAO AND ERIC RABITOY have spent their careers working as educators at community colleges. Last month, they realized their proudest academic achievement as two of a dozen educators from across Orange County and the region to be the first to complete Cal State Fullerton's doctorate in education program with a concentration in community college leadership.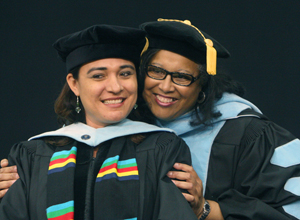 Caption: Doctoral graduate Lily E. Espinoza and Professor Dawn Person during commencement ceremonies May 22. Photo by Karen Tapia
Kouanchao set her higher education goal early in life, prompted by her father who stressed the importance of education, and her mother, a teacher.
She and her family fled the war in Laos in 1978, leaving their homeland and past lives behind. They lived in a refugee camp in Thailand for a year then settled in Minneapolis.
Kouanchao, a Hemet resident, was 11 years old when she came to America. Her parents worked hard in this country to give her and her four siblings the best educational opportunities, she said.
Her parents even chose to live near the University of Minnesota so they would be reminded that higher education is within reach. She and her siblings earned undergraduate degrees. Now, Kouanchao will be the first in her family to earn a doctorate.
Earning an Ed.D. has special meaning to her, said Kouanchao, director of Extended Opportunity Program and Services (EOPS) and Cooperative Agencies Resources for Education (CARE) programs at Mt. San Jacinto College.
"I feel like this is the fulfillment of a great promise to my parents, and to myself, because I've seen how much difference a good education can make in transforming the lives of others," said Kouanchao, 42, whose parents are coming from Minnesota to see her graduate.
Rabitoy has been working within the community college setting for 17 years and is the dean of physical and natural sciences at Citrus College in Glendora. He wanted to earn a doctorate to broaden his perspective on educational issues and policies in order to make effective decisions within his workplace.
"I felt that pursuing a doctorate would give me new knowledge and help me grow both as a professional and an individual," said Rabitoy of Glendora. "Earning a doctorate has been a long-term goal for me, and I am happy that I was able to successfully complete it."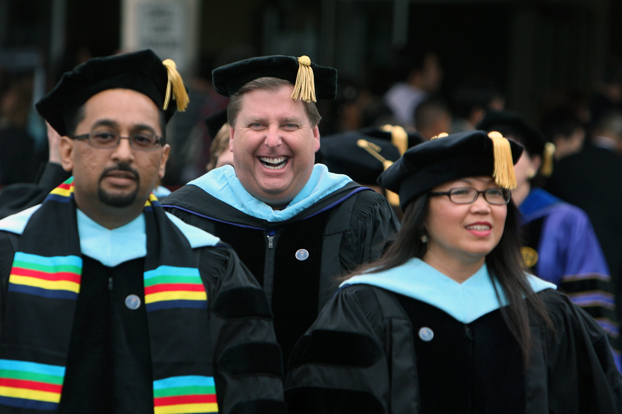 Caption: From left: Doctoral graduates Juan Carlos Astroga, David Poole and Ketmani Kouanchao. Photo by Karen Tapia
Rabitoy, 42, was also the first in his class to complete the doctorate program, despite a physical challenge he faced early in the program. At the end of his first year in the three-year program, he suffered a significant hearing loss.
But that didn't stop, or slow him, from pursuing his goal. He turned to the university's Disabled Student Services Program for assistance, and also credited his professors and peers in the doctorate program for helping him finish his doctorate.
What's more, Rabitoy wanted to set an example for his 11-year-old daughter, who is also hearing impaired. "I wanted her to see that her hearing disability shouldn't stop her from pursuing her educational goals."
Both chose the Cal State Fullerton program because of its reputation of excellence and rigorous training.
"I was drawn to the CSUF doctorate program for so many reasons, including the quality of its faculty and the unique level of attention and commitment the school has to ensuring that students are active learners with applied experience, who gain a real-world knowledge and respect for diverse perspectives," Kouanchao said. "I knew that by being a part of this program I would be transformed at many levels, especially the way I saw the world and the opportunities ahead of us."
Rabitoy added that he too was impressed with the doctorate program for a variety of reasons, including that the program requires students to think critically, become independent and self-sufficient researchers, and provides them with an opportunity to understand the role of diversity in higher education.
"The program also gives students the opportunity to work with both academic faculty and practitioners in the classroom setting," he said. "As an academic administrator, I was looking for a program that provided me with an opportunity to work with my peers, view academic issues from various lenses and philosophies, and give me the opportunity to apply theory to practice. I am proud to be a Titan and a graduate of the program."
Rabitoy also lauded the program's faculty members for their dedication and commitment to professional development.
"Without a doubt, they are the best faculty members I have ever had the chance to work with. They continuously challenged me and encouraged me to do my best work. Two of them in particular, Dr. Dawn Person and Dr. John Hoffman, served to guide me through the program and helped me become the professional that I am today."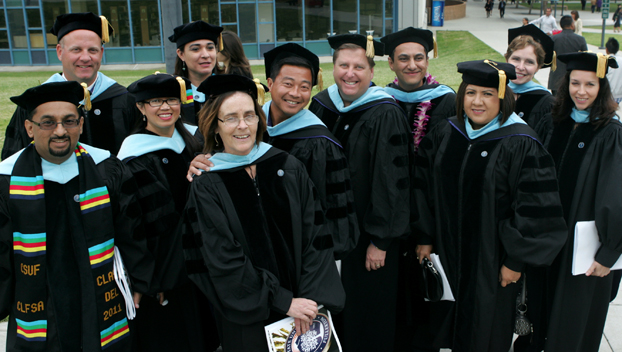 Caption: In this photo are most of the inaugural class of Ed.D.-community college leadership graduates. Photo by Karen Tapia
June 6, 2011