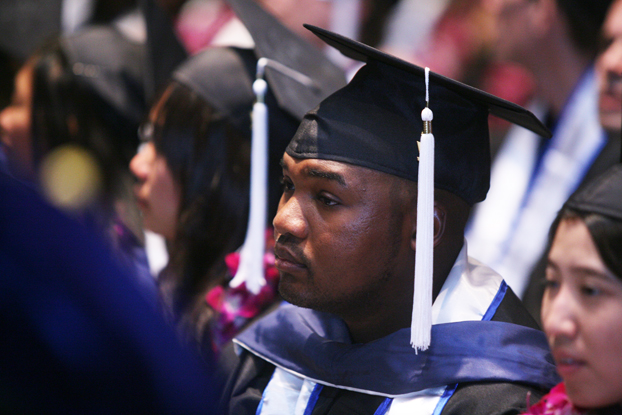 Caption: Fulbright Scholar Rhodes S. Muyunda at his graduation ceremony in May. Photo by Greg Andersen
'Full of Knowledge'
Fulbright Scholar Returns to Namibia with CSUF Master's Degree
WHILE IN THIS COUNTRY as a Cal State Fullerton graduate student, Fulbright Scholar Rhodes S. Muyunda enjoyed American football and basketball games, watched "Dancing with the Stars," and "American Idol" and developed a liking for hamburgers and hot dogs.
But, what he holds most valuable from his yearlong stay in America is his master's degree in education, with a concentration in teaching English to speakers of other languages.
"I chose CSUF because I was told by a former student that Fullerton has the best TESOL program among the Cal State campuses," Muyunda said. "And, I wanted the best education possible. I can certainly say that I left with my head full of knowledge."
The 29-year-old Namibia native, now back on his homeland, hopes to teach English to university students. Before coming to America, he taught English at a secondary school.
"Now that I have my master's degree, I hope to get a job at any university in Namibia," said Muyunda, who received his bachelor's degree in English education from the University of Namibia in 2000.
As a professor, Muyunda said, he hopes to emulate his CSUF professors, who he called "very professional and helpful."
One of those professors was Cheryl Boyd Zimmerman, associate professor of modern languages and literatures.
"Rhodes speaks four languages fluently," she said. "He  entered the TESOL program with great insight about learning languages  and with great interest in English. We all loved seeing  language learning, English and American life, through his eyes. For example, he loved Disneyland, but considered Space Mountain 'sinister.'  He made many friends here, including me, who will miss his 'takes,' both in class and out. He will be an asset to the university which hires him!"
June 6, 2011