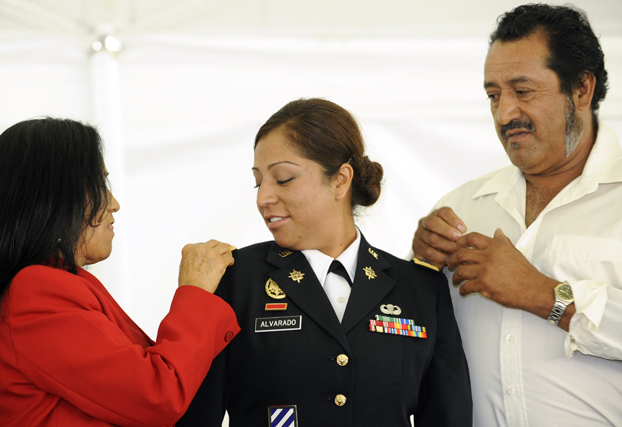 Caption: Alejandra Alvarado, center, is pinned at her commissioning ceremony by her parents Argelia, left, and Benjamin Alvarado. Photo by Stephen Weissbart
She's No. 1
Top ROTC Graduate Aims For Federal Agency Career
SECOND LT. ALEJANDRA ALVARADO worked from 6 p.m. to 6 a.m. in the hot desert. She was one of the soldiers sent to Iraq in 2003 as part of the U.S. military's initial ground attack.
About the Top ROTC Graduate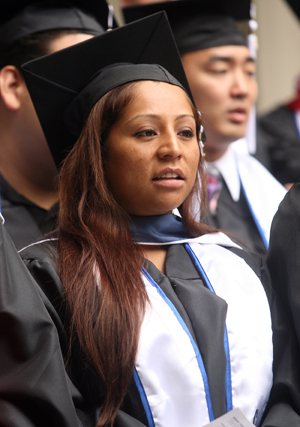 Caption:Alejandra Alvarado at her graduation ceremony on campus in May. Photo by Greg Andersen

Favorite Book: "Orientalism" by Edward Said. "I was introduced to this book by Dr. Steve Jobbitt, who has been one of my most influential professors at CSUF. He introduced me to history, which was a difficult transition from criminal justice. He is very passionate about history and his passion makes it easy for students like myself to learn from him. He helped me develop a passion for history. I always looked forward to his class and his three-hour lectures seemed like 20 minutes," she said.

Fun Fact: Played college softball for Santa Ana College (two seasons), then transferred to play for Kentucky Wesleyan College (two seasons).

Favorite Movie: "Zoolander." She called the film "funny and geeky. Sometimes it feels good to go outside the realm of reality and laugh at a good comedy."

Hero: Her mother, Argelia Alvarado. "She is the strongest, most compassionate woman I know. She has shaped me to be strong, determined and caring," she said.
"I slept four to five hours and got up again to get ready for that night's mission," said the 29-year-old veteran, recalling her second deployment.
"The days were long and hot, extremely hot. We drove in, set up tents and made our own latrines and showers," she said. "In other words, there was nothing out there. It definitely made me appreciate the little things, as funny as it sounds, such as a toilet, running water and instant noodles. I would not change that experience for anything, it made me stronger and smarter. I definitely matured a lot after that experience. Females fighting on the battlefield is challenging, but not impossible."
Alvarado joined the Army after graduating from Valley High School in Santa Ana in 2000. Her first deployment was for Operation Enduring Freedom in Qatar in 2001. After returning from Iraq, she attended Kentucky Wesleyan College, where she earned her bachelor's degree in criminal justice in 2007.
This year, she completed her master's degree in history at Cal State Fullerton. She also completed the university's ROTC program, from which she was commissioned an officer in May.
She was the Titan Battalion's No. 1 cadet and she received the highest ROTC honor — the George C. Marshall Award, for demonstrating leadership through outstanding performance in academics, military skills, extracurricular activities and physical fitness. She also received the Distinguished Military Graduate Award for displaying outstanding qualities of leadership, high moral character, noteworthy academic achievement and exceptional aptitude for military service.
"Ale Alvarado became the No. 1 cadet in the Titan Battalion due to her dedication, leadership and selfless service," said Capt. Jocelyn Simmons. "She is about to embark upon a journey in joining the Army Officer Corps, an elite group of leaders of this great country. I am very proud of her."
Her goal in going through the ROTC program, earning her college degrees and serving in the military, Alvarado said, "was not to be the best, but to do my best and work hard, make my family and friends proud."
Enlisting in the Army was one way, Alvarado said, she could repay her country for all the opportunities it has provided for her family, specifically her parents, who both emigrated from Mexico.
"You don't have to be male to be in the military," she said. "Anyone can succeed in this country if he or she works hard."
Alvarado, who hopes to become an F.B.I. or C.I.A. agent specializing in counter terrorism, will work for the Titan Battalion as a recruiter on campus this summer before she begins military intelligence training at Fort Huachuca in Arizona in the fall.
"I also plan to apply for the Army's Female Engagement Team," she said. "It won't be easy but, I am determined to do it. If I get accepted then I would go to Fort Benning in Georgia for training after my military intelligence training at Fort Huachuca, serve a year tour in Afghanistan and, then, return home to pursue a federal agency career. Hopefully, all goes as planned. I am excited and really looking forward to the future."
Alvarado credits her CSUF professors for preparing her for a career as a federal agent.
"I hope that my experience in the military intelligence corps, my certificate in crime and intelligence analysis from CSUF's Extended Education program and my master's degree in history will be a great help," she said, adding that she is grateful for the advice and teaching she received from Steve Jobbit and Jasamin Rostam-Kolayi, assistant professors of history.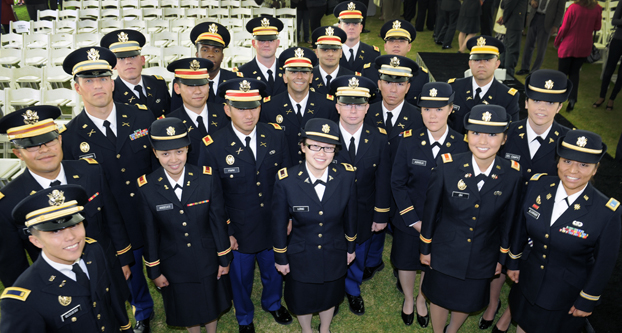 Caption: Alejandra Alvarado, front row far right, poses for a photo with all of this year's CSUF ROTC graduates, after being commissioed second lieutenants. Photo by Stephen Weissbart
June 6, 2011