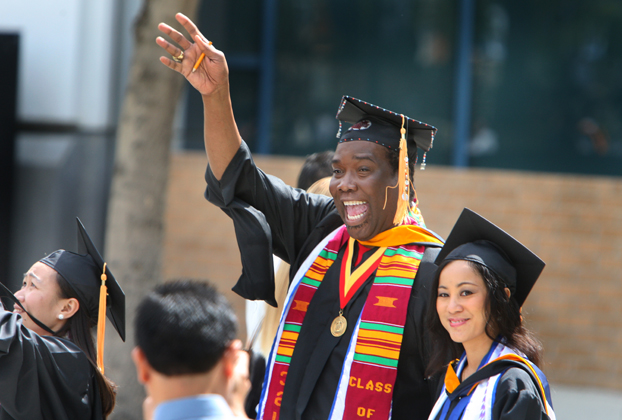 Caption: Austin Nation waves to fellow nursing graduates during his graduation celebration. Photo by Karen Tapia
M.S.N. to Ph.D.
Nursing Graduate Raises AIDS Awareness, Wins University's International Understanding Award, Gains Admission to UCSF
AS HE PACKS HIS BAGS for summer research appointments at Yale and Duke universities and prepares to begin his doctoral studies at UC San Francisco in the fall, Austin Nation has marked another important milestone.
The Cal State Fullerton alumnus (B.S. nursing '09, M.S.N. '11) recently turned 49½.
"I never expected to be around this long," said Nation, who has been living with AIDS for nearly two decades. "I'm making a special point to celebrate every three months now."
With no cure for the life-threatening disease and his health fluctuating day-to-day, Nation lives every minute as if it were his last. So, he studies hard and works with urgent fervor to get the word out about HIV and AIDS. One of the university's most recognized nursing graduates, Nation donates his time as a speaker for AIDS Services Foundation Orange County and other charitable groups.
"In California, someone is infected with HIV every nine minutes," he warns fellow college students and community groups. "If you are having unprotected sex, you are at risk. You don't want to mess with this disease."
Upon being accepted to UC San Francisco's doctorate in nursing program, Nation — who as an undergrad started a nursing club for students and founded a local Christian ministry for single men and women — wrote a lengthy note to his supportive campus professors and friends. As he signed his name, he tearfully recalled the years he's spent on campus, completing his bachelor's and master's degrees.
"I couldn't ask for a better opportunity to spend the next season of my life doing research in the HIV/AIDS arena," he wrote. "I've gone way beyond my wildest dreams."
For his accomplishments and his service, nurse Nation was honored with the university's 2011 International Understanding Award, recognizing personal contributions to increase international understanding.
Nation is the recipient of the 2010 William Randolph Hearst/CSU Trustees' Award for Outstanding Achievement and a member of this year's class of Sally Casanova California Pre-Doctoral Scholars. Nation also was selected to take part in the Graduate Assistant in Areas of National Need Program.
The Fullerton resident has received numerous other merit scholarships, and UC San Francisco will award him an annual $12,000 scholarship until he completes his degree.
Once done, Nation plans to become a nursing professor at the university level.
"With a Ph.D., I will gain credibility in the field of academia, perhaps writing my own grants for my HIV/AIDS research, or starting my own nonprofit organization to provide education, outreach and support to those living with the disease."
As for teaching nursing, Nation called the field the "art and science of caring and compassion."
It's a "pretty amazing" and noble calling, Nation said, adding that he hopes to inspire his future students.
Meanwhile, he is planning his 49¾ celebration in August and a big 50th birthday bash Dec. 11.
"I have clearly outlived my own life expectancy," Nation said. "Twenty-five years ago, I was told to get my affairs in order because my doctors said there wasn't much they could do for me. Well, I'm still here and my life, especially my time at Cal State Fullerton, has been better than I could have ever imagined."
June 6, 2011