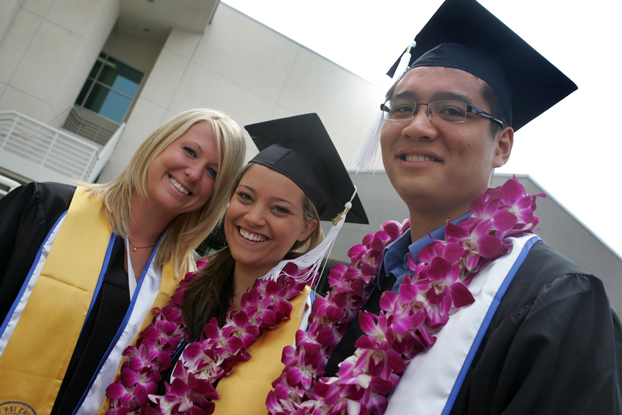 Caption: McNair Scholars from left: Erin E. Crecelius, Jennifer Duncan-Coons and Joe Lam. Photo by Karen Tapia
Onward to Graduate School
McNair Scholars Complete Undergraduate Degrees
FIVE PSYCHOLOGISTS, a sociologist, a historian and a mathematician are among the 10 Cal State Fullerton McNair Scholars who have completed their undergraduate degrees and now are preparing for graduate school.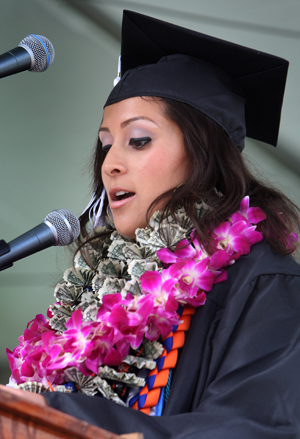 Caption: Maria G. Ruelas delivered the student address at her graduation ceremony. Photo by Karen Tapia
The McNair Scholars merit program honors Ronald E. McNair, the second African-American to fly in space, who perished with his six crew mates in the explosion of the Challenger space shuttle seconds after takeoff Jan. 28, 1986. The program annually pairs 25 students from disadvantaged backgrounds who have demonstrated strong academic potential with faculty mentors to hone their research skills and guide their participation in research projects throughout the year.
The Class of 2011 McNair Scholars, their cities of residence and majors, are:
Jacquelin C. Bebawi of Mission Viejo, history
Jennifer Duncan-Coons of Placentia, psychology
Erin E. Crecelius of Costa Mesa, psychology
Stephen Hager of Orange, psychology
Joe Lam of Diamond Bar, psychology
Leslie Moreno of Fullerton, psychology
Kevin Park of Diamond Bar, mathematics
Maria G. Ruelas of Inglewood, sociology
Casey W. Sanchez of Los Angeles, physics and mathematics
Jose M. Zamora of Rowland Heights, ethnic studies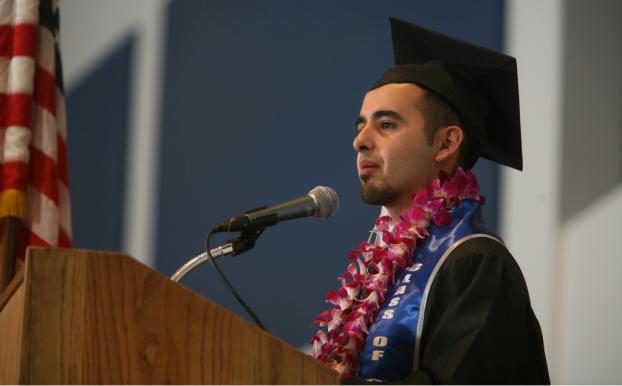 Caption: Jose M. Zamora delivered the student address at CSUF's Latino-Native American graduation ceremony. Photo by Greg Andersen
Jacquelin C. Bebawi
As a student activist on campus since 2008, Bebawi stresses the importance of higher education.
"Our lives don't revolve around just making money," she said. "We need to be a more humanistic society."
A member of the Phi Alpha Theta History Honor Society, Bebawi has been working with mentor Steven Jobbitt, assistant professor of history, staging rallies and demonstrations on campus. She's also been studying French student activism in 1968 and has presented research papers on the topic at several conferences.
"I found many similarities with contemporary student activism in the U.S.," she said. "Students then and now call for us to value education, not just for the pursuit of money, but for the love of learning, and its role in creating a more understanding and empathetic society. That's why I want to be a history professor. History shows that we need each other to survive, and I want to teach that."
Bebawi will work as a teacher's assistant at Northwestern University starting this fall and hopes to pursue a master's degree in history there in 2012 and, eventually, a doctoral degree.
Jennifer Duncan-Coons
Duncan-Coons is graduating cum laude and will return to Cal State Fullerton to pursue her master's degree in psychology this fall. She plans to continue her undergraduate research on juror bias and work as a graduate assistant for Russell K.E. Espinoza, assistant professor of psychology.
A member of the American and Western psychological associations and Psi Chi, the National Psychological Honor Society, the long-time Girl Scout has presented her research at various conferences, including the American Psychological Association annual convention last year. She presented a poster on "Effects of Attractiveness and Sexual Orientation on Juror Decisions for Criminal Court Cases" with Espinoza at the Western Psychological Association conference last March in Los Angeles.
Erin E. Crecelius
After graduating cum laude, Crecelius will return to campus in the fall to pursue her master's degree in psychology.
Her experience as a McNair Scholar was pivotal in her decision to pursue graduate school and delve deeper into "the positive aspects of psychology and development and how society and family dynamics aid or impair constructive growth."
Crecelius has been working as a research assistant to Emily Cheng, lecturer in psychology, collecting data for a study on decisions made by mothers of obese children in the Latino community. In addition, under the direction of Julie Stokes, professor of psychology and chair of Afro-ethnic studies, and Pamella H. Oliver, associate professor of child and adolescent studies, Crecelius has been researching the character and emotional traits that promote resiliency in children exposed to violence.
Stephen Hager
Hager, president of Psi Chi, Fullerton's chapter of the International Psychological Honors Society, will graduate cum laude, then begin preparation for doctoral study in clinical psychology with the aim of conducting research and developing therapy for schizophrenics, including "a postmedication treatment plan that utilizes extra-biological means of rehabilitation," he said.
As a McNair Scholar, Hager conducted research with Iris Blandón-Gitlin, assistant professor of psychology. He plans to continue his study of memory manipulation and the use of detailed photographs to produce false memories.
"The more details in a photograph, the more likely a false memory will occur," he said. "This has ramifications, especially when used in therapy."
Joe Lam
Under the direction of Julie Stokes, professor of psychology and chair of Afro-ethnic studies, Lam has conducted research on the factors influencing Asian Americans to pursue higher education.
In the fall, Lam will pursue his master's degree in educational leadership at Golden Gate Baptist Theological Seminary in Brea.
"I want to be counseling students in schools or for nonprofit organizations," said Lam, who has served as a volunteer or paid tutor since he was 14. "It's always been my passion to work with youth."
Leslie Moreno
Moreno will graduate magna cum laude this month and return to CSUF in the fall to pursue a master of social work degree and a career as a social worker. Moreno has taken part in several research projects and received a $1,000 CSUF research grant and a $1,000 National Society of Collegiate Scholars Route 66 scholarship, among other awards.
A member of the Golden Key International Honor Society and Psi Chi International Honor Society, she has conducted research with Allen W. Gottfried, professor of psychology, on the landmark Fullerton Longitudinal Study, focusing on academic achievement, parental expectations, adaptive school functioning, classroom behavior, postsecondary education and IQ.
She has worked as a research assistant on health issues and made presentations at recent meetings of the Western Psychological Association in Los Angeles, Society for the Research in Child Development in Montreal and the American Psychological Association in San Diego. Moreno also serves as a volunteer at Orangewood Children's Home and since 2004, as full-time caregiver of her ailing stepfather.
Kevin Park
A passion for math is what drives Park to pursue doctoral study at Oregon State University and a future as a mathematics professor.
As a McNair Scholar, he conducted research with Angel R. Pineda, assistant professor of mathematics, on medical imaging, attracted by the opportunity to "have a significant and direct impact on a person's life."
"My first research project included a noise analysis of accelerated Magnetic Resonance Imaging (MRI) and improvements in image quality in support of proper diagnosis," he said.
He has presented his research findings at a number of conferences and meetings and last year won a National Science Foundation fellowship to continue his studies.
Maria G. Ruelas
Ruelas, who is graduating cum laude, is an intern, assistant counselor and cheer and drill coach in the Lennox School District in Inglewood. She will begin USC's master of social work program in the fall.
The sociology major is the first in her family to pursue higher education, and she wants to "become an advocate for student and family services to enhance the quality of outreach programs and education."
Her research has focused on first-generation Latina students and their motivation to pursue advanced graduate degrees.
"I want to examine specific factors that guide Latina students through the educational pipeline, and help create and develop programs that can bring foster higher education to unmotivated students," she said.
Casey W. Sanchez
Sanchez will graduate cum laude and follow up this fall with doctoral studies in material science and engineering at UC San Diego, where he received a four-year fellowship. The McNair Scholar envisions a career "incorporating academia and industry that could include leading a research team, teaching at a university and working in industry designing and developing products for the future."
At Cal State Fullerton, Sanchez worked closely with Michael Loverude, professor of physics, investigating student understanding of electromagnetism.
Sanchez reported initial results of his research in 2009 during a poster session at the Association of Physics Teachers summer meeting in Ann Arbor, Mich. This year, he and Loverude revised their survey instrument by reversing the reasoning sequence to further probe student thinking.
Jose M. Zamora
The keynote speaker at this year's CSUF Chicano/Latino & Native American Graduation Celebration, Zamora will return to his alma mater in the fall to pursue a master's degree in American studies. The first in his family to graduate from college, he hopes to eventually earn a doctorate and become a professor and researcher.
He has presented papers on his research at various symposiums and conferences, and credits his professors in Afro-ethnic studies and Chicana and Chicano studies for introducing him to and getting him excited about ethnic studies.
"Early on in my educational career, I recognized that historical, institutional and structural factors created the circumstances fueling societal disparities, such as poverty, low educational attainment, gang involvement and disproportionately high incarceration rates among marginalized populations," he said. "I hope to draw theoretical parallels between historical events and contemporary conditions for gangs of the inner city, expressly those of the San Gabriel Valley."
Zamora said he wants to teach to "acknowledge and affirm students' voices, encourage their personal and academic development in tandem so that they too may aspire to pursue higher education and keep the door open for future generations."
June 6, 2011