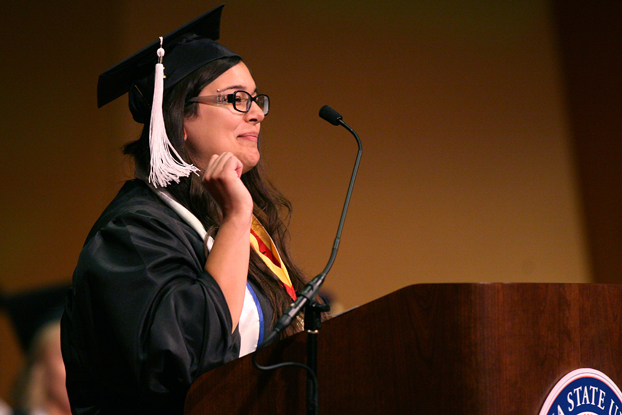 Caption: Rahima Schwenkbeck delivered one of the student speeches at her graduation ceremony. Photo by Greg Andersen
Getting Their Pick of Grad Schools
Trio Receive Awards for Outstanding Scholastics and Service, Offered Admission to Choice Universities
RAHIMA SCHWENKBECK turned down offers to pursue doctoral degrees at City University of New York and at the University of Texas in favor of George Washington University in Washington, D.C.
With a full scholarship, valued at more than $60,000 per year, she will begin her studies in American studies at GWU in the fall.
"I want to become a professor and work with the public in museums or other public institutions," said the 27-year-old Fullerton resident, who has a bachelor's degree in marketing and entrepreneurial management and a master's degree in liberal studies from the University of Minnesota besides her CSUF master's degree in American studies that she completed in May.
She arrived at Cal State Fullerton to pursue her second master's degree two years ago and has since presented 10 different research papers about historical consumer culture at regional and national conferences. In addition, she held two part-time jobs — one on campus and the other off campus, teaching high school students. And, she volunteered as a docent at the Fullerton Museum Center while maintaining a 3.97 gpa.
For her accomplishments, she was awarded the university's President's Associates Outstanding Graduate Student Award.
"The American Studies Program here is phenomenal," she said. "It really prepared me well. Looking back to when I got my first master's degree I wasn't prepared for a doctoral program. I was rejected. But here, I got to choose from three offers. I am so thrilled about the future."
Her professors rave about her.
Schwenkbeck "is one of the most exciting graduate students I've had the opportunity to work with in my 30-year career at CSUF," said Pamela L. Steinle, professor of American studies. "She is an extraordinarily talented scholar, writer and speaker of diverse interests.
"But, what is most striking about Rahima is her incredible persistence and her seemingly boundless energy, resulting in an impressive range of accomplishments. Whether it is scholarship, student leadership, community activism or just plain friendship, Rahima is a person who not only asks 'how can I help?' instead of 'can I help?'" and then puts herself 100 percent into whatever she takes on. I am very confident that Rahima will succeed readily in her upcoming doctoral studies and become a talented and highly productive scholar and professor in her own right in the near future."
Added John Ibson, professor of American studies: "Rahima has a powerful concern for equity, a commitment to fairness that inspires and pervades her scholarship and her relationships alike. She has tremendous energy, both physical and intellectual, a fierce spirit that is never off-putting and is often quite inspiring. In my own nearly 39 years of highly rewarding teaching at Cal State Fullerton, I've known very few people — students or colleagues — as adept as Rahima is in multitasking, all the while performing consistently with excellence. Exceptional defines Rahima Schwenkbeck precisely."
Schwenkbeck plans to research consumer trends, mass media, environmental issues and economics and how they relate.
"I want to know why people buy to excess," she said. "I want to know about work consumption and leisure and how Americans choose to express themselves…. My goal, like I think everybody's goal, is to ultimately make the world a better place, a kinder place, a more knowledgeable place."
The President's Associates also honored English major Henoc M. Preciado and Spanish major Stacy A. Kenworthy with their Graduating Senior University Service Award and Graduating Senior Scholastic Award, respectively.
Henoc M. Preciado
After turning down Columbia University and USC, Preciado, who completed his bachelor's degree in May, accepted a full scholarship ($40,000 a year) to pursue his master's degree in higher education at Syracuse University in New York, in the fall.
"Ultimately, I hope to work in a setting where I would strive to work collaboratively with students and administrators to make the university a great learning environment," he said, adding that he also plans to earn a doctoral degree.
Preciado immersed himself in student life while on campus, serving as a leader on multiple committees and working with various programs throughout the university. He has been a member of the board of directors of Associated Students, Inc., since 2008. He was elected ASI's vice president of finance last year and is completing his term this spring.
The 23-year-old Norwalk resident's service to the university also included serving as chair of the instructionaly-related activities committee, which spearheaded an effort to maintain funding to ensure the continuation of critical programs, such as the Daily Titan, Grand Central Art Center theater and Titan Internet Radio.
As a Titan ambassador and peer mentor, Preciado helped teach a University 100 class for freshmen.
"I became really involved on campus after one of my close friends had heard that I had been corresponding with UC Berkeley with the intent to transfer as a sophomore three years ago," he said. "I didn't feel that I was connected to CSUF, but he then guided me to different organizations on campus and encouraged me to apply for leadership positions. After that, the rest is history. "
Preciado is one of the best students she's ever taught, said Erin Hollis, professor of English, comparative literature and linguistics. She called his award "well-deserved."
"Over the course of his time here, I was impressed by his dedication to his studies and his service to the university," she said. "His personality makes him a favorite among his peers and among the faculty in the English Department. I know he will succeed in the future because of his dedication and work ethic."
Stacy A. Kenworthy
Kenworthy completed her bachelor's degree, magna cum laude. This fall, she will begin her graduate studies at UC Santa Barbara, where she accepted a $20,000-a-year teaching assistantship. By the end of her fifth year, she expects to have completed her master's and doctoral degrees in Hispanic linguistics.
On the Dean's List since 2006, Kenworthy, 22, of Yorba Linda, is a member of multiple honor societies. While an undergrad on campus, she attended numerous conferences where she presented papers on the importance of linguistics.
While she was ready to complete her bachelor's degree last year, Kenworthy decided to delay her graduation date to take Portuguese classes and increase her chances of getting accepted at UC Santa Barbara. Her plan worked, thanks to Reyes Fidalgo, professor of modern languages and literatures, and Marcial Prado, emeritus professor of foreign languages and literatures, who advised her and have been among her favorite professors, Kenworthy said.
Besides English, Spanish and Portuguese, Kenworthy also knows sign language. Her love of language was fueled by her Irvine High School Spanish teachers who made learning the language exciting.
"It really interests me to be able to communicate with other people and to learn and become more aware of other cultures. We're in a multi-diverse society and it's important to share your opinions and get the opinions of others."
June 6, 2011