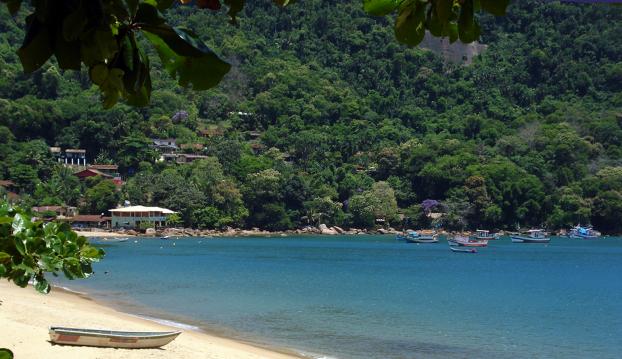 Caption: This is Vila Picinguaba, Serra Do Mar State Park in Brazil, where Aline N. Gregorio conducted her award-winning research.
Grey Areas of Green
Graduate Wins Thesis Award on Research About Brazil's Rainforest
IN VILA PICINGUABA, Brazil, an area of the Atlantic Coast Rainforest where only 4 percent of the original forest remains, conservation is critical. But, at what cost?
Caption: Aline N. Gregorio. Photo by Edward Salas
That is the question Aline N. Gregorio tackled in her master's thesis, which earned her Cal State Fullerton's coveted Giles T. Brown Outstanding Thesis Award.
Gregorio, who earned her master's degree in geography in January, researched Vila Picinguaba last year, producing her 177-page thesis, "The Grey Areas of Green: Insights Into Life and Conservation in Vila Picinguaba, Serra Do Mar State Park, Brazil." It explores the impacts of the global mobilization for biodiversity upon the local people whose space and place within conservation have not been defined.
Her thesis also received the Tom McKnight Professional Paper Award at the California Geographical Society's 64th annual meeting.
Robert Voeks, professor of geography and a Brazilian rainforest expert, called Gregorio's research "highly original" and noted that it addresses a "challenging dimension of environmental conservation in the developing world."
In his letter nominating Gregorio for the Giles T. Brown Award, Voeks wrote: "Beginning in the 1970s, due in many cases to pressure from the U.S. and European countries, tropical governments in Asia, Africa and Latin America adopted the so-called 'Yellowstone Model' for nature conservation. Sizeable areas of land were set aside for the protection of their biological values and, following the North American precedent, indigenous or other resident peasant peoples were removed from the locale, sometimes by force.
"Increasingly, at least in Brazil, these tropical forested properties are now being protected for the sake of their standing carbon, with the intent of decreasing the primary cause of global climate change. While supporting the nature protection and climate change agenda, especially in high-profile tropical forest landscapes, this strategy has come under increasing scrutiny from human rights groups and social scientists. It is with this people-park dilemma in mind, as well as the growing consensus that cultural diversity is just as threatened as biological diversity, that the concept of 'biocultural diversity' has emerged. ...
"Aline journeyed to Brazil to explore this situation in a highly politicized area of the Atlantic coastal rainforest," he continued. "As one of the most threatened ecosystems on Earth, and maintaining one of the highest levels of endemicity (species found nowhere else), these forests represent a critically high conservation priority. At the same time, a loosely-knit population of subsistence fishers-gatherers-farmers, known as Caiçaras, have lived sustainably in these forests for many generations."
Meanwhile, the Brazilian government has established a number of conservation areas in the Atlantic Forest, but has chosen not to take the unpopular action of removing the Caiçaras, who have lived in their small village for the past decade.
But, today, nearly all of their traditional activities are criminalized, Voeks said. "They cannot continue to extract rainforest products, they can no longer cut forest for slash-and-burn agriculture, they cannot improve their homes, etc. They exist under a state of environmental house arrest, or as Aline terms it, 'a grey area of green,' no longer allowed to carry on their traditional subsistence activities, but not excluded physically from their forest home either."
He said the faculty members of the Geography Department were so impressed with Gregorio's research that they hired her to teach in the department during the spring semester. She also was invited by the editor of California Geographer, a peer-reviewed journal, to submit a revised version of her thesis for publication.
She now plans to pursue a doctorate in geography, she said, "in an effort to continue to raise awareness of the value of geography education in building more sustainable relationships with the natural environment."
Gregorio, an immigrant from Brazil, overcame struggles with language, customs and finances and became one of the Geography Department's best graduates, Voeks said. "I have no doubt that she will get accepted to a top-tier Ph.D. program."
June 6, 2011