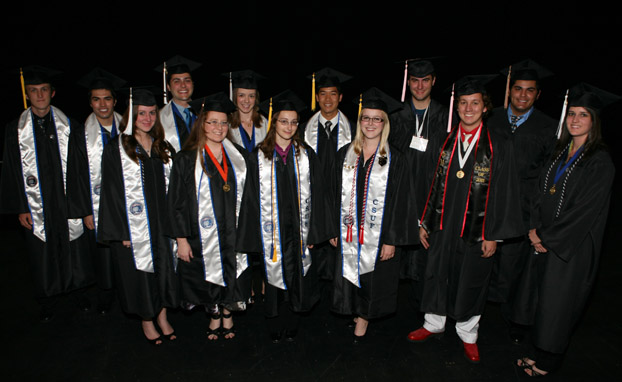 Caption: Thirteen of this year's Class of 2011 President's Scholars pose for a photo at the university's Honors Convocation. Photo by Edward Salas
President's Scholars Graduate
18 Members of Top Scholar Program Complete Degrees
EIGHTEEN MEMBERS OF THE PRESIDENT'S SCHOLARS program were among those taking part in this year's commencement ceremonies.
The President's Scholars Program was established in 1979 to recognize and attract a distinguished group of academically accomplished students. Based solely on merit, the scholars program offers a variety of benefits, including a four-year scholarship that covers enrollment fees and a book allowance.
Scholars have the opportunity to participate in undergraduate research, partner with faculty members in their major and participate in campus leadership and community activities. Scholars also have the opportunity to meet periodically with CSUF President Milton A. Gordon and attend university events.
Currently, 67 students are in the program. The first President's Scholar in the Class of 2011 to earn a degree is January graduate Jonathan Davis of La Habra, who completed a B.A. in criminal justice. Scholars who completed their degrees in May are:
Cristian Bueno-Correa of Buena Park, B.A. mathematics and Spanish
Geovanny Castro of La Puente, B.A. business administration-management
Michael Donohue of Chino Hills, B.A. music-music education
Allison Hanaford of Fullerton, B.S. biological science
Carlos Hernandez of Riverside, B.A. mathematics – teaching mathematics
Joseph Hill of Brea, B.A. theatre arts and English
Cassandra Horn of Walnut, B.A. theatre arts-teaching
Michael Johnson of Fullerton, B.M.
Cara Beth Mohlman of Yorba Linda, B.A. liberal studies, is entering the teacher credential program
Brian Norris of Brea, B.S. computer science, B.A. mathematics
Jennifer Pham of Orange, B.A. business administration – management
Katherine Runyan of Fullerton, B.A. liberal studies
Corinne Sandhoefner of Anaheim, B.A. communicative disorders, is entering the master of arts in communicative disorders program
Jason Takahashi of Fullerton, B.A. mathematics and communications
Jennifer Tarnowski of Wildomar, B.S. geology
Talia Tran of Fullerton, B.S. biological science
Rikki Tremblay of Fullerton, B.A. speech communication, is entering the master of arts in speech communication program
June 6, 2011