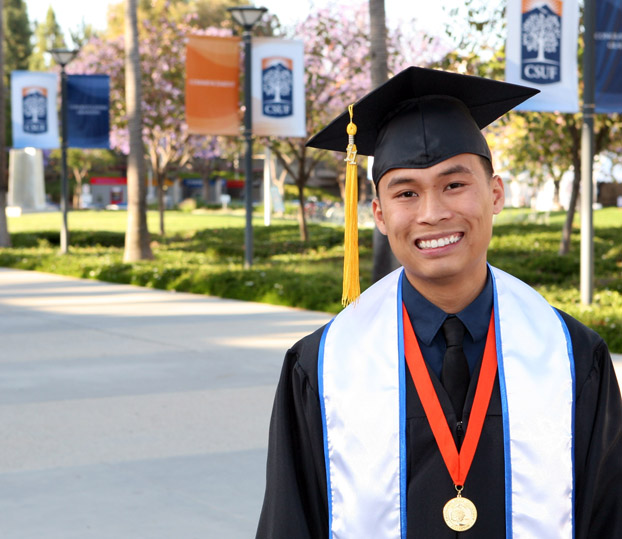 Caption: Dickie Duy Nguyen graduated from CSUF with a 3.88 GPA. Photo by Edward Salas
Top Achievements Recognized
Graduate Duo Win Miles D. McCarthy Health Professions Award
DICKIE DUY NGUYEN and LAUREN PARK are this year's recipients of the Miles D. McCarthy Health Professions Award, one of the top student achievement awards presented to graduating students from Cal State Fullerton.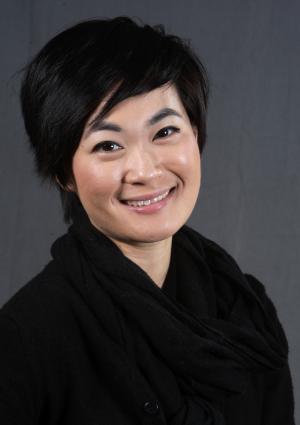 Caption: Lauren Park achieved a 3.98 GPA while studying at CSUF. Photo by Karen Tapia
Lauren Park
Park came to Cal State Fullerton after receiving her degree in psychology from UC Berkeley. Her goal was to become a veterinarian, and she wanted to complete the science prerequisites and certification that would satisfy the requirements for enrollment to a veterinary college. She was accepted to seven veterinary schools and has narrowed her choice down to UC Davis or Cornell.
"I was involved in the health professions track," she said. "I really enjoyed my classes in biology of cancer, immunology and microbiology. I've always enjoyed science, and these classes will have a direct impact on my profession."
While at CSUF, Park achieved a 3.98 GPA.
"It took a lot of time, and I took many accelerated courses. Veterinary schools usually require more science classes than med schools," she explained.
While a student, she worked at the California Animal Health and Food Safety Lab, the Placentia Veterinary Clinic and the Chino Valley Equine Hospital. Following graduation from veterinary school, Park hopes to work with small animals. "I've always loved pets and being around animals. This is something I've always wanted to do.
"It was challenging because I was trying to complete all the work in two years instead of four," she said. "I also wanted to work and volunteer at different places to get diverse clinical experience. I really learned about time management while in this program."
She said she appreciates the support she received from faculty and fellow students.
"Faculty and staff members, such as Christina Goode and Julie Stern, were great in steering me in the right direction to achieve my goals," she said. "And the students in my program were
cooperative, not competitive. I am very thankful for all the assistance I received."
Dickie Duy Nguyen
When Nguyen arrived on campus in 2007, he discovered that he loved science, a subject area that had not interested him in high school.
"The classes here were just really interesting," he said.
He graduated with a 3.88 GPA in biological science in May and will continue his education at pharmacy college — either Touro or Western University, both located in California.
"I really loved my biology and chemistry classes," Nguyen said. "When I first decided to major in the sciences, I didn't know what I wanted to do — maybe teach. All of my friends were pre-med and they recommended that I join the Health Professions program. That's when I seriously started to think of becoming a pharmacist. I've always been interested in medicine and as a pharmacist, you learn more about the effects of medications."
Nguyen served as a student assistant in organic chemistry and as a research assistant for Hope Johnson, assistant professor of biological science, studying microbial mats formed in Octopus Springs, Yellowstone National Park.
His research focused on the fossil records formed by bacteria. The bacteria form strotmatolites — cone-like structures. His research focuses on how the structures are formed and what bacteria are involved. Nguyen and Johnson hope to publish a scholarly paper on their findings this summer.
In addition to his studies and research, for more than two years Nguyen has volunteered with a group that runs a free medical clinic in Mexico the third Saturday of every month. Nguyen helps out as a pharmacy tech.
"We have to leave at 5:30 a.m. to get there and we don't usually get back until after 10 p.m.," he said. "When we arrive, the line is already so long. For many of these people, it's the only time they get to see a doctor."
Nguyen is excited about starting pharmacy school.
"It's a new chapter," he said. "I've really enjoyed my time at Cal State Fullerton and feel well-prepared for what lies ahead. I think the key is to focus on what you have to do until you become knowledgeable on that subject. After that point, the work becomes fun."
June 6, 2011