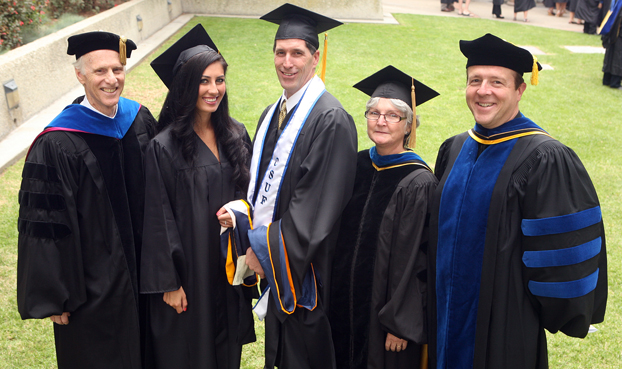 Caption: Two in the inaugural class of those earning a master of biotechnology degree from Cal State Fullerton are Nahal Ghahremanio and Ronald Morley, center. Flanking them at May 22 commencement ceremonies are: Robert A. Koch, acting dean, College of Natural Sciences and Mathematics, far left,  Kathryn Dickson, acting chair and professor of biological science, second from right, and David Dyer, director of the Program for Applied Biotechnology Studies, far right. Photo by Greg AndersenDownload Photo
Biotech Grads Find Hot Job Market
Master's Program Features Workplace Internships and Research
May 20, 2011 | Updated June 6, 2011 :: No. 164
With the goal of becoming leaders in the biotech industry, six students will be the first to graduate with a master of biotechnology degree from Cal State Fullerton.
Even before donning caps and gowns on May 22, most have landed jobs as a direct result of their enrollment in the university's Program for Applied Biotechnology Studies (PABS).
"Many of the master's students are pursuing careers in analytical chemistry, which is a hot job market and involves product quality control in pharmaceuticals," said David Dyer, the program's director. "It requires a skills set that's very important for companies making biological or small molecule drugs."
The two-year professional science master's degree program has attracted students from the region and as far as India and Vietnam. The program focuses on specific science and business skills required in biotechnology jobs, as well as completion of industry-submitted, team-based applied master's projects that offer students real-world experience.
The PABS program has formed partnerships with biotech companies and prepares students seeking careers in such areas as pharmaceuticals, biomedical devices, diagnostics systems and clinical trial management, among other related biotech industries.
Several of the soon-to-be graduates, according to Dyer, who served as a senior scientist and research director in the biotech industry before coming to Cal State Fullerton, are qualified to step into regulatory affairs in the pharmaceutical industry, another area where jobs are in high demand. Most are stepping into jobs offered to them as a result of being in the program, said Dyer.
"Ours is a unique program designed to supply the biotech industry with the kind of employees companies are looking to hire," he added, explaining that the program focuses on practical experience.
Students participate in a 10-week summer internship at local biotech companies and conduct a 26-week applied master's project, often at the workplace where they interned.
"It's a win-win model that is very effective at getting students jobs," Dyer said. "Not only do students get the opportunity to work in the corporate environment, but companies get a preview of the student's abilities and talents."
The inaugural class of PABS graduates at Cal State Fullerton, their cities of residence and employers:
Brea — Ronald Morley, Carolina Liquid Chemistries
Fullerton — Bao Tran (Pearly) Pham
Fullerton — Thuvan Tran, Alacer Corp.
Huntington Beach 
— Teodora Agoncillo, Allergan Inc.
Irvine — Nahal Ghahremani, Irvine Pharmaceutical Services
Yorba Linda — Rahul Oliver, Lawrence Livermore Laboratories 
Allergan Inc., Carolina Liquid Chemistries and Irvine Pharmaceutical Services, plus Advanced Bionics, Gilead Sciences Inc., Grifols USA and Molecular Express Inc. are among some 40 Southern California biotech companies supporting the university's biotech program — called the most advanced in the nation when it was presented at the National Governor's Association Professional Science Master's Academy in 2008.
CSU Consortium for Applied Biotechnology
The PABS program is offered through a consortium of three California State University campuses: Fullerton, Los Angeles and Cal Poly Pomona. In addition to the six students graduating this year from Fullerton's program, two students will graduate from the program at Cal State Los Angeles and two from Cal Poly Pomona.
Currently, 14 students are enrolled in the PABS consortium and are expected to graduate in 2012. In the fall, the consortium will welcome 21 incoming students.
Region Needs Biotech Professionals
Because Southern California is home to one of the country's highest concentrations of biotech companies, the region needs a ready supply of highly qualified professionals to work in this industry, Dyer said.
"Often, master's graduates from traditional, research-based programs lacked a basic understanding of project management, teamwork and business acumen," he added. "As a result, the three CSU campuses joined together to offer an industry-responsive professional science master's degree to meet the needs of the job market."
Begun with support from the Alfred P. Sloan Foundation and the CSU Program for Education in Research and Biotechnology, the program recently received about $130,000 for student scholarships from donors, including Grifols Biologics and Allergan Inc., and from supportive alumni from the CSU campuses in the consortium, Dyer said.
May 20, 2011 | Updated June 6, 2011