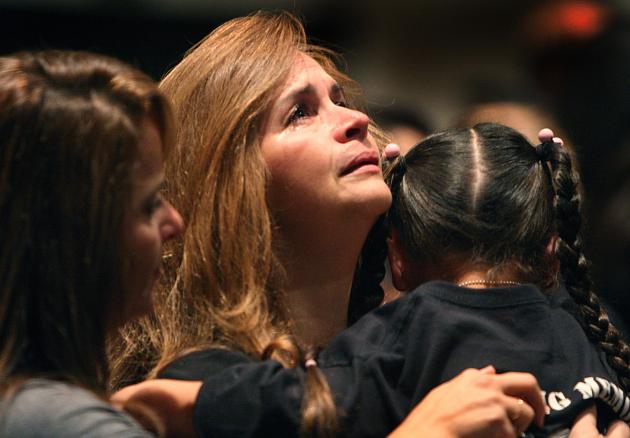 Photo by Karen Tapia | Cal State Fullerton Public Affairs
Cal State Fullerton and Latino Advocates for Education Inc. presented the 14th Annual Veterans Day Celebration Nov. 6. Special tribute was paid to Gold Star families, those related to military service members who died fighting in Iraq and Afghanistan.
---

El Toro Marine Corps Air Station Oral History ProjectOral historians from Cal State Fullerton's Center for Oral and Public History read excerpts from interviews conducted by the center at the annual El Toro Homecoming Nov. 6 on the former Marine Corps Air Station, now the Orange County Great Park. The center's El Toro Marine Corps Air Station Oral History Project is a collaboration between the university and the Great Park. Its aim is to tell and preserve the stories of the people who lived or worked at the station in their own voices.

Grant Supports Veterans ServicesFor the 450 student veterans on campus, support for their academic and personal success is being stepped up, thanks to a $318,000 U.S. Department of Education grant awarded to the university's Veteran Student Services. The three-year Fund for the Improvement of Postsecondary Education (FIPSE) grant "will allow CSUF to increase academic, co-curricular and personal support for the military veteran students enrolled at CSUF," said Susan Leavy, acting director of the WoMen's Center.
More Spotlights
---

Economic Outlook: A Slow CrawlThis year's Economic Forecast Conference focused on looking ahead and predicting the economic climate for the next year. Mihaylo College of Business and Economics Dean Anil Puri predicts: "The U.S. economy should continue to grow at an uneven and modest pace over the near term. The recovery will bear a closer resemblance to a mild recession than to an expansion."

Impact of Higher EducationAccess to higher education has always been key to California's economic prosperity. That's why the Master Plan for Higher Education was passed by the California Legislature in 1960. This Spotlight looks at the impact that Cal State Fullerton has had on students and the industries where they work.

Addressing Asian/Pacific Islander IssuesSora Park Tanjasiri's $7 million in recent grants to fund efforts to prevent obesity and cancer deaths over the next five years is one way Cal State Fullerton addresses Asian American and Pacific Islander issues. Other examples include Tu-Uyen N. Nguyen's class project that resulted in heightened awareness of health issues and Eliza Noh's research on suicides among women.

Legends & Legacies 2010Philanthropy has had a profound impact on the university's progress. During this year's Legends & Legacies event donor recognition gala, the university celebrated donors who have made substantial investments — $100,000 or more — toward the advancement of Cal State Fullerton.

Celebrating Chicano Art, History, CultureThrough art exhibits, performances, lectures, history lessons and research, students and the community are learning about Chicano culture and how Cal State Fullerton teaches about it.