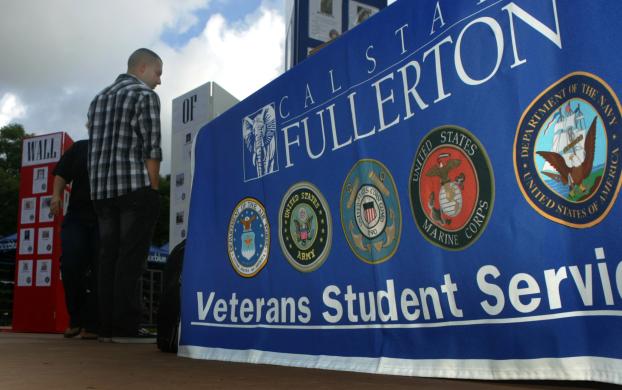 Caption: A $318,000 grant awarded to the university's Veteran Student Services will increase services for veteran students. Photo by Karen Tapia
Military Support
CSUF Garners $318,000 Grant to Increase Services for Veterans
FOR THE 450 student veterans on campus, support for their academic and personal success is being stepped up, thanks to a $318,000 U.S. Department of Education grant awarded to the university's Veteran Student Services.
The three-year Fund for the Improvement of Postsecondary Education (FIPSE) grant "will allow CSUF to increase academic, co-curricular and personal support for the military veteran students enrolled at CSUF," said Susan Leavy, acting director of the WoMen's Center.
As part of the grant, "new student veterans will have the opportunity to enroll in a University 300 class beginning next fall," she said. "The course provides a cohort learning experience to introduce new students to the university environment. Specific instruction on library research and test-taking skills, reading and comprehension will be embedded in the 10-week course. Students will be introduced to programs and services that assist in academic success as well as personal connectivity and social support."
In addition, Leavy said, the grant will focus on female veterans. The university's veteran student population is about 20 percent female.
"Women in the military face distinctive personal and social issues as compared to male veterans," Leavy said. "The incidence of sexual offences against women is a major concern. Women experience post-traumatic stress disorder differently than their male counterparts, and female veterans often receive a lesser amount of social acceptance. Programs and services for women will concentrate on these issues."
Other programs for veterans also are being created, she said. "With the infusion of funds from the FIPSE grant, we are better positioned to support and honor our courageous veteran students."
Indeed, said Joseph Chang, coordinator of the Veteran Student Services Program.
"We hope to provide formal training for staff members to help them better communicate and identify problems among the veteran population," he said. "We want to do what we can to help."
For more information about the program, call Chang at 657-278-8660, send him e-mail at jjchang@fullerton.edu, visit Room 245 of University Hall or go to www.fullerton.edu/veterans.
November 10, 2010