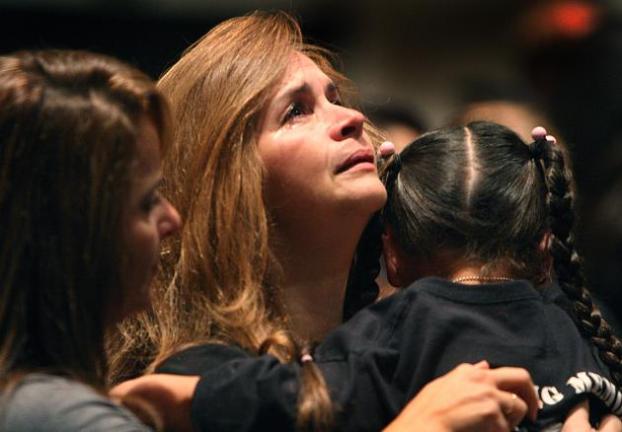 Caption: Gold Star family members of U.S. Marine, Maj. Elliot Mora are sisters Carmen Deanda, left, and Alicia Mora-Martinez, who is holding her 5-year-old daughter Kate Mora-Martinez. Photo by Karen Tapia
Honoring Fallen Heroes
CSUF and Latino Advocates for Education Inc. Honor Service Members Who Died Fighting in Iraq and Afghanistan
MOTHERS, fathers, children and siblings wept silently as their sons, fathers and brothers' pictures flashed on a big screen during a special tribute to the 50 military members who lived or were based in or near Orange County and died while serving in Iraq and Afghanistan.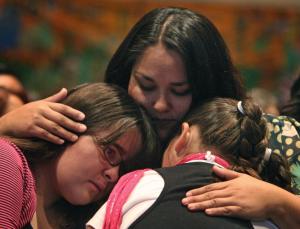 Caption: Gold Star family members, from left: Destiny Naza, her mother Delia Naza and sister Divine Naza comfort each other at the 14th Annual Veterans Day Celebration. Photo by Karen Tapia
Orange County Superior Court Judge Frederick P. Aguirre, president of Latino Advocates for Education Inc., read each name, rank, mission, hometown and date of death during the 14th annual Veterans Day Celebration Nov. 6 at Cal State Fullerton. 
The somber roll call included:
24-year-old Army Sgt. Israel Garcia, Company C, 2nd Battalion, 503rd Infantry Regiment, 173rd Airborne Brigade Combat Team, Operation Enduring Freedom, killed July 13, 2008 in Afghanistan

Caption: Congresswoman Loretta Sanchez hugs the mother of fallen service member Marine Sgt. Raul Moncada as retired Marine Col. John Telles looks on. Photo by Karen Tapia

22-year-old Marine Cpl. Claudio Patino IV, 3rd Battalion, 7th Marine Regiment, 1st Marine Division, I Marine Expeditionary Force, Operation Enduring Freedom, killed June 22 this year in Afghanistan
cousins: 19-year-old Marine Lance Cpl. Abraham Simpson, 3rd Battalion, 1st Marine Division, I Marine Expeditionary Force, Operation Iraqi Freedom, killed Nov. 9, 2004; and 25-year-old Marine Sgt. Jonathan J. Simpson, 1st Reconnaisance Battalion, 1st Marine Division, Operation Iraqi Freedom, killed Oct. 14, 2006
"Thank you for your service," Aguirre recited, after recognizing each of the fallen service men. (The complete list is available for download.)
Families of the fallen heroes, known as Gold Star families, also were thanked, given Congressional commendations and bouquets of flowers. They were among 500 who attended the event.
Rep. Loretta Sanchez (D-Garden Grove), who serves as chairwoman of the Armed Services Committee, hugged members of the Gold Star families and talked about her recent visit to see wounded soldiers at Walter Reed Army Medical Center in Washington D.C. and her commitment to "take care of all veterans."
"I came upon a 25-year-old soldier from San Diego, lying on his hospital bed," she said, wiping away tears. "He had no legs, one of his arms was missing and he lost his vision. His mother was in the room and she pulled me aside and told me, 'Loretta, they're charging my son $8 a meal and he can't even eat. He just has Jello.' That was a Tuesday. By Friday, none of our wounded service members were ever charged again."
While the event specifically paid tribute to all fallen heroes, regardless of ethnicity, Sanchez noted the large number of fallen Latino service men and women. Aguirre said that of the 50 killed in action in Iraq and Afghanistan from Orange County, 11 were Latino.
"The Latino community, in particular, when called upon, always stands up and goes and takes care of business for this nation," Sanchez said.
Aguirre said that in years past, the Veterans Day Celebration paid tribute to Latino veterans.
"This year, we decided to expand and acknowledge the sacrifices of all veterans," he said, adding that next year's event also will honor all veterans. 
Delivering the event's keynote address was retired Marine Col. John Telles, a Vietnam veteran who was the Marine One helicopter pilot for Presidents Richard M. Nixon and Gerald R. Ford. 
"Thank you," he told the Gold Star families and veterans in the audience. "Please accept my heartfelt and sincerest thanks and condolences and pride in what your loved ones sacrificed. I salute all of you."
Telles said his message was aimed at the youngsters in the audience. He told them to pursue their dreams with "integrity, determination, persistence and tenacity."
"You must not be deterred," he said. "You must not let anyone talk you out of doing anything you find valuable."
November 10, 2010