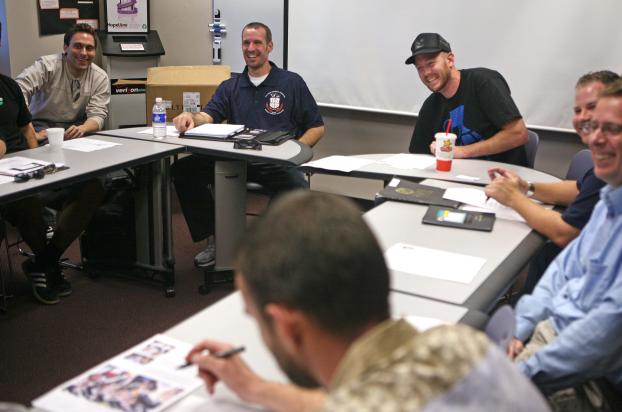 Caption: Members of the Student Veterans Association meet with each other to plan activities and support one another. Photo by Greg Andersen
Transitioning to College Life
Veterans Tackle Academics With Help From SVA
Members of the Student Veterans Association (SVA) at Cal State Fullerton represent all walks of life. But what they have in common is an understanding of military service that is often hard to grasp for those who haven't served.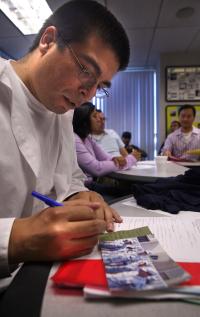 Caption: Veteran Raymond Bustamante prepares a photo for a Wall of Honor. Photo by Greg Andersen
The SVA, launched three years ago, assists student veterans at CSUF in successfully transitioning from military service to university life through social gatherings, networking and advocacy. The Association also assists in improving the quality of student veterans' experiences through the academic environment.
The following are a few voices from the dozens of SVA members:
Raymond Bustamante
A graduate student working on his master's in curriculum and instruction, Bustamante served as a finance specialist in the Army, based at Fort Stewart, Georgia.
"My adjustment to civilian and student life was difficult," he said. "But the support of SVA has been very helpful. People have crazy ideas about vets — that we're all messed up but that's not the case. Some folks have problems but most of us are okay. I give the military credit for helping me develop a high level of confidence and leadership. That helps as I go
Captforward with my studies."
Rommel Dizon
A senior majoring in Communications (with an emphasis on public relations), Dizon served at Fort Bragg, NC as a specialist in the Army. His duties included telecommunications and airborne infantry.
While he admits that his initial transition to student life was a bit rough, he now acknowledges that he's "getting to where I want to be."
"I think a lot of people hear the word 'vets,' and they think of old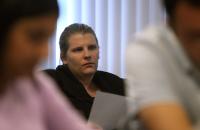 Caption: Kristin Menge at a SVA meeting. Photo by Greg Andersen
men. But there are a lot of us here who are young — some as young as 21," he said. "I'm grateful to the military for helping me develop leadership skills and giving me confidence."
Dizon currently serves as the communication officer for SVA.
"SVA is very helpful in supporting vets and guiding them through the adjustment process — whether it's explaining financial aid or making vets aware of different resources on campus."
Ryan Hankes
A sophomore studying civil engineering, Hankes served as a petty officer, third class in the U.S. Navy, based in San Diego. He presently is enlisted as a member of the reserve forces.
"I credit the Navy with teaching me discipline, responsibility and integrity," he said. "And, I appreciate the work of the SVA because they keep me informed about current changes in the GI Bill as well as military functions that are offered throughout the year. It's also a great way to meet fellow veterans."
In addition to his studies, Hankes also is a member of the university's track and field team.
James Hodgson
A graduate student in public administration, Hodgson served as an Army captain including tours in Iraq and Egypt. His positions included platoon leader, senior trainer, and staff officer.
His transition to the university has been "easier than I expected," he said. However, he credits SVA, Joseph Chang and the friends he's made in SVA with making the transition easier.
"I think people who have military service find that they often have leadership, organizational and people skills that students their own ages may not have," he said."SVA has been great in helping to advocate for veterans on campus and serving as a place for vets to meet and socialize."
Claire Horseman
A junior studying public administration, Horsemen served as a third class petty officer in the U.S. Coast Guard. Now retired, she had served as an aviation maintenance technician (working on helicopters).
"It's been an adjustment because I was injured and I'm on a medical retirement," she said. "Much of my adjustment has been learning new limitations."
The SVA and Chang in particular, have made the adjustment easier, she said.
"Joseph has been exceptionally helpful and the SVA is a fantastic group. They offer great support," she added.
Peter Jimenez
A senior studying molecular biology, Jimenez served as a sergeant in the Marine Corps. Stationed in Twenty-Nine Palms, he worked as a radio operator, MP (military police), and a field wireman. He also credits SVA for introducing him to fellow veterans who helped him make an easier transition to the university.
Kristen Menge
A senior accounting major, Menge served as a Navy sonar technician. She was based in San Diego.
"I like the camaraderie that SVA offers and being able to hang out with people who have had some of the same experiences that I have," she said. "Veterans have their own subculture so it's nice to have a place where you can meet with other vets."
Seth Munsey
As a junior kinesiology major, Munsey credits the SVA with helping him transition to university life as well. As a boatswain's mate (third class) with the Coast Guard in San Francisco, he was involved in search and rescue operations as well as enforcing federal maritime laws.
"I wanted to come to Cal State Fullerton because of the outstanding kinesiology program," he said. "This is my first semester here and SVA has been great."
He said he appreciates that SVA helps advocate for veterans on campus.
"There is a common misconception about vets — that all we do is drink and get into fights," he said. "That's not true. Most of us have families and are motivated to succeed. The leadership skills I learned in the Coast Guard can be applied to my studies as well."
Frank Ramos
A graduate student in anthropology, Ramos served in the Navy as a boatswain's mate, religious programming specialist, and executive assistant. His military career included service in San Diego, Japan, the Philippines, South Korea and Iraq.
His transition to CSUF has been eased not only by his involvement with the SVA but by a supportive department as well. His graduate studies are focused on the role of the United States in the modernization of South Pacific nations.
"My transition has been slow and steady," he said. "I think the military provided me with skills in time management, patience and an overall sense of accomplishment. SVA offers a sense of camaraderie — one of a vet's greatest assets."
Eric L. Storrie
A senior communications major (with an emphasis in public relations), Storrie served as a sergeant in the Marine Corps. and as a staff sergeant in the U.S. Air Force. During that time, he served in Japan, Iraq and Afghanistan, working in telecommunications and in civil engineering.
The goals of the Veterans Student Services at Cal State Fullerton are to provide guidance and support counseling, resources and referrals, orientations to campus, veterans' discussion groups, workshops and special events, and peer mentoring. Located in University Hall 245, Veterans Student Services can be reached on the web at www.fullerton.edu/veterans or by calling 657-278-8660.
November 10, 2010