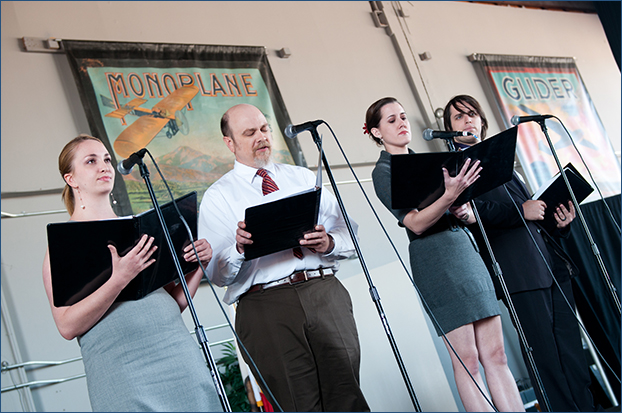 Caption: From left: El Toro Marine Corps Air Station Oral History Project researchers Amanda Tewes (M.A. history, 2010), history major Scott Thompson, Kira A. Gentry (M.A. history, 2008) and history graduate student Adam Kelly. Photo courtesy Orange County Great Park
Remembering History
El Toro Homecoming Event Honors Marines
"I'M SURE YOU'VE HEARD this saying before that if the Marine Corps wanted you to have a wife, they would've issued you one," said Kira A. Gentry, quoting Sue Bloomer, wife of a Brig. Gen. Art Bloomer. The couple was stationed at El Toro Marine Corps Station from 1956 through 1986.
"I think he said he wanted to get engaged before he went overseas," Gentry continued. "And, I said, 'Oh, I'm really happy the way things are going,' you know. I wore his wings, these little miniature wings you get, kind of like being pinned in college, I guess, would be the closest. And, he said, 'Well, if there wasn't more of a commitment than that, I wouldn't come back. I wouldn't go that far out of my way to see ya again.' And, I thought, I'll show you. I'll marry you, and then you'll just really be sorry."
Gentry and three colleagues from Cal State Fullerton's Center for Oral and Public History read excerpts from oral histories conducted by the center at the annual El Toro Homecoming Nov. 6 on the former Marine Corps Air Station, now the Orange County Great Park. 
The center's El Toro Marine Air Station Oral History Project is a collaboration between the university and the Great Park. Its aim is to preserve as many voices of the people who lived or worked at the station, said Gentry, the project's manager.
Natalie M. Fousekis, center director, said that nearly 300 oral histories of mostly World War II veterans and their families have been completed.
"We're just beginning to interview folks from the 1950s," she said. "The current phase of the project focuses on the years between the Korean War and the beginning of the Vietnam War, 1953-1963."
Now in its third year, the project aims to include oral histories of people who lived or worked at the station until it closed in 1999. The U.S. military broke ground on the former Irvine Ranch lima bean field in 1964, when Orange County's population was less than 150,000.
Tell Your Story
The center is seeking to interview more veterans, their families and people who worked at El Toro. To be a part of the ongoing project, call 657-278-8415 or send an e-mail to coph-eltoro@fullerton.edu.
November 10, 2010