ACCESS TO HIGHER EDUCATION has always been key to California's economic prosperity. That's why the Master Plan for Higher Education was passed by the California Legislature in 1960. For decades, the Master Plan was the gold standard by which other states, seeking to emulate California's promise of a college education for every eligible student, measured themselves. The adoption of the Master Plan emphasized the importance of higher education to the state's economy and for that reason, legislators committed resources to promote low tuition costs for state residents. The Plan set up a system, defining the roles of the University of California, California State University System, and community colleges. From there, a new era of affordable higher education was set in motion. The underlying principle was that higher education should be available to all students, regardless of their economic status. Recently, the California State University system developed an impact study looking at such areas as Information Technology and Electronics, Media and Cultural Industries, Business and Professional Services, Hospitality and Tourism, and Life Sciences. This week's Spotlight looks at the impact that Cal State Fullerton has had on students and the industries where they work.
---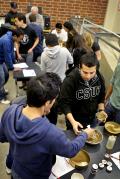 Driving California's Critical Knowledge-Based IndustriesCalifornia's economic success is dependent on its core industries, a set of globally competitive, export-oriented or service-driven business drivers that reflect the diversity of the state's economy and fuel its growth. While some are regionally focused, others are important sources of innovation and growth across the state. To remain competitive, each of industrial driver relies on a highly skilled, adaptable workforce. The CSU cultivates partnerships with industry leaders in each of the sectors, on a systemwide basis or through campus advisory councils. Accounting for nearly 5 million jobs, seven industries — agriculture, information technology and electronics, media and cultural industries, business and professional services, hospitality and tourism, life sciences, and transportation services — drive California's economic growth.
Cal State Fullerton's Impact
CSUF improves the state's economy with research, innovation and entrepreneurship. Annual spending related to CSUF ($608 million) generates a total impact of $1 billion on the regional and statewide economy — that sustains nearly 9,000 jobs in California. The university "helps lead the nation in recruiting, retaining and graduating students from historically underrepresented populations, including many who are the first in their family to earn a college degree," says Rueben Martinez, owner of Libreria Martinez Books and Art Gallery.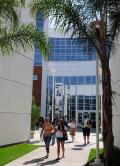 The Business of Preparing Graduates
Mihaylo College of Business and Economics prepares students for the business world by providing a wide range of majors that meet industry needs, courses that balance theory with practice and an ongoing goal of making graduates "work ready," said Terry Grant, associate dean of academic programs and faculty development. "At many institutions, courses are taught by graduate students — but not here. Our faculty are active researchers who have published more than 600 articles in the last five years. Their research, many with direct business applications, enrich the classroom experience for students."

Producing Excellent Engineers
Innovation, creative problem solving and expanding boundaries of thinking are as integral to engineering as memorized formulas. The College of Engineering and Computer Science focuses on that as it prepares future engineers.

Communicating Effectively
With more than 3,500 students, the College of Communications at Cal State Fullerton mixes a theoretical grounding with industry experience to prepare graduates for a variety of professional opportunities. This influence is demonstrated from the alumni-turned-Pulitzer Prize winners and accomplished Hollywood writers.

Hands-On Science
The College of Natural Sciences and Mathematics emphasized involving students with hands-on learning from the university's inception more than 50 years ago. Today, it continues in that tradition, helping students become successful scientists.