Inch by Inch
The U.S. economy should continue to grow at an uneven and modest pace over the near term. The recovery will bear a closer resemblance to a mild recession than to an expansion," Mihaylo College of Business and Economics Dean Anil Puri predicted at this year's Economic Forecast Conference. Added alumnus and Bancorp CEO Richard Davis: "I have no science, no special data, but I am 100 percent sure we as a country can still achieve great things."       

Economic Empowerment
Financial education for Orange County youth got a boost last week as Richard Davis, chairman, president and CEO of U.S. Bancorp,annouced a $500,000 grant for the establishment of a U.S. Bank Economic Empowerment Program within Cal State Fullerton's Mihaylo College of Business and Economics.


RELATED SPOTLIGHTS: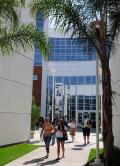 Open for Business
Cal State Fullerton's growing business administration program was in need for a bigger space when it received approval for a new home. In 2008, the Mihaylo College of Business and Economics opened. The high-tech, energy-efficient building provides vital space for meeting, working and advancing educational opportunities for students enrolled in its master's degree programs and the largest accredited undergraduate business program in California.

Last Year's Forecast
Cal State Fullerton economists Anil K. Puri and Mira Farka advised cautious optimism at the 2009 Economic Forecast Conference.

State of the City
Attracting and retaining businesses in tough economic times was the topic of the 2010 "State of the City" forecast. Fullerton Mayor Don Bankhead (B.A. criminal justice '75, M.P.A. '77) and Anil K. Puri, dean of Mihaylo College of Business and Economics, addressed nearly 300 municipal, business and community leaders on "Moving Business Forward."