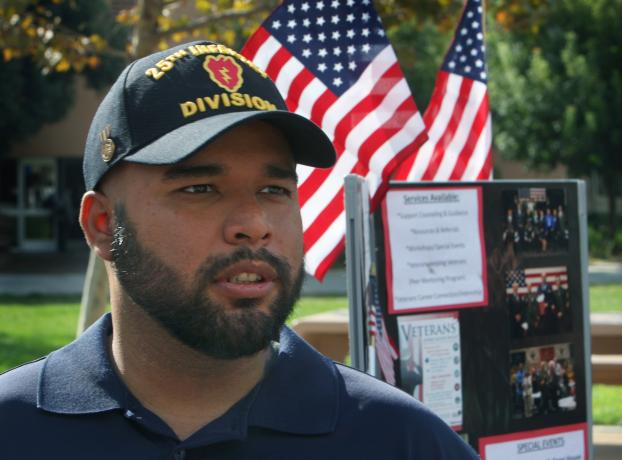 Caption: U.S. Army veteran Concepcion Beltran called the 'Wall of Heroes' a tribute to all military service men and women. Photo by Karen Tapia
Salute to Service Members
'Wall of Heroes' Pays Tribute to Veterans
Army veteran Concepcion Beltran stepped up to serve his country just days after the Sept. 11, 2001 attacks on America.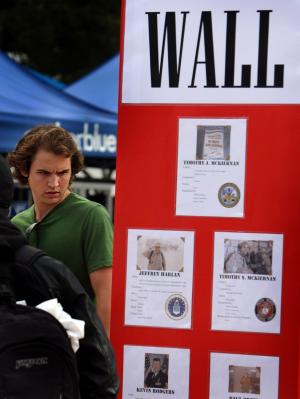 Caption: Student Ryan Starrett looks at the faces of the men and women who served, or are serving in the military, on the "Wall of Heroes." Photo by Karen Tapia
Beltran served in the 25th Infantry Division, alongside his brother, Alexander.
"Having your brother with you kept us both in high spirits," said Beltran, a human services major who served in Operation Iraqi Freedom II.
Beltran's uncle, Edward Piatkowski, and cousin, Jesus Rubero, also served in the armed forces.
All of their military photos were displayed Nov. 8-10 on the university's first "Wall of Heroes," a tribute to campus veterans and their family members and friends in the military.
Veterans Student Services and the Student Veterans Association created the outdoor display of three triangular-shaped towers, painted red, white and blue. The display depicted 60 photos of students and staff, faculty and family members who have served or are serving in the military.
Photos are representative of men and women who served in times of peace or in war — from World War II to the current Iraq and Afghanistan wars. 
Beltran submitted photos of his military family members, as well as himself, as a way to honor them: "As a society, we sometimes forget about the heroes who served our country, and those who are serving; they've made a lot of sacrifices and we should never forget them. ... To me, the wall stands for loyalty, duty, respect and honor." 
Graduate student Raymond Bustamante's photo also is displayed on the wall.
Looking at the faces on the wall, including his own, Bustamante, a U.S. Army veteran, said it's a reminder for people to remember veterans of the past and present.
"I'm proud to have served," said Bustamante, a CSUF alumnus who is working on a master's in education with a concentration in elementary curriculum and instruction. 
"Being in the military gave me a better start in life — it made me the citizen I am today, and I owe this to my service to my country," said Bustamante, who plans to become an elementary school teacher.
The Wall of Heroes was erected in celebration of Veterans Day, the day the country honors and thanks all who served in the United States Armed Forces.
"We wanted to do something special to honor our campus veterans and bring awareness of their presence at the university," said Joseph Chang, coordinator for Veterans Student Services. "We also wanted to give the campus community a way to honor their loved ones."
Veteran students helped create the project, which in turn gave them the opportunity to connect, build camaraderie and experience a sense of pride about their military service, said Chang, a U.S. Army veteran who served in Iraq.
"It's been an empowering experience for our veteran students," he said. 
Faculty and staff members who submitted photos of themselves or loved ones also expressed appreciation for bringing attention to the sacrifice and sense of duty of veterans, Chang added.
"Campus members were so excited and proud to send in their photos and share their loved ones' stories on the wall."
John Reid, coordinator of the Student Diversity Program, submitted his military photo for the wall. 
"It's the first time I have been acknowledged for my two tours of duty as a Vietnam veteran," said Reid, who spent 20 years in the U.S. Navy and traveled the world. "My military service set the foundation for professional success stories in my life."
Debbie Darling, career counselor at the Career Center, submitted the photos of her uncle and younger brother who served. Her uncle, Timothy McKiernan, died fighting in the Vietnam War, and her brother, also named Timothy McKiernan and a professional chef, joined the Marines the day following 9/11.
"I am so thankful that my brother returned home alive. The price of freedom is high, but I am thankful to every service member who has sacrificed for our freedoms," Darling said. "As I look over the faces of the men and women on the Wall of Heroes I am so humbled. I want to live the best life I can to honor the sacrifice of so many.
For more information about Cal State Fullerton veteran services, call 657-278-278-8660 or e-mail Chang at jjchang@fullerton.edu.
November 10, 2010