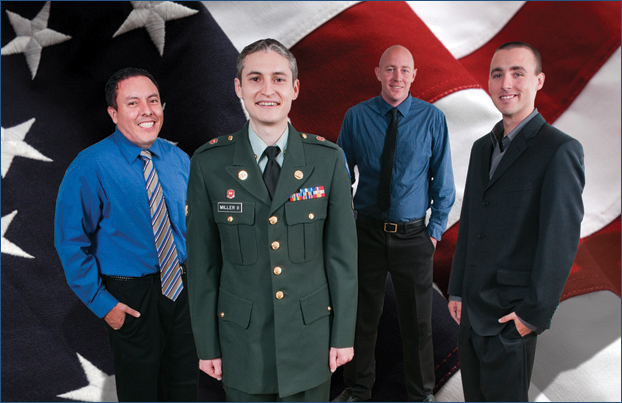 Caption:  From left: Sgt. Adan Flores, Spc. Gary Lee Miller II, Cpl. Clay Narey and Sgt. Jason Fagan.
Caption: 
Veterans Pursue Business Careers
Military Veterans Return to Civilian Life, Work on College Degrees
"The military is the ultimate crash course in self-reliance. We're often pushed to the limits of endurance in a dangerous, high-stress and limited sleep environment, so you have to rely on yourself," affirms Army Spc. Gary Lee Miller II, who served in Kosovo within his four-year military career from 2002 to 2006.
Miller now is working toward an M.B.A. at Cal State Fullerton, where he also earned a bachelor's degree in management in 2009.
"Military service taught me self-discipline because we had to do what was necessary no matter what the conditions were," he said. "We didn't have everything we needed, so we had to make use of what was available to accomplish tasks. And we did."
Miller is one of several military veterans who has returned to the civilian ranks, opening a new chapter in his career and applying the skills he's learned to earning a business degree.
"Like many Americans, I was called to protect my country after September 11," said Army Sgt. Jason Fagan, who served as an intelligence analyst and cryptologic linguist for five years and now is pursuing a bachelor's degree in finance. "Joining was especially meaningful because both my father and grandfather served. But, my family also stressed the importance of an education, and my military service allowed me to obtain the Post 9/11 GI Bill, which I use to this day.
"The Army values — leadership, duty, respect, selfless service, honor and integrity — guide me in my everyday life," said student and Army Sgt. Adan Flores, who served in South Korea. "The leadership skills I learned in the service have helped me become a leader in the classroom and will help me throughout my career."
The mix of discipline and business is considered a benefit among Mihaylo's military veterans, but each soldier navigates the transition from military to civilian life differently.
"For me, the adjustment wasn't difficult. College is way easier than the military," said economics major Marine Cpl. Clay Narey, who comleted two combat tours in Iraq as a rifleman.
He took shrapnel in the leg during the historic 2004 battle in Fallujah and was awarded the Purple Heart.
Narey serves as vice president of the Cal State Fullerton Student Veterans Association, which provides resources, mentoring, guidance and a kindred sense of community for military veterans transitioning to a campus routine.
Flores admits adjustment was a challenge to a less-structured college culture after seven years of active duty and two years in the reserves.
"I had to adapt from a unit environment, where we work as one. In college, the focus is more on individual accomplishment," said Flores, who is studying accounting and finance.
However, Flores has taken advantage of the synergies provided by military and academia:
"The goal of the Army is to develop a soldier of character who can make logical and ethical decisions that will bring honor to its country and fellow soldiers," he said, adding that the university helps students develop into people of "character who will make logical and ethical decisions that will add value to business and society."
This story first appeared in the fall, 2010 edition of "Indicator," Mihaylo College of Business and Economics' newsletter.
November 10, 2010