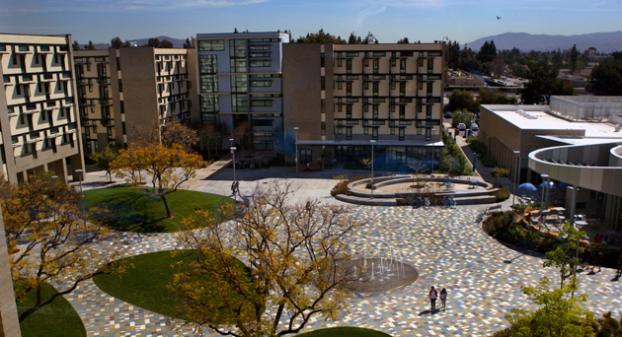 Energy-efficient windows with sunscreens are one of the features that won the new student housing complex Platinum (LEED) certification by the U.S. Green Building Council.  Photos: Karen Tapia
CAL STATE FULLERTON  is committed to sustainability, and can prove it. The newest student housing complex, for example, is so green it's the first in the state awarded the Platinum Leadership in Energy and Environmental Design certification by the U.S. Green Building Council.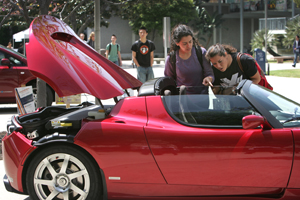 Students check out an electric car at Earth Week 2012.
Another example is the recent completion of a solar-energy network on the top deck of the Eastside Parking Structure. The photovoltaic installation includes three solar systems installed on the rooftops of two campus buildings — the Clayes Performing Arts Center and Kinesiology and Health Science Building — and atop a carport of the parking structure, where six electric-vehicle charging stations — the first such solar-powered stations in the CSU — were installed as part of the project. The latest in a series of CSUF clean-energy projects, the installation is expected to produce 1.16 megawatt hours of electricity annually for the campus, while offsetting more than 700 metric tons of greenhouse gas each year. In the next 25 years, CSUF is expected to reap $9 million in utility savings. 
"Make no mistake, when it comes to sustainability, Cal State Fullerton has been at the forefront within the CSU and California," said Willie Hagan, CSUF interim president. "It is our intention to become one of the leading institutions in the country when it comes to sustainability."
Earth Week activities this year include a Sustainable Life Expo, farmers market, films, a panel discussion and plant and garden show.
Students implemented a zero-waste effort during the annual program that in one day resulted in the collection of 90.5 pounds of waste — 92 percent of which was diverted for recycling.  — Mimi Ko Cruz