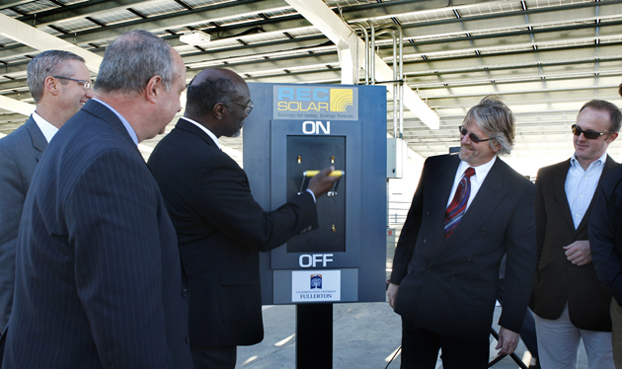 Caption: Willie Hagan, CSUF interim president, flips the switch on solar power. Looking on, at right, is Willem van der Pol, director of the physical plant. Photo: Karen Tapia Download Photo
CSUF Unleashes 1.16MW of Solar Power
System Includes Vehicle Charging Stations
Jan. 13, 2012 :: No. 73
With a flip of the switch, Cal State Fullerton continues to capitalize on the power of the sun.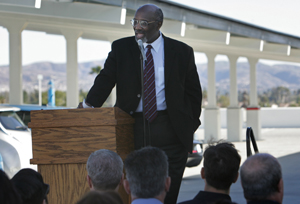 Caption: Willie Hagan speaks to the crowd. Photo: Karen Tapia Download Photo
The university today celebrated the completion of a solar-energy network for the campus during a flip-the-switch event on the top deck of the Eastside Parking Structure.
Its completion moves the university into the position of being two-thirds of the way toward being off the utility companies' power grid entirely.
The installation is the result of close working relationships with Southern California Edison, AECOM Technology Corp. and REC Solar, as well as successful relationships with Charge Harbor and Coulomb Technologies.
The photovoltaic installation includes three solar systems installed on the rooftops of two campus buildings — the Clayes Performing Arts Center and Kinesiology and Health Science Building — and atop a carport of the parking structure, where six electric-vehicle charging stations — the first such solar-powered stations in the CSU — were installed as part of the project. It's the latest in a series of clean-energy projects the university has instituted.
"It reflects one of several great solutions our staff on this campus has brought to bear on the issues of rising energy costs and sustainability," said Willie Hagan, CSUF interim president, addressing representatives from the various agencies and companies involved who gathered on the rooftop for the went.
A series of speakers addressed the university's ongoing efforts to undertake pioneering projects to conserve and create energy, while reducing the institution's carbon footprint.
"Make no mistake, when it comes to sustainability, Cal State Fullerton has been at the forefront within the CSU and California," Hagan added. "It is our intention to become one of the leading institutions in the country when it comes to sustainability."
The installation is expected to produce 1.16 megawatt hours of electricity annually for the campus, while offsetting more than 700 metric tons of greenhouse gas each year.
In the next 25 years, the university is expected to reap $9 million in utility savings, including $2.3 million from Southern California Edison in the next five years. Financing for the project was made possible by a $6 million loan from the CSUF Auxiliary Services Corp. and the university is expected to repay that loan in less than seven years. Because the system is wholly owned by the university, once the ASC loan is repaid, CSUF can pocket the savings.
The 1.16 megawatt hours of electricity to be produced annually is equivalent to reducing 26,422 tons of greenhouse gas emissions, or eliminating 5,181 passenger vehicles from the road over the next 25 years.
"At Cal State Fullerton, we are fully aware California's continued economic, environmental and social prosperity is contingent upon ready access to sustainable energy and innovative technology," Hagan noted. "Today's celebration marks the latest achievement in Cal State Fullerton's continuing quest to derive as much of our energy from renewable sources as possible."
Media Contacts:
Paula Selleck, Public Affairs, 657-278-4856
Mimi Ko Cruz, Public Affairs, 657-278-7586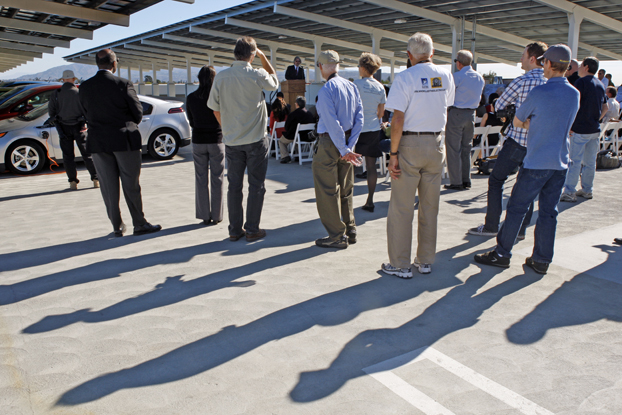 Caption: Under solar panels installed atop the Eastside Parking Structure on campus, Cal State Fullerton on Jan. 13 celebrated its harnessing of solar power. Photo: Karen Tapia Download Photo