Minding the Future
Cal State Fullerton Opens New Center for Sustainability
March 16, 2010
By Mimi Ko Cruz
Grant Supports Sustainability
Cal State Fullerton's environmental studies program and the Center for Sustainability have been awarded a $300,000 grant from the U.S. Department of Education's Fund for the Improvement of Post-Secondary Education.
The grant's aim is to promote recruitment of Latinos in graduate programs. Cal State Fullerton will use the funds to increase opportunities for Latino students, specifically to promote participation in the environmental studies graduate program, said John Bock, associate professor of anthropology, and director of the Center for Sustainability.
"This grant will expand opportunities for Hispanic Americans and other students and bring our environmental studies graduate program into a regional, national and global community," he said.
The grant also is making possible a "transdisciplinary, sustainability-centered community of practice that will serve as a source for professional networking, for best-practice ideas and for research and expertise in the area of sustainability," Bock said.
Sustainability has many definitions and implications.
At Cal State Fullerton, where a new Center for Sustainability has opened, the term means: "living our lives, conducting business and managing our natural resources so that future generations will be healthy, secure and able to enjoy the benefits of nature."
According to John Bock, professor of anthropology, coordinator of the university's environmental studies program and the new center's director, "sustainability has three pillars — the social, economic and ecological."
With widespread recognition in government and industry that alternative energy must be prioritized, he said, "our global and national economy is undergoing a 'green' transition that has the potential to radically reshape our workforce."
To understand "if any process or project is sustainable, we need to view it through social, economic and ecological lenses," Bock said. "For sustainability to work as a framework for planning and implementation, it is necessary to integrate these perspectives and include people who specialize in each of these areas. Valuing the contributions of other perspectives leads to cooperation and new ways of understanding problems and innovative solutions."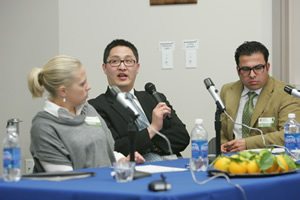 Participating in the university's "Sustainable Futures" forum were, from left, Tara A. Kneeshaw, assistant professor of geological sciences, Joshua S. Yang, assistant professor of health science and Erualdo R. González, assistant professor of Chicana and Chicano studies, among others. Photo by Karen Tapi
In that vein, the center and Cal State Fullerton's faculty, staff, administrators and students are reaching across disciplines, across campus and across communities in an effort to raise awareness and make a difference.
The university recently hosted "Sustainable Futures: Diversity and Green Initiatives in Graduate Education," a Feb. 18 campus forum exploring sustainability in all its manifestations — environmental, cultural, social, economic and educational.
The following are a few of the forum's speakers and summaries of their talks:
Erualdo R. González, assistant professor of Chicana and Chicano studies, on Urban Sustainability and the Irony of Thinking Green
The last two decades have seen a growing turn toward urban sustainability in the redevelopment of urban neighborhoods. This year, the city of Santa Ana is slated to implement part of its New Urbanist Renaissance Plan to revitalize a transit-oriented district supported by two neighborhoods. The plan exemplifies urban sustainability principles related to "thinking green," which include reducing dependence on automobile use while encouraging a walker-friendly lifestyle, green spaces and mixed-income residencies. Using a case study in two predominately Mexican-American and working-class immigrant barrios, González discussed these principles and described different community-wide perspectives concerning "urban sustainability." One noteworthy finding is that "thinking green" reflects and supports cultural and class beliefs that alienate existing urban barrios in support of a future with otherwise distinct demographic generations. His research concludes with a reflection on the need for institutional reform for planning practice, focusing on community benefits agreements.
The central question of economics, according to Hall, is how people use the limited resources available to gain the most value. Assumptions are made that rational people make choices that maximize the use of their resources and the overall result is efficient. When you consider natural capital – including ecosystem services – this becomes trickier, in part because people have to recognize that choices made today will alter the options of future generations. Sustainability, then, requires that capital assets do not decline through time, so if natural capital is depleted or degraded, it must be replaced with another form of capital that can provide the same value.
Alternative Transportation Expo Set for April 20
Cal State Fullerton will host an Alternative Transportation Expo April 20, as part of Earth Week.
The free all-day event, on the campus Quad, will feature an exhibition of electric, hydrogen fuel cell and other clean energy vehicles. Automobile manufacturers, energy providers, entrepreneurs and transportation agencies also will be on hand to provide information.
For more information, contact John Bock, director of Cal State Fullerton's Center for Sustainability, at 657-278-5574 or jbock@fullerton.edu.
As the world's population and the development of resources continue to increase, Earth's natural support system will continue to be strained. This strain on the planet has resulted in concerns about global warming, energy supply, water resources and pollution of the air, water and land. As these concerns continue to mount, it is becoming clear that sustainability of Earth's resources for future generations needs to be a key component of teaching and research in the Earth and environmental sciences. This includes careful study of sustainable development and utilization practices for nonrenewable resources such as fossil fuels and minerals and renewable resources such as water. To date, minerals, oil and groundwater have been extracted with little concern for their limits or for the need to recycle them, resulting in shortages of some resources. Solid, liquid and gas waste products have reached such high quantities that many are now considered to be pollutants. These factors combined with the increasing demands for more land for urban, agricultural, manufacturing, mining, energy production, transportation, waste disposal and aesthetic purposes suggest that human activities are the most influential process shaping the surface of the Earth, a situation that cannot be ignored in the field of Earth science. Preparing future earth and environmental scientists to address these concerns, according to Kneeshaw, will be an important step in achieving quality of human existence with the environment.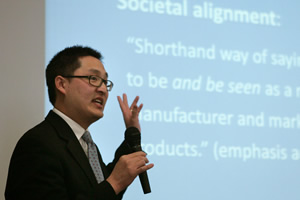 Joshua S. Yang, assistant professor of health science, explains his research on environmental responsibility. Photo by Karen Tapia
As the number of corporations adopting environmental sustainability initiatives increases, it appears that "green is the new black." Though the environmental protections that stem from these initiatives are beneficial, they can overshadow the need for corporations to engage in socially sustainable practices. Philip Morris' "societal alignment" strategy is examined by Yang to demonstrate how the company tried to repair its corporate image in part by emphasizing corporate environmental sustainability while shirking responsibility for the health consequences of its products. Yang's case study demonstrates the importance of broadening the sustainability platform from its emphasis on the physical environment to include social and economic arenas.
Related Spotlights: