Caption: Fresh vegetables and sugar cane were on sale April 17 at the Fullerton Arboretum booth that was part of the Local, Organic and Sustainable Food Expo held adjacent to the Student Recreation Center. Pictured, from left, are Cynthia Chavez, Cody Wallace and Jose Chamu. Photo: Karen Tapia Download
Earth Week 2012
Activities Focus on Health, Lifestyle, Transportation, Energy, Jobs
April 5, 2012 :: No. 131
What:      
A Sustainable Life Expo, farmers market, films, panel discussion, and plant and garden show and are among the scheduled activities offered during Earth Week 2012 at Cal State Fullerton. Students also are implementing a zero-waste effort during the annual program, which is open to the public.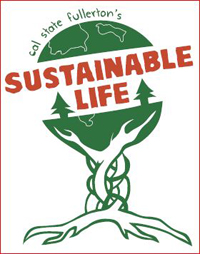 Caption: This year's Earth Week poster was created by senior art major Ly Tran of Westminster.
When:     
Saturday, April 14, through Saturday, April 21
Where:      
Cal State Fullerton, various campus locations
800 N. State College Blvd., Fullerton, 92831
Schedule:
April 14-15       10 a.m. – 4 p.m.
Green Scene at the Fullerton Arboretum. Weekend outdoor gardening event features master gardener and plant societies offering advice; speakers on composing, water conservation, organic gardening and sustainability; more than 100 vendors selling plants, vegetables, garden art and accessories; second annual "We CAN Garden" community garden exhibit; and children's activities. Admission is $6. More information is available online.
April 16      Noon
Screening of "Flow: For the Love of Water" in the Titan Student Union's Titan Theater. Sponsored by the Associated Students Inc. Committee on Environmental Sustainability.
April 17      10 a.m. – 3 p.m.
Local, Organic and Sustainable Food Expo featured on the lawn adjacent to the Student Recreation Center. Local farmers, vendors, small businesses, and local clubs and organizations will explain the sustainable food movement and sell food. Visitors will get a "taste" of the different ways this growing movement is being integrated into the local economy and their daily lives. Food trucks will be on site between 10 a.m. to 2 p.m. Free admission.
4 p.m.
Screening of "No Impact Man" in the Titan Student Union Pub. Sponsored by the Associated Students Inc. Committee on Environmental Sustainability.
April 18      7 p.m.
Screening of "Cool It" in the Titan Student Union Pub. Sponsored by the Associated Students Inc. Committee on Environmental Sustainability.
April 19      9 a.m. – 3 p.m.
Health and ICC Carnival of Connection on the lawn south of the Student Health and Counseling Center. More than 50 vendors, nonprofit organizations and student groups will be on hand to discuss careers and share information about programs related to health and well-being, including alcohol, tobacco and drug use; sun safety; reproductive health and family planning; alternative wellness; and emergency safety. Also offered: health screenings, including blood pressure, glucose and cholesterol, body mass index, rapid HIV testing and vision testing. Attendees can see demonstrations of spinning, yoga and stretch exercises and collect free samples of dental care products, lip balm, first aid kits, water bottles and recycled tote bags. The program is sponsored by the Student Health and Counseling Center.
10 a.m. – 3 p.m.
Sustainable Life Expo focusing on the themes of health, lifestyle, energy jobs and transportation will be featured on Titan Walk and in the campus Quad. Manufacturers, energy companies and entrepreneurs will bring models of their products. Electric vehicles to be displayed include those manufactured by BMW of North America, Nissan, Mitsubishi, Tesla, Chevy/GM, Toyota, Honda and Fisker Automotive.
Also exhibiting will be representatives showcasing alternative forms of transportation, including the Orange County Transportation Authority, Two Wheeler Dealer Bicycle Shop and Metrolink. Representatives from Enterprise Rent-A-Car will discuss the company's car-sharing program, WeCar. Also participating: Coulomb Technologies/Charge Harbor, Southern California Gas Co./Sempra Energy Utilities, Southern California Edison, Plug-In-America, Sierra Club of OC, Earth Resource Foundation and California Center for Sustainability.
10 a.m. – 4 p.m.
Food trucks will be located north of the Clayes Performing Arts Center.
2:30 – 4 p.m.
Green Making Green Panel Discussion will provide information on how to pursue a sustainable/green career. Panelists include: Saul Zamora, Kohl's campus manager; Delilah Snell, owner of The Road Less Traveled; and Michael Hamilton, application engineer for FlexEnergy. Attendees will have an opportunity to ask questions and meet with employers. A tour of the CSUF trigeneration power plant will follow the discussion in Room 252 of University Hall.
5:30 – 9:30 p.m.
Screening of Air Quality Management District 2011 documentary "The Right to Breathe" in Room 111 in the Juniper Building of the student housing complex.
April 21      7:45 – 11:30 a.m.
"iCare Festival" in the Student Recreation Center. Designed to inspire a green and healthy lifestyle, the festival sponsored by Titan Recreation — a program of Associated Students Inc. — features a 5K run/walk, youth 1K, vendor fair and children's education/play area. Complimentary chair massages and use of the Student Recreation Center pool also will be available.
Donations of new and/or gently used shoes are sought for the charity Soles4Souls. Registration fee for the 5K is $10 for students, $15 for faculty and staff members, $20 for the public. Fee for the 1K is $5. A post-run/walk pancake breakfast is included for all entrants. For more information, or to register for the run/walks, call 657-278-3978 or visit asi.fullerton.edu/iCareFestival.
Sponsors:      
CSUF's Center for Sustainability, Sustainability Task Force, Environmental Studies Program, ASI Environmental Sustainability Committee, Student Recreation Center, Green Campus, Environmental Studies Student Association, Parking and Transportation, Physical Plant, Career Center, Student Health and Counseling Center, campus Food Services and Fullerton Arboretum
Parking:     
$2 per hour or $8 for a daily permit Mondays through Fridays. Free Saturdays and Sundays. Details available online.
Media Contacts:      
John Bock, CSUF Center for Sustainability, 657-278-5574 or jbock@fullerton.edu
Pam McLaren, 657-278-4852 or pmclaren@fullerton.edu