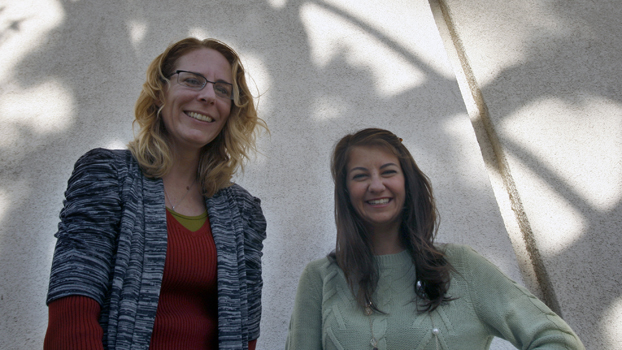 Caption: Geography graduate students Leaa Short (left) and Tamara Wagner are researching the university's sustainability efforts for the Sustainability Tracking, Assessment & Rating System (STARS). Photo: Karen Tapia Download Photo
Committed to Sustainability
Campus Undergoes Study to Measure Effort
Last year, Cal State Fullerton committed to developing a campus more focused on sustainability in its operations, outlook and curriculum. Following the signing of the American College and University Presidents' Climate Commitment and the Talloires Declaration, university officials went further — enrolling the campus in a self-reporting system to measure progress and use as a tool for determining future goals.
By committing to sustainability, the university is declaring its commitment to meet present and future needs without harming  or depleting renewable resources.
The Sustainability Tracking, Assessment & Rating System (STARS), "is a framework for colleges and universities to measure their sustainability performance," explains Leaa Short, one of two geography graduate students who are meeting with campus officials throughout the campus and gathering data on what is currently being done as it relates to sustainability. Tamara Wagner also is working on the project.
STARS was developed by the Association for the Advancement of Sustainability in Higher Education, an institutional organization established to advance sustainability in higher education. The organization, established in 2001, defines sustainability as a mechanism to encompass human and ecological health, social justice, secure livelihoods and help ensure a better world for all generations.
"STARS is important for a number of reasons. Going through the process helps the university better understand what sustainability means for our campus. It helps us better understand what other universities are doing and how we fit in," said Willem van der Pol, director of physical plant. "It establishes a baseline and helps with setting goals and priorities. STARS also helps us structure our subcommittees, which are based on the three main themes of the survey: curriculum, administration and operation."
The STARS assessment, to be completed by Sept. 1, covers the following areas within four categories:
Operations — including buildings, dining, energy, grounds, purchasing, transportation, waste and water
Planning, administration and engagement — i.e., investment, diversity and accessibility, planning and human resources
Education and research — integration into research, curriculum and co-curricular activities
Innovations — pioneering practices that aren't covered by other STARS credits
Grad students Short and Wagner — recruited for the effort by John C. Carroll, chair and associate professor of geography — are serving as data collectors, finding out about the types of activities that have been or are being done, such as the recent installation of solar panels, the ongoing lighting retrofit, the installation of the trigeneration plant and water-conservation efforts.
"Geography is highly interdisciplinary and has a long tradition in the sustainability arena," said Carroll.  "Both Leaa and Tamara are extremely organized and thorough in their work. They are committed to the larger cause of sustainability. Tracking down the necessary information for the STARS survey across a campus our size requires an extraordinary level of motivation and persistence. Leaa and Tamara are perfect for the job."
The students are also gathering information about campus policies pertaining to social, economic and environmental sustainability, while Scott Hewitt, professor of chemistry and biochemistry, is leading a group addressing curriculum matters, as part of the STARS' data gathering.
Both students are writing their graduate theses on sustainability issues and see the project as an opportunity to learn more about the subject, as well as about the institution.
"It's been very exciting," said Wagner, who used to work for the city of Baldwin Park. "I'm meeting people I normally wouldn't meet, learning things that I wouldn't know."
"For me, it's a very interesting process to see how the institution works and operates from a very different level that students aren't aware of," said Short. "It's been really helpful because I hope to become a university professor, and this project provides a training opportunity in committee work and other aspects of campus life."
Wagner agreed. "STARS is an opportunity for students to see where their fees are going and how they are being used."
In addition to the STARS project, Wagner and Short are collecting information for Sierra Magazine's "Coolest Schools" questionnaire. That project is expected to be completed in late April.
March 27, 2012