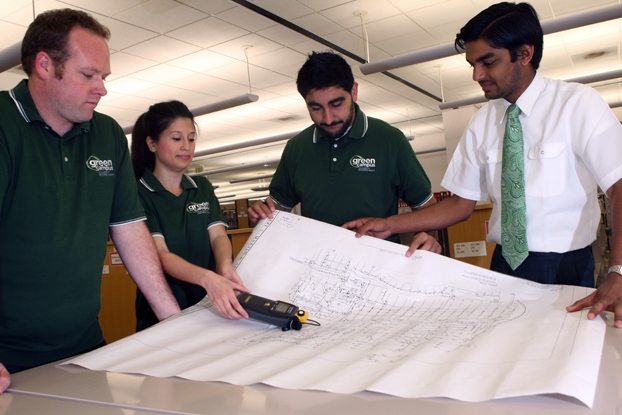 Caption: Members of Green Campus review a blueprint showing the locations of all light fixtures on the fourth floor of the Pollak Library. During the spring semester, the group assisted Physical Plant by taking light readings at various sites throughout campus as part of the lighting retrofit project. Pictured are, from left, Green Campus President Doug Moody, Vanessa Robles, Haroon Rahmani and Keyur Ajmera. All are studying civil engineering.  Photo by Karen TapiaDownload Photo
Green Campus
Energy Savings Effort Recognized With State Honor
Cal State Fullerton's Green Campus Program was awarded a Best Practices in Student Energy Efficiency Award in the Student Energy Efficiency Program category at this month's California Higher Education Sustainability Conference. Award winners were selected by the University of California Office of the President.
The Green Campus student group, an Alliance to Save Energy Program, works with university staff members and administrators on a number of programs that result in improving energy efficiency and awareness at Cal State Fullerton.
Most recently the student organization has been assisting in a campuswide lighting project by taking light readings of existing florescent lights throughout the campus, as well as passing out flyers and post cards to draw attention to the project and what it means to the campus.
The Green Campus group also 
 Assisted in a lighting retrofit in McCarthy Hall and Clayes Performing Arts buildings as part of a for-credit internship program 
Develops sustainable course guides that provides students on campus a list of all classes related to sustainability and being offered by semester. The first guide was created in fall 2010 with spring 2011 offerings; a guide for this fall's courses can be downloaded here.
Took part in DiscoverFest 2010, spreading the word about the organization and its efforts. 
"Our organization was established to help achieve measurable energy savings through no-cost behavior; to educate students, staff and faculty members, as well as the greater community about the importance of energy efficiency and conservation; and to develop the next generation of energy professions through a green workforce and training opportunities," said Doug Moody, club present and graduate student majoring in civil engineering. "More and more students are realizing that our efforts in energy conservation and reducing pollution have an impact on what the future will be like." 
The Alliance to Save Energy is a nonprofit organization, headquartered in Washington, D.C., that promotes energy efficiency worldwide through research, education and advocacy. It was founded in 1977 by Senators Charles H. Percy (R-Ill.) and Hubert H. Humphrey (D-Minn.) on the eve of the creation of the U.S. Department of Energy.
July 5, 2011