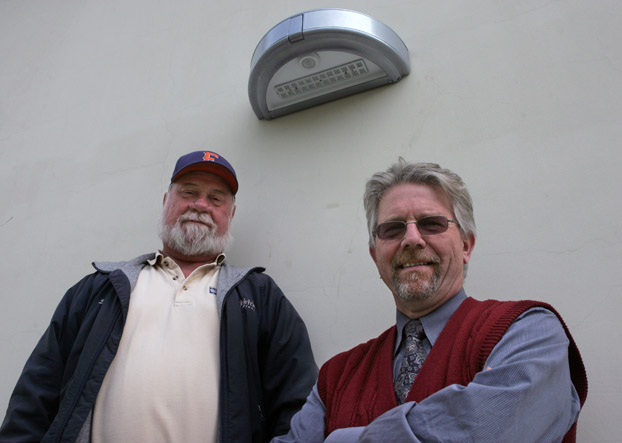 Caption: Spence Colman, project manager for the campus lighting project, and Willem van der Pol, director of Physical Plant, stand by the one of the new lights currently being tested for eventual installation around campus. The new light fixtures are more energy efficient than existing fixtures. Photo by Karen TapiaDownload Photo
A Beacon to Savings
Campus to Replace Lights for More Energy Efficiency
How many people does it take to switch out a light bulb? On a college campus dealing with more than 75,000 lamps — it will take a lot of people. 
But the effort will be worth it, says Willem van der Pol, director of physical plant, who estimates that the changes in light bulbs, fixtures and lighting controls will bring Cal State Fullerton to the forefront of lighting technology and make the campus approximately 20 percent more energy efficient than it is currently. 
"The last time that we conducted a lighting retrofit was about 20 years ago when we installed electronic ballasts and more energy efficient light bulbs," he said. "Since then technology has radically changed."
On the docket for replacement are walkway, driveway, parking lots and building lights and fixtures. The changes will reduce the campus carbon footprint and maintenance costs, as well as save approximately 4 million kilowatt hours of energy for an estimated $300,000 per year savings to the campus operating budget.
The 18-month, $1.5 million project — conducted in 13 phases beginning in the Pollak Library — will be funded through the university's utility budget, prior project reimbursements and $700,000 in Southern California Edison incentive funds. Retrofitting in the parking areas will be funded through parking fees, as well as SCE incentives. Overseeing the project is Spence Colman, project manager.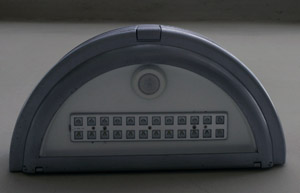 Caption: A close up of one of the light fixtures currently being tested for possible installation on campus. This one, installed on one of the exterior pillars of the Pollak Library, is outfitted with a movement sensor, so when no one is near it lowers the wattage of the lamp, and two rows of small LED light bulbs, which put out more light while using less power than existing fixtures. Photo by Karen Tapia
Prototypes of new light fixtures and bulbs have been placed throughout the campus as early tests for eventual purchases. Most of the outdoor lights will be switched to LED light bulbs and fixtures that are very efficient, said Colman.
More than 900 metal halide lights currently used along pedestrian walkways, roadway and parking lots will be replaced with LED fixtures operated with wireless controls. In building stairwells, 400 fluorescent light fixtures will be replaced with hybrid bilevel lighting fixtures using both fluorescent and LED bulbs. 
"Current lights in stairwells come on at full power and stay at full power 24/7," said van der Pol. "The bilevel lighting has sensors that maintain a lower level of lighting when no one is in the stairwell but move to full power as soon as a person is detected entering the area." 
Approximately 400 lights on building exteriors will be replaced with 250 LED wall-pack bilevel lighting, said Colman. "These new lamps will create tremendous savings — about 90 percent of the cost of the current system of lights in stairwells and around building perimeters." 
All the lights, fixtures and controls have seen tested and certified for energy efficiency by Design Lighting Consortium in conjunction with Edison, he added. 
In a separate project, all lighting in the university's parking structures will be switched to LED systems like those in the Eastside Parking structure. 
"We're pretty excited about this project," said van der Pol. "As a university, we have always strived to find the most efficient, cost effective means to operate. We've also strived to be ecologically responsible."
April 7, 2011