Welcome to the Dateline Extra, Cal State Fullerton's faculty-staff newspaper from Aug. 16, 2001 to June 2006.
In fall 2006, a new publication, Inside, was introduced. Published monthly and updated weekly online, Inside carries news and features about campus life, research, people and events. Visit Inside website to get the latest information on Cal State Fullerton.

Images this Week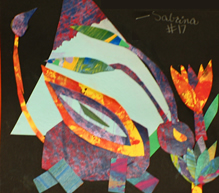 "Teachers as Artists"

Handpainted Paper Creations
These are examples of student artwork created at an arts in education program, "Teachers as Artists." Funded by a mini 05-06 CSUF grant, this program was a collaborative professional development workshop series designed to equip veteran as well as student teachers with the skills to integrate art with math, science, history and more. more »
Did you know?
Average unit load carried by Cal State Fullerton students is 11.1 percent, according to figures from fall 2004 generated by the Office of Institutional Research and Analytical Studies. Undergraduate credential students carry the biggest average load, at 15.7, followed by first-time freshmen at 13.7, and postbaccalaureate credential students at 12.9.