Student Researchers Spend Summer in the Laboratory
By Pamela McLaren
Belinda Leung
This summer, college students from across the country are donning lab coats and goggles to work side by side with Cal State Fullerton faculty members as part of the National Science Foundation-funded Research Experience for Undergraduates program.
The program partners students from Cal State Fullerton and other universities with chemistry and biochemistry faculty members for individualized research experiences.
Read more about the researchers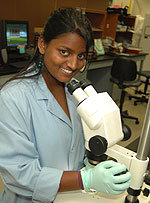 Lihini Keenawinna »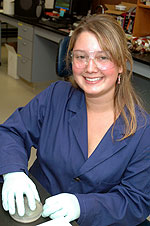 Stephanie Sprowl »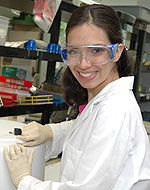 Priscilla Antunez »
"The NSF-Research Experience for Undergraduates program is designed to give undergraduates a full immersion into a summer of chemical and biochemical research that will kindle a passion within them to become lifelong researchers in the sciences," said Mark S. Filowitz, co-director of the REU program and a lecturer in chemistry and biochemistry.
"The most exciting part of the REU so far has been learning a new field of chemistry," said Belinda Leung, who attends Bryn Mawr College in Pennsylvania. "I have never taken any physical or structural chemistry — which is what my project is based on — so getting associated with the field through knowledgeable and excited people in the department has been a great experience."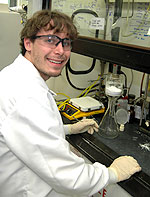 Brian Weist
Leung is using X-ray crystallography to determine the structures of 12 different tuberculosis drugs. She is working with Katherine Kantardjieff, professor of chemistry and biochemistry. "The experience will give me an understanding of how actual research feels like, such as the pace of research labs and the actual hands-on time with various equipment in labs," Leung said.
"Students receive training in the design and execution of laboratory research," noted Filowitz. "They present papers on, and often publish, the results of their summer's work."
In addition, participating students attend targeted workshops in areas of related interest. They also attend social and cultural events that enhance the summer experience.
Fullerton College student Jalal Damani had never worked in a laboratory prior to becoming a part of the REU program this summer. He is working with fellow REU participant Brian Weist, who attends Gonzaga University in Spokane, in the lab of Jonathan M. Stoddard, assistant professor of chemistry and biochemistry, in a program to create a synthetic anti-cancer compound that normally is extracted from sea sponges.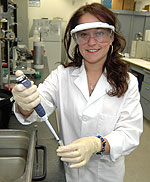 Gayane Keshishian
"This extensive laboratory experience will greatly educate me in the fields of organic synthesis of potential hard-to-get-drugs," said Damani. "The most exciting part of this experience are the failed experiments, because they really urge me to find alternative synthetic routes and make me look at things from several different perspectives."
CSUF's Chemistry and Biochemistry Department has participated in the program for more than 25 years — a testament to the department's focus on offering students hands-on undergraduate research experiences.
"We're one of the few nondoctoral granting institutions that comes up on top in the competition to receive this funding," said Maria Linder, chair and professor of chemistry and biochemistry who co-directs the annual program. The NSF recently awarded an additional $64,881 to support the program.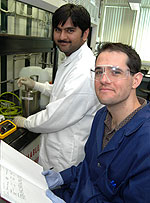 Jalal Damani and Jonathon Stoddard
This year, the program received more than 250 applications from students seeking to participate. Applicants had to be sophomores or juniors majoring in a chemistry-related subject. The selection process involved review of such information as grades, recommendation letters and future goals, as well as matching groups of suitable candidates to the research interests of participating faculty mentors, explained Filowitz.
Each participant receives a $3,500 stipend for the 10-week program; out-of-area students are provided with funding to cover housing and transportation to and from their home cities as well.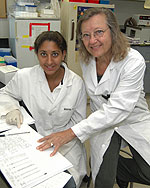 Aleeza Roth and Maria Linder
In addition to Leung, Damani and Weist, other participants are Cal State Fullerton student Stephanie Sprowl; Fullerton College student Priscilla Antunez; Mount San Antonio College students Gayane Keshishian and Tao Wang; Aleeza Roth of University of Wisconsin-Madison; and Diane Youker of Radford University.
Fellow Titan Lihini Keenawinna is participating in the program as this year's recipient of the Glenn Nagel Scholarship, named after the late emeritus professor of chemistry who launched the campus REU program in the 1970s.
Participating faculty members in addition to Linder, Kantardjieff and Stoddard are: Peter de Lijser, A. Scott Hewitt, Zhuangjie Li, Christopher Meyer, Hal Rogers and Chandra Srinivasan.
The program continues through Aug. 11.