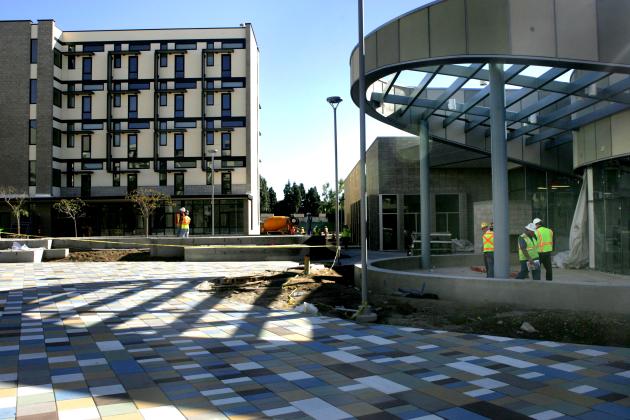 TO MEET GROWING DEMAND, the university this spring will complete construction on a five-story complex that will house 1,064 students, more than doubling the number living on campus today. With a convenience store, a central dining commons and double occupancy rooms, the $143 million housing project, built with non-state monies, will help provide students with a small college experience in a large university setting. Here are the highlights:
New residence hall buildings, like the existing ones, are named after trees — Fig, Pine, Holly, Juniper and Elm.
The project is expected to earn LEED gold certification by the U.S. Green Building Council for using "green" or sustainability principles in the design, construction and operation, consistent with the university's efforts to create a more energy-efficient, sustainable campus.
The new 565-seat "Gastronome" dining facility, with indoor and outdoor seating and fire pit, will have a wood-burning oven and buffet-style service.
There will be two faculty-in-residence apartments, two more residential community coordinator apartments, study and recreation rooms on each floor and conference rooms.