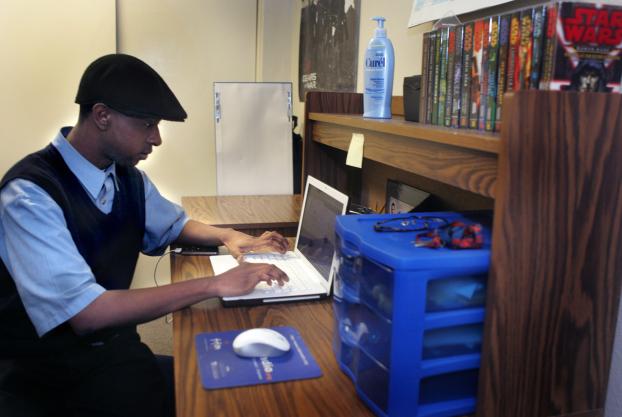 Caption: Sophomore Marvin Bell lives in the residence halls and enjoys getting involved in campus and housing activities. Photo by Karen Tapia
Living on Campus
Students Experience Learning as University Residents
STEP INSIDE MARVIN BELL'S apartment on campus and the living room walls are adorned with posters of Star Wars characters, Ironman, X-men and other superheroes.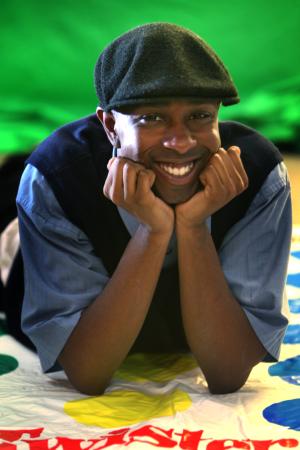 Caption: "Living at the university has given me a full, college experience," says Marvin Bell. Photo by Karen Tapia
His five other male roommates don't mind Bell's fascination with the mega Star Wars franchise or comic book action figures.
After all, Bell, a radio-TV-film major, has set his sights on becoming the next George Lucas.
"I'm a huge Star Wars fan," he grinned.
But in all seriousness, he added: "I really like the people I live with; we get along with each other and respect each other, even though we're all so different."
Trina Miller also lives at the university's residence halls where she shares an apartment-style suite with five female students. They share two bathrooms, a living room, kitchen and dining area.
For Bell and Miller, both sophomores who have lived on campus the past two years, it has been a "growing up" experience — taking on the responsibilities of living on their own and learning to get along with others in shared living quarters.
Each has stepped into student leadership roles: Miller serves as president of the Resident Student Association, the student governing body for the campus residential community; and Bell is a former member of the association's executive board and served as a liaison between the campus and housing community. Bell is also a member of the Chi Psi Phi chapter of the National Residence Hall Honorary and currently serves as secretary. The organization provides recognition for student leaders in the residence halls.
Both agreed that being campus residents has given them another dimension to their college experience. They said they also have become more accountable, patient and thoughtful.
"You can't take long hot showers, leave your dishes in the sink, or eat your roommates' food," Bell mused. "You have to be considerate of your roommates, follow the house rules and do what's best for the living situation."
Bell wanted to live on campus to avoid commuting from Riverside. His grandmother, who raised him in his teenage years, also encouraged him to attend college away from home.
"My grandmother gave me good advice," he said. "Living at the university has given me a full, college experience. In order to get the most out of living here, you have to put in the extra effort to make it the best possible experience for yourself."
Miller, who grew up in Laguna Beach, said living away from home has given her newfound challenges, responsibilities and social opportunities. Even the mundane, everyday household tasks give her a sense of accomplishment.
"Being able to do my laundry on my own is definitely gratifying. I also love the fun and educational programs offered in the residence halls."
Making new friends, getting involved in extracurricular activities and student clubs, the convenience of walking to class from their on-campus apartments and the feeling of being connected to the university, top the list as to why students choose to live in the residence halls, Miller said.
For Miller, a pre-business major, she's enjoyed meeting other students and developing her own leadership skills.
"Living at Cal State Fullerton makes me feel that I am a part of the bigger whole," she said. "I get a sense that I belong here. Many other campus residents would also agree to having that same school spirit."
As president of the Resident Student Association, Miller serves as chief liaison for the 800 students presently living on campus. She works closely with the association's executive board members and delegates to ensure that life in the residence halls is safe, clean and as enjoyable as possible.
"I make sure that all students are fairly represented, and that they have an active say or vote in any matter dealing with the spending or saving of student housing fees," she said. "Being in college is supposed to be the best years of our lives, and we all work together to make sure that holds true for the residents on campus."
Miller strongly believes that undergraduates should take advantage of having a residential experience.
"It gives you a healthy balance of educational and personal growth in a rewarding environment," she said.
"I believe there is a powerful sense of community and unity in the current residence halls, and with the opening of the new housing, it will only make that bond among students even stronger."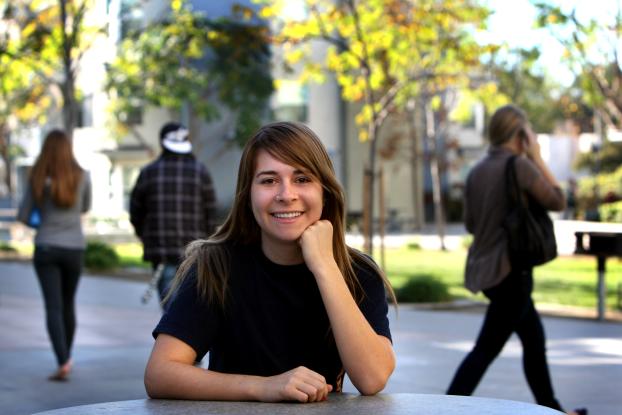 Caption: Sophomore Trina Miller lives in the residence halls. Photo by Karen Tapia
January 12, 2011