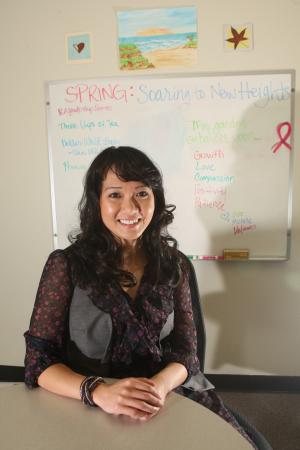 Caption: Terrie Tran is a residential community coordinator who lives in the residence halls and assists students who live on campus. Photo by Karen Tapia
Living Their Jobs
University Staff Members Call Campus Home
Terrie Tran and Jason Curtis live their her jobs at the university. Literally.
They live on campus in the residence halls as full-time residential community coordinators. Tran oversees half the 800 students who presently live on campus. Curtis, who lives on campus with his wife and daughter, oversees the other half.
With new student housing opening this fall, two new residential community coordinators will be hired and they too will live on campus. The new housing also features two faculty in-residence apartments.
Tran and Curtis are trained to assist students with a variety of concerns that might affect their personal or academic life. They help student residents with issues such as adjusting to living away from home, roommate conflicts and mental and/or emotional distress.
They also enforce housing rules and regulations and hold residents accountable for violations of community standards of conduct for campus residents.
As part of their job, Tran and Curtis also work an after-hours, on-call rotation to respond to crises and emergencies that arise in the housing community. They serve on several campus committees as housing representatives and advise the Resident Student Association. The association serves as the student governing body of the residence halls community.
"I find tremendous enjoyment for my work and I feel fortunate to have discovered a meaningful career that allows me to be a part of students' growth and development as individuals and as community members," Tran said.
Curtis added: "I really enjoy the close feeling we have in the community here at Cal State Fullerton. Knowing the students and having them know me, and my wife and daughter, is really a rare experience that you don't get with any other job."
Studies have shown that the on-campus housing experience can positively influence the student's level of involvement and satisfaction, thus boosting the retention of the student toward matriculation at the institution, Tran explained.
"At Cal State Fullerton, we're trying to create an environment in which students are afforded opportunities to develop skills and knowledge that may not be facilitated in an academic setting," she said.
From her perspective, she said there are a multitude of benefits for students living on campus.
"Students who live at the university enjoy convenience and access to the campus all the time," she said. "Residents can go to and from places on campus such as classrooms, the library and Student Recreation Center without needing to worry about parking. They also have access to a rich diversity of students and they can develop meaningful relationships. Residents also tend to feel a sense of belonging to a community and have opportunities to grow in their communication and life skills as they learn to live on their own and with others. They can also attend programs that provide learning outside of the classroom that facilitates their growth as well-rounded, well-adjusted individuals."
January 12, 2011