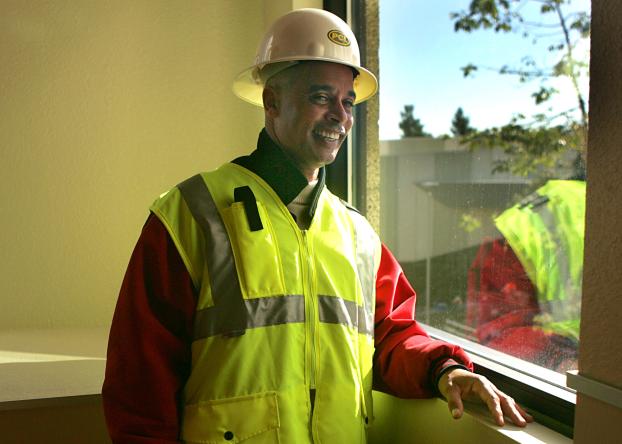 Caption: Fred Lipscomb, CSUF's new director of housing and residence life, tours the new student housing complex under construction with student occupancy planned for fall 2011. Photo by Karen Tapia
Meet Fred Lipscomb
New Housing Director's Vision for Student Residents
FOR THE LAST 30 YEARS, Fred Lipscomb has worked in student housing and knows firsthand the academic and student life opportunities afforded to undergraduates who choose to live on a university campus.
"Living on campus gives students a full college experience that supports their personal growth, strengthens academic goals, develops leadership skills and gives them direction in their lives to make a difference in society once they graduate," Lipscomb said.
Lipscomb came to the university in July with not only a wealth of experience in managing on-campus student housing programs, but with a vision to reshape Cal State Fullerton's residential community.
In his new role as director of housing and residence life, he is overseeing construction and programming of additional student housing, which will provide 1,064 beds to help meet the demand for campus living. The university presently offers living space for 800 students in two existing phases of housing.
The $143 million new housing facility, underwritten with bond funding, will be completed in April — ahead of schedule, Lipscomb said. The residential complex will open for occupancy in August for the 2011 fall semester and serve primarily incoming freshmen.
Highlights of this newest housing phase include a contemporary indoor-outdoor dining commons, known as the "Gastronome," with ARAMARK, a leading provider of food service selected to operate the facility. The complex will also feature a convenience market, study halls, conference rooms, recreational areas and two faculty-in-residence apartments. (See related story).
Lipscomb is also spearheading the implementation of the "living-learning concept" for the student residential community, in efforts to give students a full collegiate experience. He shares his goals and plans for the future of campus housing.
What is your vision for campus student housing?
My vision is to create a vibrant living-learning community, where students are actively engaged in not only academic life, but in all aspects of campus life. I also want to ensure that we provide clean, well-maintained, safe and secure facilities, where students value their experience here, while keeping room and meal rates affordable.
What is the "living-learning" concept?
A true living-learning environment is one that promotes learning outside of the classroom. Students spend an enormous amount of time learning outside of the formal educational structure. In student housing, we strive to build a community that supports that concept. As such, we bring in faculty and staff members to augment the learning in the classroom. As a result, students become more actively engaged in learning — whether it is about their role in society, diversity and its application in our society, conflict or conflict mediation. Students also learn about themselves, about others and how to function in our society. In our efforts to further foster the living-learning concept, we will also bring classes into the residence halls so faculty and staff members are exposed to the daily life of students outside of the classroom. Additionally, our goal is to have two faculty members living in the new housing complex so students get better acquainted with professors and eliminate any barriers that students may having in reaching out to them.
What are other advantages of living at the university?
Students who live on campus have the benefit of being in a safe and secure environment. In addition, housing serves as a vehicle to these students to provide them with the necessary resources that they need to succeed in college. These include academic tutoring, classes in the residence halls, faculty-in-residences, social programs to meet other people, sports and recreational activities and peer counseling. Housing staff members also provide support systems to aid students. Ultimately, students gain a sense of belonging and feel part of the campus community.
What prompted the need for more housing on campus?
With our population of more than 36,000 students, only 2.6 percent of the student population lives on campus. With our freshmen population of approximately 4,000, we don't have ample space to house them. Consequently, there is a high need and demand for more housing on campus, especially among new students. Moreover, on-campus housing serves as an ideal venue to further develop a sense of community spirit among our student body.
What are the unique features of the new housing?
Our current housing stock consists of apartment-style living with full kitchens and bathrooms. Residents are responsible for the upkeep of their apartments. The new student housing consists of five buildings and are much more than a traditional dormitory-style setting. A dorm is a place with just living quarters for students. The new complex is designed to be a dynamic interactive environment centered on academic support, community interaction and an array of programmatic activities to assist students in their academic quest. Each floor consists of living space for two students per room and a common public bathroom in the hall. Our staff will provide housekeeping services in the public bathrooms and common areas.
How will the new housing transform students' residential college experience?
We will have a concentrated group of nearly 2,000 students who will have a permanent place on the campus, seven days a week, 24 hours a day. Nighttime activity will reach a new level, and campus involvement will increase as students look for outlets outside of the classroom. School spirit will also increase, and this new group of students will have a campus identity and will look for opportunities to make their presence noticeable and memorable.
January 12, 2011