Supporting Foster Youth
University President Honored for Outstanding Service to Children and Community
April 20, 2010
By Debra Cano Ramos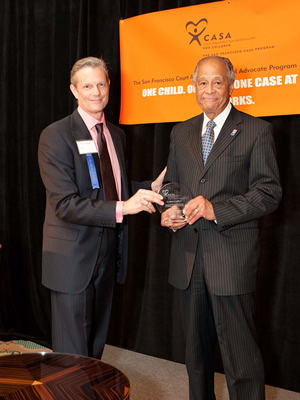 J. Peter Bardwick, co-chair of the San Francisco Court Appointed Special Advocate Program Board of Directors presents Cal State Fullerton President Milton A. Gordon with the organization's 2010 "Award for Outstanding Service to Children and the Community." Photo by Drew Altizer Photography
For his commitment to help foster youth attain a college education, Cal State Fullerton President Milton A. Gordon is the recipient of the 2010 "Award for Outstanding Service to Children and the Community," presented by the San Francisco Court Appointed Special Advocate Program.
Gordon was honored at the organization's April 8 board of director's luncheon for his commitment to, and passionate belief in, the Guardian Scholars program the university launched in 1998.
"Dr. Gordon has successfully fostered the collaboration necessary to make college a reality for emancipated foster youth," said Sally Coates, executive director of San Francisco CASA. "Under Dr. Gordon's leadership, a model program was developed that paved the way for other universities and colleges. The Guardian Scholars program provides foster youth with the tools and resources they need to succeed. We are proud to honor Dr. Gordon."
San Francisco CASA is a nonprofit organization that provides advocacy and mentorship to abused and neglected children in foster care. The organization recruits, screens, trains and supervises volunteers who advocate for, and mentor, children, helping to find safe and permanent homes for them and addressing their educational, health care and other needs.
Guardian Scholars, the first-of-its kind program in the nation, supports former foster youth in their efforts to gain a college education. As wards of the court, foster youth emancipate at age 18 and begin what can be a difficult transition to adulthood — often without traditional family support.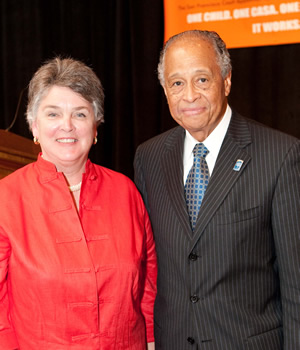 Cal State Fullerton President Milton A. Gordon is the recipient of the 2010 "Award for Outstanding Service to Children and the Community." Sally Coates, executive director of the San Francisco Court Appointed Special Advocate Program, congratulates Gordon at the April 8 event. Photo by Drew Altizer Photography
By awarding full scholarships and providingsupport in and outside the classroom for these young people to flourish, the Guardian Scholars program provides the opportunity to change individual lives and futures. Guardian Scholars also works in partnership with child welfare agencies and the community promoting educational success though a combination of financial, academic, and emotional and social support for foster youth.
"One of the reasons Guardian Scholars is successful is because of the strong support we receive from top university administrators, beginning with President Gordon, as well as the relationships we have cultivated with donors and community partners," said Grace Johnson, Guardian Scholars program director.
"It takes a tremendous amount of collaboration to make a program like this work — from the internal campus teamwork to our affiliations with external partners in the community, one being the Orangewood Children's Foundation."
Currently, 40 ethnically diverse former foster youth are enrolled in the program. A dozen new students who will be joining Guardian Scholars in fall 2010. Nearly 70 percent of the students in the program have earned their degrees or are pursuing them, Johnson said. Since the program's inception, 58 former foster youth have earned bachelor's degrees with another 10 students graduating this year.
Gordon has received numerous honors and awards during his extensive academic career. Most recently, in March, he was recognized by the American Association of Hispanics in Higher Education and received the organization's highest honor: the Alfredo G. de los Santos Jr. Distinguished Leadership in Higher Education Award.
Earlier this year, he was also presented with the "Man of the Year" award from COR, Community Development Corp., a nonprofit foundation operated by Christ Our Redeemer AME Church.
For more information about Guardian Scholars, visit http://www.fullerton.edu/guardianscholars/ or San Francisco CASA at www.sfcasa.org.
Related Links:
Fostering Students for College Success
Christ Our Redeemer Hosts 11th Annual MLK Scholarship Gospel Concert