High Achievements
Gordon, Alcántara Honored by Association of Hispanics in Higher Education
March 16, 2010
By Mimi Ko Cruz
President Milton A. Gordon and Ryan E. Alcántara, assistant vice president for student affairs, recently were recognized by the American Association of Hispanics in Higher Education.
Gordon received the highest honor bestowed by AAHHE — the Alfredo G. de los Santos Jr. Distinguished Leadership in Higher Education Award — and Alcántara won third place honors for the association's Outstanding Dissertation Award. AAHHE is a national, educational nonprofit organization dedicated to improving the quality of higher education.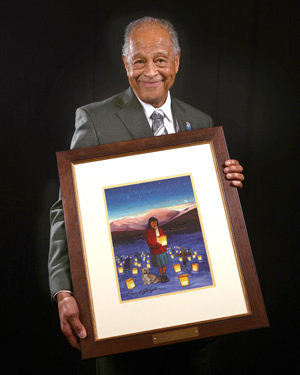 President Milton A. Gordon poses with a painting he was given as part of his AAHHE Alfredo G. de los Santos Jr. Distinguished Leadership in Higher Education Award. Photo by Greg Andersen
President Milton A. Gordon
At the March 6 award ceremony in Costa Mesa, Gordon said that while he has received numerous honors and awards, "being named the 2010 Alfredo G. de los Santos Jr. Distinguished Leadership in Higher Education Award recipient is a very special one. It honors and celebrates the life and legacy of an incredible man, Dr. Alfred de los Santos Jr., whose impact on higher education and, in particular, access to higher education for Hispanics, has significantly impacted higher education not only in our nation but within the world at large."
"If my legacy in higher education ends up being one-third of the importance of Dr. Alfredo G. de los Santos Jr.'s legacy, I would be very pleased," he added.
Promoting diversity in higher education and access for all students have been priorities for Gordon throughout his 19-year career as president of Cal State Fullerton.
"I am especially proud that Cal State Fullerton is designated as a Hispanic-Serving Institution and that our university is second in California and sixth in the nation in awarding baccalaureate degrees to Hispanic students," he said.
Decades ago, he said, the university began "reaching out to Hispanic students and their parents and to other underrepresented groups, and we put in place outreach and support programs once the students were enrolled that result in successful completion of their degree objectives.
In addition, kindergarten through 12th-grade outreach and support programs that prepare Latino students for college have been in place for many years.
Access and Achievement
"Our campus has a very good record of graduating students regardless of race, ethnicity or gender," Gordon said. "This has been accomplished through the provision of student support services, tutoring and mentoring (peer and professional), and, above all, through the conscious effort and dedication of our caring and nurturing faculty, staff, student affairs professionals, student organizations and by students dedicating themselves to their studies and degree objectives."
The population in California is projected to number 43 million by 2020 and the majority of people in the work force will be Latino, Gordon reported. In Orange County, Latinos are projected to represent 41 percent — the largest ethnic group — of the county's population by 2020.
According to a recent study by Marta Tienda, a Princeton University sociology professor, "Hispanics' participation in higher education continues to rise, yet their likelihood of graduating high school underprepared for college; their propensity to attend two-year colleges; low levels of parent education; and limited financial resources pose formidable obstacles to achieving a baccalaureate degree."
That is why at Cal State Fullerton, outreach and support programs such as Project MISS (Mathematics Intensive Summer Session), Summer Bridge, Educational Opportunity Program, McNair Scholars, Talent Search partnerships with Anaheim and Santa Ana, Upward Bound and Gear Up are "so important to our future success in terms of educating and graduating Hispanic and other underserved populations of students," Gordon said. "We must each do our part in our respective areas across this nation to continue to expand our efforts to work with parents and students in the middle and high schools of our nation to increase the number of college ready Hispanic students."
Of this fall's 36,262 students, 29 percent are Latino. In May, Cal State Fullerton awarded 2,332 baccalaureates and 231 master degrees to Latino students.
The United States is in a period of increased population growth through immigration, particularly from Latin American countries, Gordon said. "To address emerging workforce challenges, the country will need to draw on the skills, energy and talents of its immigrants, regardless of their residency status. Unfortunately for some, their economic and/or residency status prevents them from matriculating to our postsecondary educational systems."
As chairman of the board of the Hispanic Association of Colleges and Universities, Gordon said he endorses the federal DREAM Act, a proposed bill that would provide certain undocumented students who graduate from U.S. high schools the opportunity to earn conditional permanent residency.
An American Dream
"Higher education is necessary to achieve the American dream that immigrants in this country have sought for centuries," Gordon said. "I wholeheartedly support the federal DREAM Act because it will remove some of the barriers to higher education for thousands of children who have grown up in this country, attended our schools and have the desire and ability to make vital contributions to our society."
He concluded his acceptance speech with this pledge: "I have been and will continue to live my life reflecting the values of Dr. Alfredo G. de los Santos Jr. of helping others to dream and achieve the American dream by dedication, commitment and effort so all children can reach their full potential regardless of where they start in life so they are prepared to be the future leaders of tomorrow."
Loui Olivas, president of the American Association of Hispanics in Higher Education, praised Gordon's commitment.
"Dr. Milton Gordon was selected to receive this prestigious award as a result of his sustained efforts and leadership over the past two decades, addressing the higher education needs and programs dedicated to Latino students," Olivas said.
During Gordon's tenure as Cal State Fullerton president, the university reached the highest enrollment of all 23 California State University campuses, and U.S. News & World Report ranks it among the nation's top 10 public universities-master's institutions in the West.
Diverse Issues in Higher Education, in its June 2009 issue, ranks Fullerton sixth in the nation in terms of baccalaureate degrees awarded to minority students, based on data from the U.S. Department of Education.
Hispanic Outlook in Higher Education, May 2009, ranks Cal State Fullerton No. 2 in California and sixth in the nation among top colleges and universities awarding bachelor's degrees to Hispanics, based on 2008 data from the U.S. Department of Education.
Gordon earned his bachelor's degree in mathematics and secondary education from Xavier University, his master's degree in mathematics from the University of Detroit and his doctorate in mathematics from the Illinois Institute of Technology.
Before being appointed Cal State Fullerton president, Gordon was vice president for academic affairs at Sonoma State University and professor of mathematics. He also served as dean of the College of the Arts and Sciences and professor of mathematics at Chicago State University, and director of the Afro-American Studies Program and associate professor of mathematics at Loyola University of Chicago.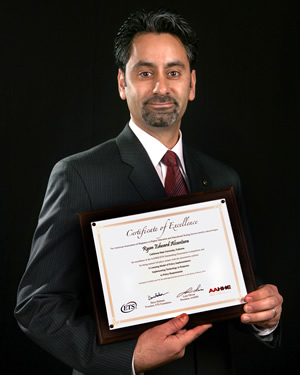 Ryan E. Alcántara won third place honors for AAHHE's 2010 Outstanding Dissertation competition. Photo by Greg Andersen
Ryan E. Alcántara
Alcántara earned his doctorate in public administration from USC in May.
His dissertation, "A Learning Model of Policy Implementation: Implementing Technology in Response to Policy Requirements," is a study of learning in policy implementation in a higher education context.
He said he collected data via interviews, documentation review and direct observation.
His dissertation concluded that "implications on policy implementation include the need for policymakers to consider policy development from an organizational perspective and suggest strategies for managers to advance organizational learning in the implementation process."
Alcántara, who earned his master's degree in educational leadership/higher education administration from University of Connecticut in 1997 and a bachelor's degree in psychobiology from UC Riverside in 1995, was the first in his family to go to college.
"When I first started college, I didn't know what a dissertation was," Alcántara said. "Pursuing a Ph.D. is a very intimidating process for a first-generation college student, even for someone like me who works in higher education and has been around people with doctorates. Despite a support network and a supportive dissertation chair, at some points, I really felt as though I were stumbling around in the dark and had feelings of self doubt."
Si Se Puede
To other underrepresented students who are or will be the first in their families to attend college and pursue a doctoral degree, he has this advice: "Earning a Ph.D. is really difficult, but it is more of a matter of self-discipline and determination than anything else. With hard work, si se puede (it can be done)."
As a "representative of the very small number of Latinos who have earned a Ph.D., in addition to feeling blessed, I need to be out there in front on this issue, calling for resources and providing support to the students," said Alcántara, of Fullerton.
"I am so honored to be recognized for my dissertation by such a prestigious organization," he said. "Not only does it serve as a validation of my work, but also motivates me to continue doing research in the field."