Christ Our Redeemer Hosts 11th Annual MLK Scholarship Gospel Concert
Cal State Fullerton President Milton A. Gordon to be Named Man of the Year
On Sunday, Jan. 17, the Barclay Theatre on the University of California, Irvine campus will be filled with churchgoers, community members and invited guests, including Cal State Fullerton President Milton A. Gordon and Barbara Parsky, Edison International's senior vice president of corporate communications.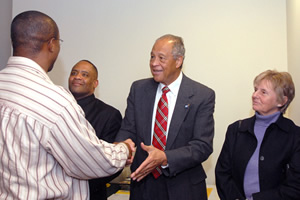 President Gordon is flanked by his wife, Dr. Margaret Faulwell Gordon, and Rev. Mark Whitlock while they greet congregants at Christ Our Redeemer AME Church in Irvine in 2008. Photo by Kelly Lacefield.
Gordon and Parsky will be present to receive the Man and Woman of the Year awards from COR, Community Development Corp., a nonprofit foundation operated by Christ Our Redeemer AME Church, noted the Rev. Mark Whitlock II, pastor of the 3,400-member congregation.
The Martin Luther King Jr. Scholarship Gospel Concert is co-hosted by Christ Our Redeemer AME Church (COR), the Black Chamber of Commerce of Orange County, 100 Black Men of Orange County and the Orange County Ministerial Alliance. Every year, the event raises funds to provide financial support for deserving college students to assist them in achieving their academic and professional dreams, as well as to honor two individuals who embody the character and leadership of Dr. Martin Luther King Jr.
"This event is intended to provide worthy students an opportunity to achieve a higher level of education and to pay homage to a true American icon," said Whitlock.
The largest AME church in Orange County has raised more than $125,000 for this purpose in the 10 years since it first began holding this event under the reverend's leadership.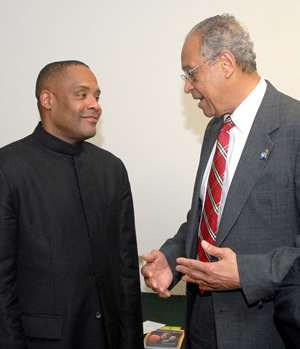 President Gordon chats with Rev. Mark Whitlock of Christ Our Redeemer AME Church in Irvine. Photo by Kelly Lacefield.
"We do this each year to raise funds for deserving college students and to honor two individuals who embody the character and leadership of Dr. Martin Luther King Jr.," Whitlock explained.
For the president of Cal State Fullerton, the occasion will be something of a homecoming, noted COR's pastor.
"Dr. Gordon first came to COR AME Church three years ago as part of the CSU's Super Sunday outreach program to largely African-American congregations, and he literally electrified our church audience with a presentation that made the connection between the secular and the sacred.
"Here was a scientist and mathematician who could speak so movingly from his own experience of the values that had inspired his own work. Like Dr. King, he was willing to step out of himself, listen to the voice of faith, lead from the strength of his character and so act to change conditions for others."
"The AME Church's historic commitment to education is visible in the seven colleges the denomination owns and administers across the country," Whitlock added, "as well as in local efforts like our own to raise scholarship funds and invest those dollars in our students at CSUF."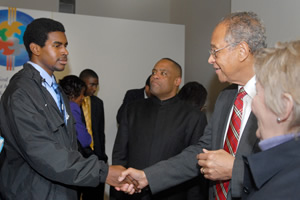 President Gordon greets Demetrius Lykes, while Rev. Mark Whitlock looks at Christ Our Redeemer AME Church in Irvine. Photo by Kelly Lacefield.
"During the last four years, CSU Super Sundays have offered me the wonderful opportunity to visit Afro-American churches and encourage youth to go to college and graduate with a degree," said Gordon.
"Access to higher education for all students and diversity on our campus have been priorities for me as president at Cal State Fullerton," Gordon added. I am honored to join with COR AME Church for this important event that raises scholarship money for deserving students in Orange County and am honored to have been selected to receive this most prestigious award."
The CORale Choir, most recently featured on the "How Sweet the Sound" Tour, is scheduled to perform, as well as a surprise gospel-recording artist. King's fraternity, Alpha Phi Alpha, also has planned a step show performance.
The cost to attend the 11th annual fundraising event is $25. For more information, visit www.corchurch.org or call 877 426-7263.