Welcome Guardian Scholars
New Cohort Joins Cal State Fullerton Student Ranks Through Program for Former Foster Youth
September 1, 2009
By Mimi Ko Cruz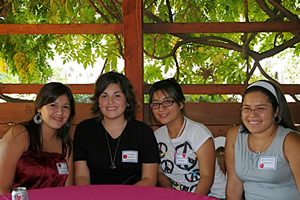 From left: Karla Martinez, Giovanna Nunez, Daysi Hernandez and Marcia Osuna. Photo by Mimi Ko Cruz
A dozen emancipated foster youths have joined Cal State Fullerton's student ranks as this year's incoming class of Guardian Scholars.
Believed to be the first of its kind in California, the university's Guardian Scholars program was developed in collaboration with the Orangewood Children's Foundation and launched in 1998.
In addition to financial assistance, the program serves as a resource for these students, helping them in their development and equipping them with the educational and interpersonal skills necessary to become self-supporting and to develop into community leaders, role models and adept professionals in their fields.
As the program begins its 11th year, it serves as a model for universities and colleges across the nation, said university President Milton A. Gordon, adding that the Guardian Scholars Program has demonstrated that former wards of the state can succeed with the proper guidance, direction and support.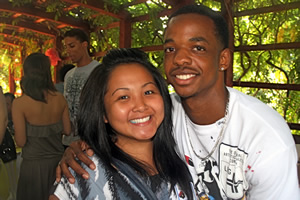 Senior Guardian Scholars Kat Curameng, left, and Laron Brown. Photo by Mimi Ko Cruz
Hired recently to work with the students are two counselors — psychologist Charmaine Charles and therapist Anhthu Dang. Their positions are being funded by a California Wellness Foundation grant.
In addition, this year the program launched a peer-mentoring program that teams freshmen with seniors "to assist with the transition to college life," said Giulii S. Kraemer, coordinator of the Guardian Scholars program.
On the eve of each fall semester, the Guardian Scholars are treated to a special reception hosted by CSUF alumna and NBC-4's Orange County bureau chief Vikki Vargas and her husband, Michael Nason. This year's reception was held Aug. 23 at the Fullerton Arboretum.
Gordon welcomed the new class of Guardian Scholars, while a couple of seniors — Kat Curameng and Laron Brown — shared their own experiences and offered advice, and Vargas gave each new student a special charm called a "milagro." Milagro is Spanish for miracle.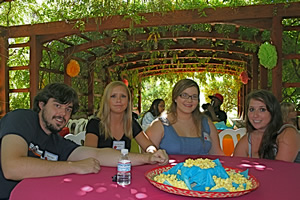 From left: Ryan Tew, Desiree Galton, Tara Rowlodge and Tiffany Mendoza. Photo by Mimi Ko Cruz
Vargas explained the Mexican folk custom of giving milagros — small charms that can be worn as jewelry — and wished the incoming Guardian Scholars well in their college journey.
The event "is an opportunity for the students to connect and bond with one another as they anticipate starting the fall semester," said Grace Johnson, director of Guardian Scholars. "Many of the new students feel anxious about their first day at Cal State Fullerton and this evening provides them with support from both their peers and donors."
This year's new Guardian Scholar class members and their majors are:
Tiffanie Canada, biological science
Jorge Cardenas, business administration
Andrew Dunphy, psychology
Daysi Hernandez, radio-TV-fillm
Jennifer Hixon, undeclared
Vanessa Holladay, undeclared
Talitha James, human services
Taron Johnson, theater
Karla Martinez, business administration
Giovanna Nunez, criminal justice
Marcia Osuna, criminal justice
Nicole Robinson, communications
There are 40 students presently in the Guardian Scholars Program, which has graduated 56 students.
For more information, visit the Guardian Scholars website.
Related Stories:
Program Awarded National Kudos