Highest Honors
Gordon Receives Leadership Award from Association of Hispanics in Higher Education
February 23, 2010
By Mimi Ko Cruz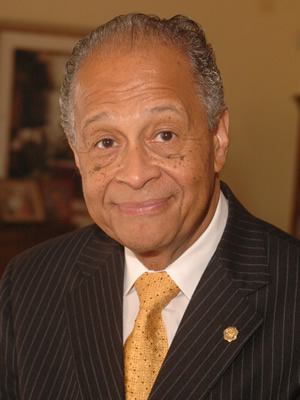 Milton A. Gordon
President Milton A. Gordon next month will receive the highest honor bestowed by the American Association of Hispanics in Higher Education — the Alfredo G. de los Santos Jr. Distinguished Leadership in Higher Education Award.
The award will be presented at the organization's annual conference, held this year at the Costa Mesa Hilton Hotel March 4-6.
"Dr. Milton Gordon was selected to receive this prestigious award as a result of his sustained efforts and leadership over the past two decades, addressing the higher education needs and programs dedicated to Latino students," said Loui Olivas, president of the American Association of Hispanics in Higher Education.
"Dr. Gordon deserves this award because he exudes the values and ideals of Alfredo G. de los Santos," said Silas H. Abrego, associate vice president for student affairs, who himself is a past recipient of the Alfredo G. de los Santos Jr. Distinguished Leadership in Higher Education Award. "He is committed and passionate about providing all students the opportunity to pursue their higher education goals. He is particularly committed to low-income and first-generation college students, and making sure they have every opportunity to graduate and be successful. He ensures that the campus climate is conducive to learning for all students."
Gordon serves as chair of the Hispanic Association of Colleges and Universities Governing Board. HACU is a national organization that represents more than 450 colleges and universities and is committed to Hispanic higher education success in the United States, Puerto Rico, Latin America, Spain and Portugal.
During Gordon's 19 years as president of Cal State Fullerton, the university reached the highest enrollment of all 23 California State University campuses, and U.S. News & World Report ranks it among the nation's top 10 public universities-master's institutions in the West.
Diverse Issues in Higher Education, in its June 2009 issue, ranks Fullerton sixth in the nation in terms of baccalaureate degrees awarded to minority students, based on data from the U.S. Department of Education.
Hispanic Outlook in Higher Education, May 2009, ranks Cal State Fullerton No. 2 in California and sixth in the nation among top colleges and universities awarding bachelor's degrees to Hispanics, based on 2008 data from the U.S. Department of Education.
Gordon earned his bachelor's degree in mathematics and secondary education from Xavier University, his master's degree in mathematics from the University of Detroit and his doctorate in mathematics from the Illinois Institute of Technology.
Before being appointed Cal State Fullerton president, Gordon was vice president for academic affairs at Sonoma State University and professor of mathematics. He also served as dean of the College of the Arts and Sciences and professor of mathematics at Chicago State University, and director of the Afro-American Studies Program and associate professor of mathematics at Loyola University of Chicago.
Gordon's many honors include the National Association of Student Personnel Administrator's President's Award, the Chief Executive Officer Leadership Award from the Council for the Advancement and Support of Education, California Hispanic Chambers of Commerce Chair's Award, the Education Partnership Award from the Orange County Business Council, Cesar Chavez Community Service Award from the Hispanic Bar Association of Orange County, Manager of the Year Award from the Orange County Chapter of the Society of Advancement of Management, the National Conference for Community and Justice 2000 Humanitarian Award and the Education Award of the Hispanic Chamber of Commerce.
At this year's American Association of Hispanics in Higher Education conference, Gordon will serve on a panel titled "It's All About Math" along with Cal State Fullerton alumna Judith Segura (B.S. mechanical engineering and physics '94), the first Mexican-American woman to graduate from Stanford with a doctorate in mechanical engineering and her specialty is in thermosciences; and David L. Pagni, the professor of mathematics who created Cal State Fullerton's Project MISS — a program geared toward enhancing the math skills of 10th- and 11th-grade girls from Orange County and surrounding communities.
Related Stories: