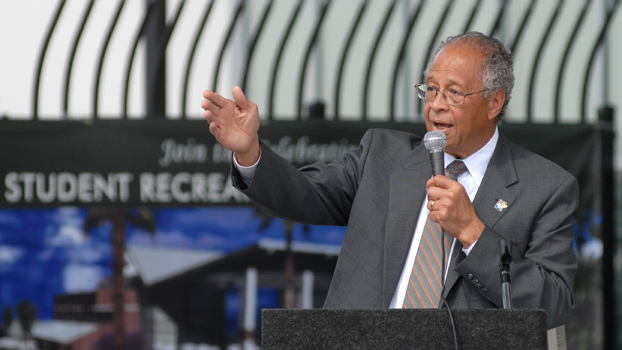 Caption: President Milton A. Gordon. Photo by Kelly LacefieldDownload Photo
Marking a Milestone
Cal State Fullerton President Announces Retirement
Sept. 13, 2011 :: No. 20
Cal State Fullerton President Milton A. Gordon today announced his intention to step down as university president when a successor can be appointed.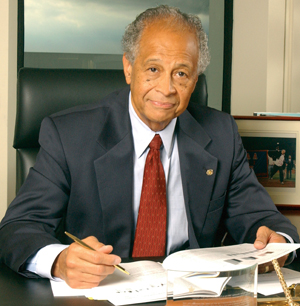 Caption: President Milton A. Gordon
Gordon, who turned 76 in May, made the announcement during his 22nd annual convocation address before faculty, staff, students and donors in the Titan Student Union.
"Being president of this great university has been one of the most exciting and professionally satisfying experiences in my professional career. I love this university, take great pride in what we have accomplished together and know a bright future lies ahead for Cal State Fullerton," he said.
"It has been an honor and a privilege to serve as your president, and I wish to thank all of you — faculty, staff, students, alumni, donors and friends in the larger community — for your ongoing support, help and advice, which has helped to build Cal State Fullerton into the extraordinary university that it is today.
"I am grateful that I'm able to call higher education my life's work. I will hand over the reins with confidence and pride. Thank you and good afternoon."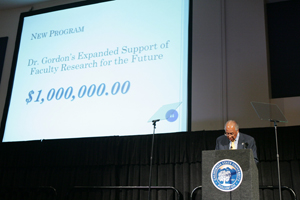 President Milton A.Gordon announces a
new program. Photo by Karen Tapia
Million-Dollar Program
Besides announcing his retirement, during
his 2011 convocation address, President
Milton A. Gordon also announced the
establishment of a new program to fund
faculty research.

"I recognized several years ago the dire
need to provide additional funds to support
and sustain faculty scholarly and creative
activity for not only the present time but
well into the future," Gordon said. "I have,
over the past few years, been consciously
saving funds from my divisional budget to
put toward budget reductions and special
campus needs. ... I have now saved
sufficient funds over several years from
my divisional budget to allocate $1 million
dollars to expand support for faculty
research and creative activity."

He said the money will be combined with
existing funds and other funds including
private donations to create a research
support fund.

Details of the new program soon will be
presented to the Academic Senate.
During Gordon's more than two decades as the university's president, Cal State Fullerton has celebrated its 50th and 40th anniversaries and grown from an institution serving 25,600 students to more than 36,000 enrolled this fall. For the past 12 years, Cal State Fullerton has been the No. 1 destination in California for community college students transferring to a public university.
The number of academic degree programs offered since 1990 has risen from 91 to 104, including the establishment of a doctorate in education program, one of the first in the 23-campus Cal State system.

The latest U.S. News & World Report rankings — out today — elevate Cal State Fullerton to No. 6 among "Top Public Universities-Master's Institutions in the West" — the highest ranking for CSUF since first being named to that top 10 in the West list in 2001.

During Gordon's tenure, the university opened satellites in Santa Ana and Garden Grove and moved its south county branch campus from Mission Viejo to the shuttered El Toro Marine Corps Air Station, then to its current site in Irvine, where almost 2,700 students are enrolled this fall.

Gordon has presided over the largest construction period in the university's history — more than $636 million worth of new and revitalized facilities, ranging from buildings devoted to instruction and student support to residential and parking structures, among others.
It's also been a period marked by sustainability, with all new buildings erected since 2006 meeting Leadership in Energy and Environmental Design certification standards. Such projects include: the Student Recreation Center, Children's Center, Fullerton Arboretum Visitor Center and Orange County Agricultural and Nikkei Heritage Museum, as well as the newly opened student residence halls and dining complex.
Advocate for Access
In August 1990, Gordon became the fourth president of Cal State Fullerton and has led CSUF into prominence as one of the nation's most inclusive senior institutions of higher learning. Since his appointment, Gordon has strengthened student recruitment and retention programs and formed new partnerships with public and private community entities.

In his first convocation address, the Chicago native stressed the themes of caring, striving for greater cultural diversity campuswide and preparing students for lifelong learning. His comments were in keeping with the oncoming demographic shifts projected at the time.

"By providing access to professional careers for the broadest cross section of Americans, including women and members of minority and immigrant groups, our university represents a pathway into the American mainstream for individuals and families who otherwise would not have the opportunity to make this step, thus helping to ensure the stability of our free economy and of our democratic government," he said.

In the decades since, the ethnic makeup of the university's student population has grown increasingly more diverse. In the fall of 1990, 59 percent of those enrolled were white, and 31 percent were minorities. Today, the percentages have reversed, with students of color constituting 57 percent of those enrolled and whites 30 percent. (International students and those of unknown ethnicity account for the balance of those enrolled.)

Graduation rates have mirrored the diverse enrollment increases. Cal State Fullerton currently ranks ninth in the nation, in terms of baccalaureate degrees awarded to minority students, according to Diverse Issues in Higher Education, based on data from the U.S. Department of Education. In addition, CSUF is No. 1 in California and fifth in the nation among colleges and universities awarding bachelor's degrees to Hispanics, also based on data from the U.S. Department of Education and reported in Hispanic Outlook in Higher Education in May. 

Throughout 21 years of commencement ceremonies, Gordon has shaken the hands of thousands of graduates and presided over the graduation of more than half of all CSUF degree-earners. More than 128,000 academic degrees have been awarded during his tenure, propelling the overall number of CSUF graduates past 200,000 by 2010.

"Our campus has a very good record of graduating students regardless of race, ethnicity or gender," Gordon said last year, when he was honored by the American Association of Hispanics in Higher Education. He credits his colleagues and students for the success. "This has been accomplished through the provision of student support services, tutoring and mentoring — peer and professional — and, above all, through the conscious effort and dedication of our caring and nurturing faculty, staff, student affairs professionals, student organizations and by students dedicating themselves to their studies and degree objectives," he said.

Prominent alumni who have returned to campus to address commencement ceremonies, anniversaries, student groups and various special events during Gordon's presidency include: NASA astronaut Tracy Caldwell Dyson (Class of '93), Congressman Ed Royce (Class of '77), Academy Award-winner Kevin Costner (Class of '78), international opera stars Rodney Gilfry (Class of '81) and Deborah Voigt,"Desperate Housewives" creator Marc Cherry (Class of '95), best-selling author Elizabeth George (Class of '79) and screenwriter Linda Woolverton (Class of '79), creator of "Beauty and the Beast" and "Lion King."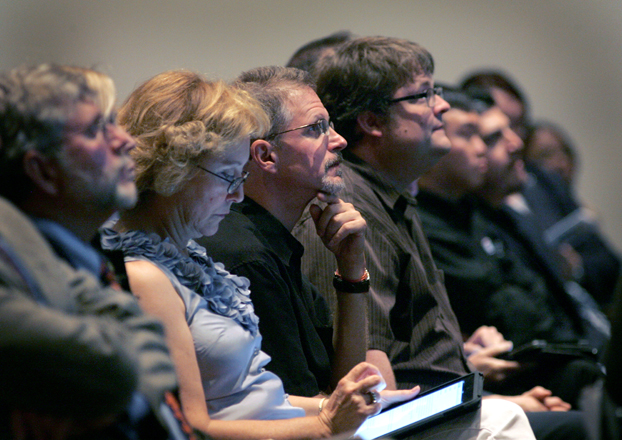 Caption: Faculty and staff members listen to President Milton A. Gordon's convocation address. Photo by Karen TapiaDownload Photo
Fundraising and Partnerships
Under Gordon's leadership, the university has enjoyed its most successful fundraising era, securing the largest gift in the university's history and fourth largest gift to the CSU — $30 million from Class of '69 CSUF business administration graduate Steven G. Mihaylo, a successful telecom entrepreneur and founder and retired CEO of Inter-Tel Inc. Both the business college and its building were named in Mihaylo's honor. Besides his, other donors' names now grace the library, alumni center, science building and performing arts center, in recognition of gifts from alumni and faculty — all donations made to the university during Gordon's tenure.

During his tenure, CSUF launched Front & Center, the university's signature community outreach and fundraising event for scholarship programs, featuring an array of luminaries, beginning with Colin Powell in 1996. Others who have shared the stage with Gordon and CSUF students at the Honda Center (formerly Arrowhead Pond) for Front & Center included: Walter Cronkite, Tony Bennett, Bill Cosby, Natalie Cole, Michael Eisner, Christopher Reeve, Stevie Nicks, Reba McIntyre and John Lithgow.

Gordon is credited with presiding over the creation of numerous partnerships and programs, including one that is a national model for serving foster youth — the Guardian Scholars Program. The first of its kind in the nation, the successful program was launched in 1998, in concert with the Orangewood Children's Foundation. It brought Gordon recognition from the San Francisco Court Appointed Special Advocate Program, which awarded him its 2010 Award for Outstanding Service to Children and the Community. The previous year, the Child Welfare League of America honored the program with its National Fostering Educational Success for Award.
A landmark $6 million grant awarded to mathematics professor David Pagni by the National Science Foundation in the mid-1990s led to systemic change in way math is taught in the Santa Ana Unified School District. Building on that success, another $6.5 million from NSF was awarded in 2002 for a CSUF partnership with four Orange County school districts to reach more than 16,000 high school and middle school students and their teachers in a five-year effort to improve academic performance in math.
The success of these and related efforts orchestrated by Pagni led him to the White House in 2005 to accept a Presidential Award for Excellence in Science, Mathematics and Engineering Mentoring. "The significance of this award can't be overstated," Gordon said at the time. "Because mentoring and collaborating with those in our region are part of our mission, it's especially gratifying that one of our outstanding professors has been honored for his efforts in this arena."
In the municipal realm, partnerships with the county of Orange, as well as the cities of Fullerton, Santa Ana, Irvine and Garden Grove span the arts, archaeo-paleontology, instructional centers and public transportation.

In athletics, Gordon has cheered the Titans on to two national championships in baseball in 2004 and 1995, and twice accompanied the team to the White House for ceremonies following their College World series wins. He has served on the board of directors and the executive committee of the National Collegiate Athletic Association and currently serves on the NCAA Division I President's Advisory Group.

The educator has held other leadership posts for national organizations, including serving a two-year stint as chair of the Hispanic Association of Colleges & Universities, and continues to serve on the HACU Governing Board of Directors. He is a member of the National ROTC Program Subcommittee, U.S. Army; American Association of Colleges & Universities Grants Resource Center and Stewards in Place II Committee; and American Council on Education's Commission on International Initiatives.

His local service includes memberships on the boards of the Orange County Business Council, the Pacific Symphony Orchestra and the World Affairs Council Board of Trustees.
Honors and Awards
Gordon has received numerous awards during his tenure as Cal State Fullerton president. Recent honors include: the 2011 Illinois Institute of Technology Professional Achievement Award, the 2010 President's Award of Excellence from the Hispanic Association of Colleges & Universities, 2010 Alfredo G. de los Santos Jr. Distinguished Leadership in Higher Education Award from the American Association of Hispanics in Higher Education, and the 2010 Man of the Year Award from Christ Our Redeemer AME Church, the Black Chamber of Orange County, 100 Black Men of Orange County and the Orange County Ministerial Alliance.

Prior to arriving at Cal State Fullerton in August 1990 as president and professor of mathematics, Gordon joined the CSU in 1986 as vice president for academic affairs and professor of mathematics for Sonoma State University.

Previously, he held a series academic posts: dean of the College of Arts and Sciences and professor of mathematics at Chicago State University from 1978-86; project director, Title III of the Strengthening Development Institutions Program, HEW at Chicago State University from 1980-82; director of the Afro-American Studies Program at Chicago's Loyola University from 1971-77; associate professor of mathematics at Loyola from 1966-77; mathematics instructor at the Illinois Institute of Technology; and elementary and secondary school teacher in the Chicago Public School System from 1962-66; as well as a mathematician for the Laboratory of Applied Sciences at the University of Chicago from 1959-62.

Gordon earned a doctorate in mathematics at the Illinois Institute of Technology, an M.A. in mathematics at the University of Detroit, and a B.S. in mathematics and secondary education at Xavier University of Louisiana.

Gordon is the latest CSU president to announce his retirement. Last month, his counterpart at San Francisco State made a similar announcement, and the CSU Northridge president will retire in December.

Media Contacts:
Christopher Bugbee, Public Affairs, 657-278-8487 or cbugbee@fullerton.edu
Paula Selleck, Public Affairs, 657-278-4856 or pselleck@fullerton.edu