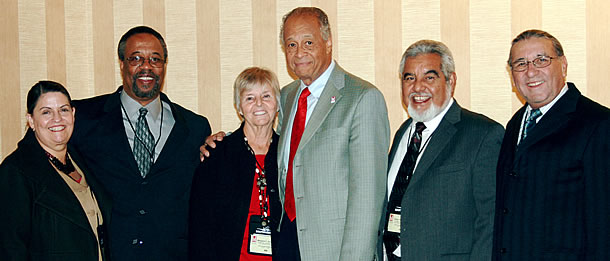 Cal State Fullerton President Milton A. Gordon, center, receives congratulations on being named the new chairman of the HACU Board at the association's annual conference in Denver. Joining him are, from left, Pamela Hillman, vice president for university advancement; Robert Palmer, vice president for student affairs; Gordon's wife, Margaret Faulwell Gordon, dean of the College of Extended and International Education and professor of anthropology at Cal State Dominguez Hills; Silas H. Abrego, associate vice president for student affairs; and Dagoberto Fuentes, chair and emeritus professor of the Chicana and Chicano studies. Photo by Mimi Ko Cruz
Gordon Leads Hispanic Association
of Colleges and Universities
CSUF President Elected Chairman of HACU Governing Board
Cal State Fullerton President Milton A. Gordon greets CSUF student ambassadors at the HACU conference. Pictured, from left, are Christine Hernandez, Carlos Reyes, Henoc M. Preciado, Carolina Lepe, Gordon, Karla Rios, Everardo Acosta, Josué Guaderrama and Ruby Flores. Photo by Mimi Ko Cruz
Cal State Fullerton President Milton A. Gordon, a member of the American Association of State Colleges and Universities Board of Directors, was elected this month to lead the Hispanic Association of Colleges and Universities (HACU) Governing Board, at HACU's 22nd annual conference in Denver.
Gordon now serves as chairman of the national organization that represents 464 colleges and universities committed to Hispanic higher education success in the United States, Puerto Rico, Latin America, Spain and Portugal.
"It's very humbling to become chairman of this organization," Gordon said. "While we've made a lot of progress, we have a long way to go in terms of creating more support services and programs for our students. I will make seeking additional funding for Hispanic-Serving institutions a priority."
Established in 1986, HACU represents Hispanic-Serving Institutions, where Latinos constitute at least 25 percent of the student population.
Latinos constitute 28 percent of Cal State Fullerton's student population of almost 37,000. Since 2004, Cal State Fullerton has been designated by the U.S. Department of Education as a Hispanic-Serving Institution.
During Gordon's 18 years as president of Cal State Fullerton, the university reached the highest enrollment of all 23 California State University campuses, and U.S. News & World Report ranks it among the nation's top 10 public universities-master's institutions in the West.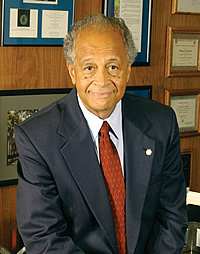 CSUF President Milton A. Gordon
Hispanic Outlook in Higher Education ranks Cal State Fullerton first in California and fifth in the nation in its listing of the top 100 colleges and universities awarding bachelor's degrees to Latinos. In addition, Diverse Issues in Higher Education ranks CSUF sixth in the nation for bachelor's degrees awarded to minority students.
Born in Chicago, Gordon earned his bachelor's degree in mathematics and secondary education from Xavier University, his master's degree in mathematics from the University of Detroit and his doctorate in mathematics from the Illinois Institute of Technology.
Before being appointed president at Cal State Fullerton, Gordon was vice president for academic affairs at Sonoma State University and professor of mathematics. He also served as dean of the College of the Arts and Sciences and professor of mathematics at Chicago State University, and director of the Afro-American Studies Program and associate professor of mathematics at Loyola University of Chicago.
Gordon's many honors include the National Association of Student Personnel Administrator's President's Award, the Chief Executive Officer Leadership Award from the Council for the Advancement and Support of Education, California Hispanic Chambers of Commerce Chair's Award, the Education Partnership Award from the Orange County Business Council, Cesar Chavez Community Service Award from the Hispanic Bar Association of Orange County, Manager of the Year Award from the Orange County Chapter of the Society of Advancement of Management, the National Conference for Community and Justice 2000 Humanitarian Award and the Education Award of the Hispanic Chamber of Commerce.