Successful Alum Entrepreneur Supports College of Business and Economics
Jan. 3, 2008 :: No. 121
Only three days into 2008, Cal State Fullerton starts the new year with a record-setting $30 million dollar gift to the College of Business and Economics. The gift from a grateful alumnus is the largest ever for Cal State Fullerton and the fourth largest in the history of the entire California State University system.
Steven G. Mihaylo, a business administration graduate (Class of 1969), successful telecom entrepreneur and founder and retired CEO of Inter-Tel Inc., a manufacturer of voice and data network equipment for small to mid-size businesses worldwide, joined Cal State Fullerton President Milton A. Gordon, College of Business and Economics Dean Anil Puri and other CSUF leaders on campus today to announce his gift.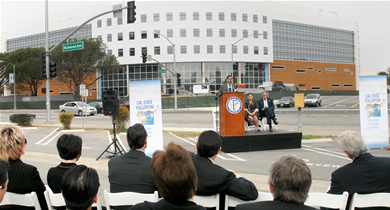 In the shadow of Mihaylo Hall - the new home of the College of Business and Economics - faculty, staff and the press gathered to hear the big announcement on January 3, 2008.
In recognition of his generosity, the College of Business and Economics will be named in Mihaylo's honor. The California State University Board of Trustees is expected to approve the naming at its meeting Jan. 22-23.
University leaders and faculty members expressed gratitude for "a history-making gift that will ensure the college's continued presence in the first rank of American business schools," said President Gordon.
"When we began celebrating our 50th anniversary last September, we never imagined that the year would include a defining event in the future of Cal State Fullerton," Gordon said. "We are indebted to Steve Mihaylo. His magnanimous gift is not only an expression of gratitude to his alma mater, but the strongest possible vote of confidence in this university's future."
"Steve Mihaylo has presented this school with a pivotal opportunity," according to Puri. "His transformational gift will underwrite expanded faculty recruitment and retention efforts, and the innovative programs required to deliver a world-class business education for the young people of Southern California," Puri explained, "establishing the Steven G. Mihaylo College of Business and Economics as one of the nation's top tier business schools."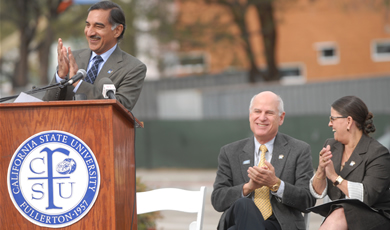 Dean Puri left, Steven Mihaylo and Pam Hillman, Vice President University Advancement
As a donor, Mihaylo is no stranger to the record books; thanks to his leadership gift of $4.5 million in 2004-05, his name already graces the $87.5 million building now under construction on the university campus's southeast corner.
When it opens in fall 2008, Steven G. Mihaylo Hall will provide a new home for the College of Business and Economics, with a 250-seat lecture hall, more than 30 modern classrooms, faculty and administrative offices, interactive technology labs and 10,000 square feet of collaborative working space for students.
Mihaylo's latest gift will support four specific areas: endowed chairs; faculty support; student scholarships; and programmatic initiatives, including enhanced career placement services and expansion of the MBA program.
About Steven Mihaylo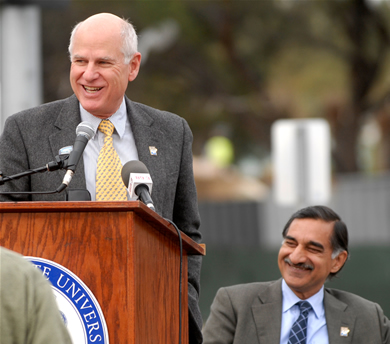 Steven G. Mihaylo and Dean Anil Puri
Mihaylo's path to business success began modestly. Following graduation from high school, the budding entrepreneur spent three years in the U.S. Army, where he took on tailoring jobs for additional cash. He attended Cal State Fullerton on the GI Bill and supported himself by working the 11 p.m. to 7 a.m. shift at McDonnell Douglas. Mihaylo spent the last two years of college working full time and cramming every spare minute with schoolwork to complete his degree, then turned down an offered accounting job to follow his dream of building his own business.
"I knew that in a large organization, it could take a long time to get established," Mihaylo said in 2004. "With my degree and the experience I had working in the technical field and in sales, I felt that I had all the ingredients to be an entrepreneur."
He moved out of Orange County to Phoenix and founded Inter-Tel in 1969 as a division of Panoramic Audio — a company he had worked for while attending college. By 1975, the company had sales revenue of $1 million. Mihaylo served as CEO until February 2006, the year annual revenues topped more than $458 million; the company was sold in 2007.
"Over the years, I have been grateful for the education that I received at California State University, Fullerton and for the opportunities that I was afforded," Mihaylo said. "It is an honor to support the mission of the College of Business and Economics and to help support the growth of an institution where all students have the opportunity to succeed."
About the College of Business and Economics
Cal State Fullerton's College of Business and Economics is accredited by the Association to Advance Collegiate Schools of Business (AACSB), a distinction earned by only one in four business schools in North America. It currently has nearly 8,000 undergraduate business majors plus 626 working toward MBAs and five other master's degrees, making it the largest business school in the state of California and the fifth largest in the United States.
About California State University, Fullerton
A comprehensive, regional university with a global outlook, Cal State Fullerton enrolls more than 37,000 students and offers 105 degree programs in eight colleges. Accredited by the Western Association of Schools and Colleges, Cal State Fullerton is seventh in the nation for the number of bachelor's degrees awarded to minority students and second in California for the number of bachelor's degrees awarded to Hispanics.
Media Contacts:

Christopher Bugbee, Public Affairs, 657-278-8487
Valerie Orleans, Public Affairs, 657-278-4540
Pamela McLaren, Public Affairs, 657-278-4852
Paula Selleck, Public Affairs, 657-278-4856