Alumna Astronaut Coming HomeCal State Fullerton alumna Tracy Caldwell Dyson's return to Earth from the International Space Station will be televised by NASA Television Sept. 23. Coverage of the departure from the Space Station begins at 6:05 p.m. Pacific Daylight Time the day before, when Expedition 24 Soyuz Commander Alexander Skvortsov, one of the two Russian cosmonauts who flew up with Caldwell Dyson in April, formally hands over command of the station to NASA astronaut Douglas Wheelock.

She's Got 'The Right Stuff' Tracy Caldwell Dyson, serving aboard the International Space Station since April 4, is realizing her dream to live and work in space. Now, she may be facing her biggest challenge: Living and working where she wanted. That dream job has broken others, but she's proving she's got what it takes.

The Highest Praise
Tracy Caldwell Dyson  (B.A. chemistry '93), flight engineer aboard the orbiting International Space Station, lauded her CSUF faculty mentors and the role her education played in preparing her to meet the challenges of living and working in space  during an 11-minute Sept. 1 interview streamed live by NASA TV. (see above video)

The Sky's No LimitTracy Caldwell Dyson decided in high school that her destiny was in the stars. "At night, I'd lay on the motorcycle trailer and see millions and millions of stars and wonder what it would be like to be up there. You're lying in total darkness. When you look up, you see this immense light from stars everywhere. I thought to myself, if I can see this much from Earth, imagine what it would be like to look around from up there," she said in a 2002 interview.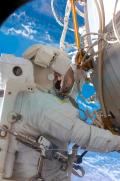 Three Times The Charm In a grueling, prolonged process, Tracy Caldwel Dyson helped replace the coolant pump on the International Space Station earlier this year. In the process, Caldwell Dyson made history, completing what NASA called the most challenging spacewalk project ever undertaken on the 12-year-old station.