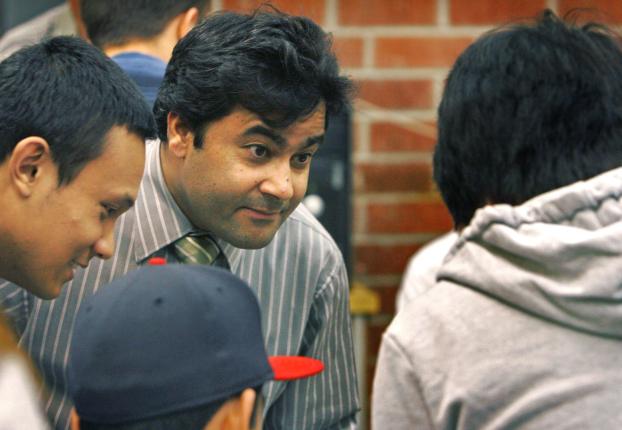 Caption: Binod Tiwari, associate professor of civil and environmental engineering, with students. Photo by Karen TapiaDownload Photo
Producing Excellent Engineers
College of Engineering and Computer Science Teaches Innovation
Innovation, creative problem solving and expanding boundaries of thinking are as integral to engineering as memorized formulas. The College of Engineering and Computer Science focuses on transmitting to students not only the concrete facts and formulas of engineering and computers, but the realization that engineers produce things that never existed before.
Faculty involve undergraduates and graduates in their work, and help students with their own projects, so they can approach employers and graduate institutions with an array of essential skills.
"Engineering is different from most other disciplines in a particular way," said Raman Unnikrishnan, dean of the College of Engineering and Computer Science. "Engineering is unique because it can produce something that never existed before: internal combustion engines, television, computer chips, suspension bridges, x-rays, microscopes and telescopes. And, it takes certain types of training to make an engineer who can innovate." 
Engineering students at Cal State Fullerton have a choice of civil and environmental, mechanical, electrical, software and computer engineering and computer science, but whichever discipline they enter they must apply what they learn. They are given real problems to solve, both as competitors with other engineers and working as part of a team. They are taught, and shown, that they must know the standards of engineering but must also consider any creative method that might achieve their goal. Many work side-by-side with faculty members, often ending with credit as co-authors or co-presenters of the results. 
Ishwar Dhungana (M.S. civil and environmental engineering '08), a civil engineer with KPFF Consulting Engineers in Los Angeles, described his experience working with Binod Tiwari, associate professor of civil and environmental engineering.
"Dr. Tiwari constantly encouraged me and other students to do quality research that could be published," he said. "Being published helps establish you as a researcher and as knowledgeable and able to resolve problems. It also provides evidence of communication skills. I was able to write two international conference papers and landed a job with a major Los Angeles civil engineering firm even before graduating. This is the story of just one student from the College of Engineering and Computer Science."
October 27, 2010