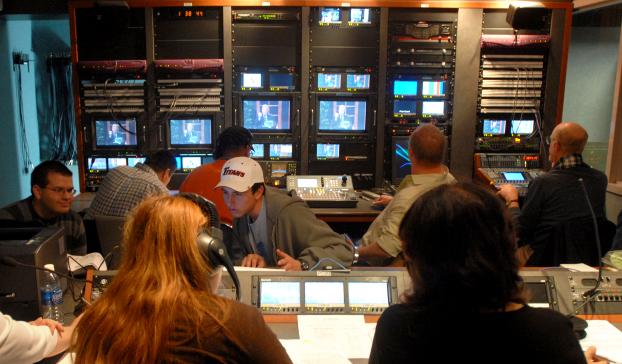 Caption: Communications students learn how to produce news programs in the university's studios. Photo by Kelly Lacefield
Communicating Effectively
College of Communications Helps Students Grow Professionally Through Mix of Theoretical Courses and Special Programs
With more than 3,500 students, the College of Communications at Cal State Fullerton mixes a theoretical grounding with industry experience to prepare graduates for a variety of professional opportunities. This influence is demonstrated from the alumni-turned-Pulitzer Prize winners and accomplished Hollywood writers.
Graduates include: Los Angeles Times staff writer and Pulitzer Prize-winner Stuart Pfeifer, film editor Eric Dapkewicz (B.A. communications, 1993), broadcaster and Emmy Award-winner Jose Mota (B.A. communications, 1994); NBC Orange County Bureau chief and Golden Mike Award-winner Vikki Vargas (B.A. communications, 1981); Pulitzer Prize-winning photojournalist Mark Boster (B.A. communications, 1975); screenwriter Terry P. Rossio (B.A. communications, 1984); and author Bentley Little (B.A. communications, 1984, M.A. English, 1987), whose first book, "The Revelation," won the Bram Stoker Award for "Best First Novel."
The College of Communications also is defined by the range of its programs, led by faculty, many of whom its graduates value and remember. Nationally recognized programs offered include: The Daily Titan (student newspaper), Titan Communications (student-run multimedia center), CommWeek (a week for industry professionals to connect on campus with students), Southern California Urban Debate League (mentoring urban high school students in the art of debate). The programs help cement the college's reputation for building curriculum that connects students to the greater community and industry.
"Our goal is and has been to create a state-of-the-art learning environment that prepares our students for an ever-changing world," said Rick Pullen, dean of the College of Communications.
The college includes the Department of Communications, Department of Human Communication Studies, and the Department of Radio-TV-Film, which is offering a new M.F.A. in screenwriting in fall 2011.
Providing students with the tools to succeed in a rapidly changing industry requires innovative faculty, a strong internship experience, and an engaged student population. From creation, transmission, reception and interpretation, graduates of the College of Communications are prepared to be at the forefront of the communications industry.
October 27, 2010