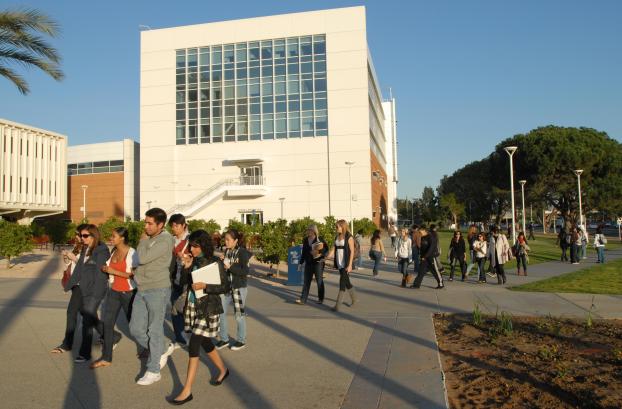 Caption: Students walking by Mihaylo Hall. Photos by Kelly LacefieldDownload Photo
The Business of Preparing Graduates
Through Myriad Concentrations and Practical Experience, Mihaylo College Produces 'Work-Ready' Force
Mihaylo College of Business and Economics prepares students for the business world by providing a wide range of concentrations and specialties that meet industry needs, courses that balance theory with practice and an ongoing goal of making graduates "work ready," said Terry Grant, associate dean of academic programs and faculty development.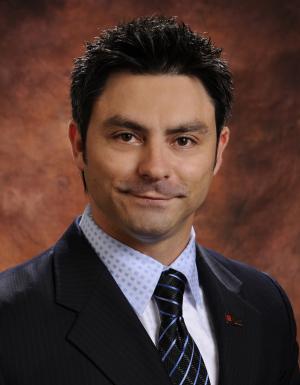 Caption: "There is nothing like a student from Cal State Fullerton . . . nothing," according to Boris Bugarski, founder, CEO and president of mUrgent Corp., a multinational marketing services company and a proud 1997 business administration graduate. Read more        
"At many institutions, courses are taught by graduate students — but not here," Grant noted. "Our faculty are active researchers who have published more than 600 articles in the last five years. Their research, many with direct business applications, enrich the classroom experience for students."
The core curriculum covers the gamut of business subjects from business writing, accounting, microeconomic and macroeconomic principles, finance, management and operations, information systems, organizational behavior and statistics and the application of applied technology in curriculum.
Whether an undergraduate or graduate student, all take part in capstone courses that integrate knowledge from all business disciplines to apply in a realistic case study, many of which are done for area business and win national awards.
"Everything that we learned came to the forefront," said M.B.A. student Aaron Thomas, who was a member of a team that completed a case study for Fox Sports earlier this year. "Being able to use what we learned in the classroom in a real-life situation is really what Mihaylo College and Cal State Fullerton are all about."
It's also the interaction students have with the faculty and staff on the campus, Grant added, such as master's students in an accounting capstone course who, working one-to-one with a faculty member complete an applied research project often culminating in publication in a professional or academic journal.
Finally, it's the opportunities to meet, hear and learn from business professionals during events such as Professor for a Day, annual Economic Forecast Conference and SEC Financial Reporting Conference.
"All of these give students the practical and theoretical knowledge and preparation for the work world," Grant said. "Employers and students alike recognize that our graduates are well-prepared to immediately make positive impacts."
October 27, 2010